'You' Star Penn Badgley Explains Why Joe and Love Were 'Perfect For Each Other'
In 'You' Season 3, Joe and Love relocated to a new town to start over. 'You' actor Penn Badgley explains why his character, Joe Goldberg and Love Quinn were soulmates.
In You Season 3, Joe Goldberg (played by Penn Badgley), his wife Love (Victoria Pedretti), and their newborn son Henry relocate to a small town in Northern California called Madre Linda. In an attempt to start over, Joe and Love vow to suppress their violent tendencies. However, their impulses ultimately break through the surface. Despite their upbringings, Joe and Love were more alike than different. But were the two truly soulmates?
Does 'You' star Penn Badgley think Joe and Love were soulmates?
In season 2, Joe believed that Love was his soulmate. After Love kills Delilah Alves (Carmela Zumbado), Joe discovers her murderous side. Despite that, Joe tried to make his marriage work with Love – for the sake of their son Henry. 
Ultimately, the two become unhappy in their marriage. For instance, Joe becomes obsessed with his boss, Marienne Bellamy (Tati Gabrielle). Meanwhile, Love has an affair with their next-door neighbor, Theo Engler (Dylan Arnold). In the end, their relationship ends catastrophically. 
Although their relationship went up in smoke (quite literally), actor Penn Badgley believed that Joe and Love were "perfect for each other." In an interview with MTV News, the Gossip Girl alum explained why the couple was indeed soulmates. "I feel like yes, they are perfect for each other," he explained. "I think they were as compatible as they would ever find."
What does Victoria Pedretti think about their complicated relationship?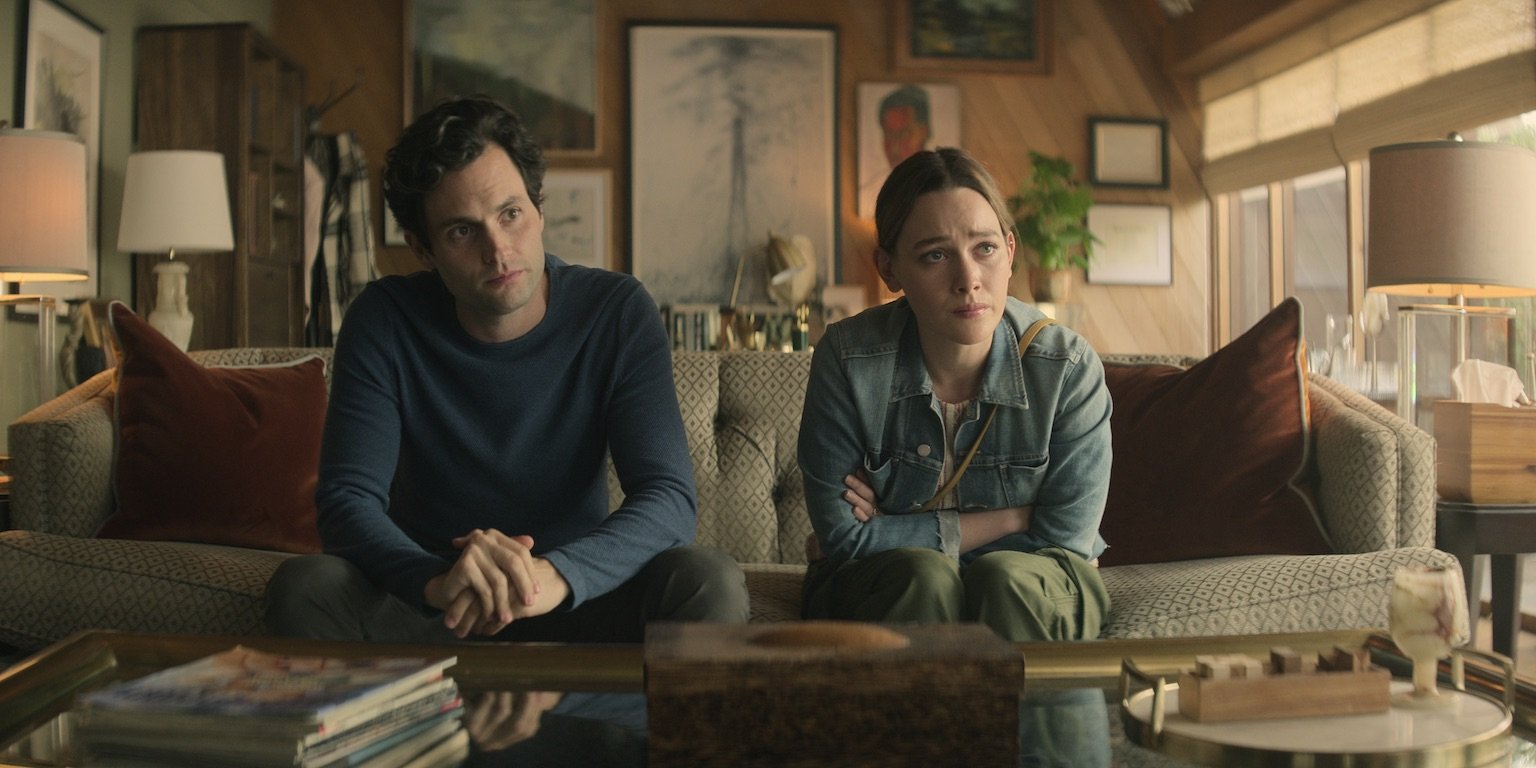 Victoria Pedretti, who played Love Quinn, shared the same sentiment as her co-star. In an interview with E! News, the young actor argues that Love and Joe are meant for each other. "I do see them as soulmates," Pedretti explained. "I think that they're uniquely capable of fulfilling each other's weaknesses, and their strengths are really there to support and uphold each other."
However, both of their traumatic experiences drive a wedge between them. "If they had the courage and wherewithal to be vulnerable and open themselves up to each other, to maybe take some time apart to really work on themselves and their own trauma and loving themselves, yeah, they'd have a lot more to offer each other and a real relationship to build," she continued. "But unfortunately, we don't see that happen."
'You' showrunner Sera Gamble explains why the concept of soulmates is problematic
Although Badgley and Pedretti agree on the couple's compatibility, You showrunner Sera Gamble argues differently. In an interview with E! News, Gamble shared that the concept is not a "realistic template" for a healthy relationship.
In the series, Love and Joe firmly believe they are soulmates. But, they soon realized that was far from the case. They were both unhappy in their marriage. Eventually, the two cheated with other people. "I think the idea of a soulmate is actually part of the problem in our culture," she said.
Gamble continued, "I think the idea that there's a person for you has led a lot of people into a lot of unhappiness. I don't think it's a realistic template for a living, breathing relationship with people who grow and change and get the flu and lose their job and have babies. It's so romanticized."
Even though Gamble doesn't believe in soulmates, she says the two were undoubtedly "well-matched."
You Season 3 is streaming now on Netflix.