You Won't Believe How Much Kate Middleton, Meghan Markle and Princess Eugenie's Wedding Tiaras Cost
Find out how much the tiaras worn by Kate Middleton, Meghan Markle, and Princess Eugenie on their wedding days are worth and when the women are banned from wearing the headpieces.
Royal weddings are watched by millions of people around the globe, who tune in for many reasons. Some want to see all the celebrity guests, others want to watch what resembles a real-life fairy tale, and many fans tune in to see what the bride is wearing. What dress the women wear and the tiara they choose to go with it is something that will be talked about for years to come.
You may remember the sparkling accessories the now-Princess of Wales (formerly known as Kate Middleton), Meghan Markle, and Princess Eugenie wore when they tied the knot, but can you guess which tiara was the most expensive? Read on to find out how much each headpiece is worth.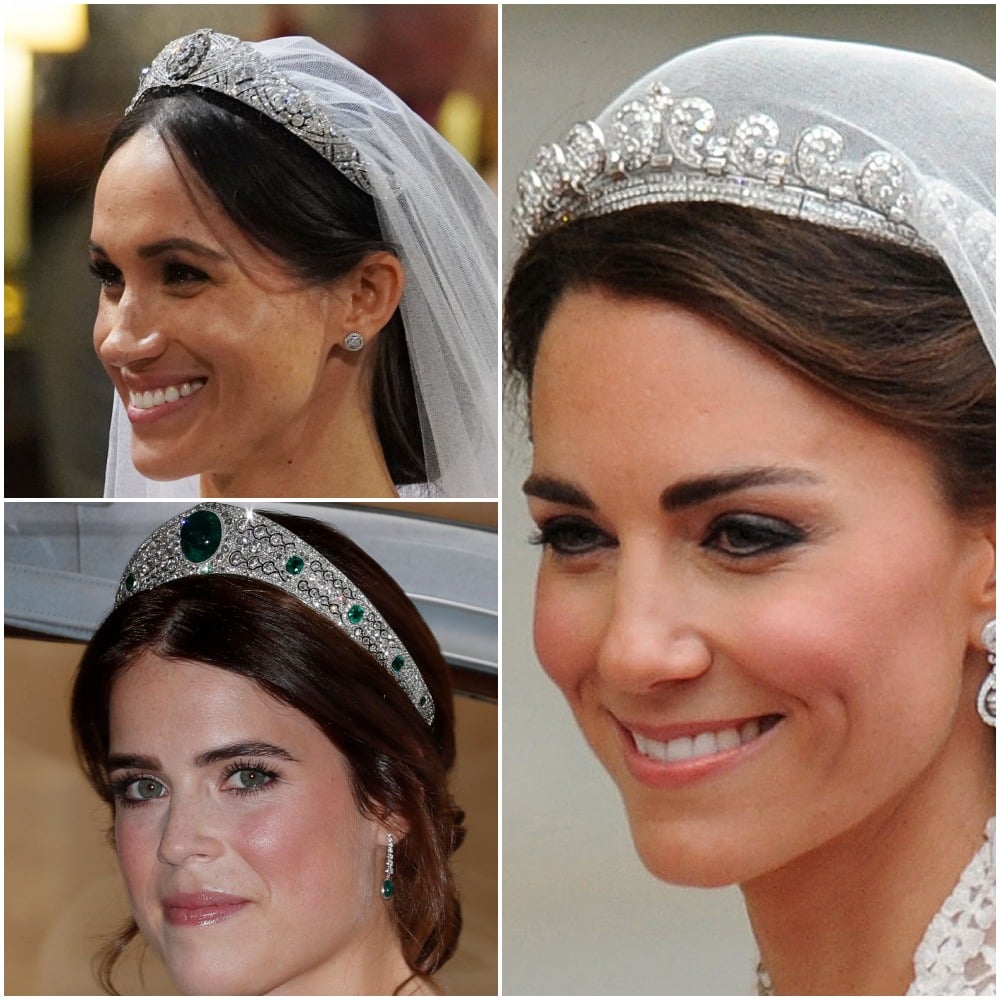 Price of the wedding tiaras
Most royal brides are loaned a tiara from the family's collection to wear on their big day. The pieces are not only beautiful to look at but also have a rich history behind them. Now, gemologist and jewelry expert Deborah Papas is estimating how much each tiara is worth.
When the Duchess of Cornwall and Cambridge married Prince William on April 29, 2011, she wore the gorgeous Cartier Halo tiara. Cartier made it in 1936 for the Queen Mother as a present from her husband, King George VI. It was gifted to Queen Elizabeth II in 1944. The headpiece has 149 baguette-cut diamonds and 739 brilliant-cut diamonds. Papas estimates it is worth between £750,000 – £1,250,000 ($960,000 to $1.6 million USD).
When the Duchess of Sussex married Prince Harry on May 19, 2018, she wore the lovely bandeau diamond tiara, which was made in 1932 for Queen Mary. The last time anyone saw this piece was back in 1965 when Princess Margaret donned it.
"It is hard to put a value on this little-seen piece, but it could be worth up to £2 million ($2.5 million USD)," Papas said.
Neither of their tiaras though are worth as much as the one Princess Eugenie wore when she married Jack Brooksbank on Oct. 12, 2018. Eugenie wore a The Greville Emerald Kokoshnik tiara. The stunning headpiece was created in 1919 by Boucheron for Queen Mary's close friend, Margaret Greville, and later given to the Queen Mother.
"This piece is certainly exquisite; the center emerald has a wonderfully vivid color and large size, something which is rare to find these days," Papas noted. "With such strong historical provenance, from Mrs. Greville to the Queen Mother, and now the queen, an elegant jewel such as this would be estimated to fetch in the region of £5-10 million ($6 to $12 million USD) at auction."
When royals are banned from wearing tiaras
The royals can't just throw on tiaras anytime and wear them. There is a rule about what time of day and where the headpieces can be worn.
"Before 6 p.m., you'll see metallics, gemstones, pearls, sapphires. At night, you'll see the diamonds come out, and that's in order to not come across as flashy in your appearance," royal etiquette expert Myka Meier explained.
The only exception to this rule is, of course, the day they get married.
"Tradition dictates that tiaras are not worn before 6 p.m., though weddings are an exception," royal commentator Richard Fitzwilliams told Insider.
So what events are they worn to?
"They are worn on formal white tie events and state occasions such as state banquets. The decision on whether to wear a tiara is linked to the dress code of a particular event and also to personal preference," Fitzwilliams said.
Read more: Why Sarah Ferguson Was Allowed To Keep Her Wedding Tiara After Her Divorce But Princess Diana Was Not