'Young and the Restless' and 'Bold and the Beautiful': All the Actors Who Have Appeared on Both
'The Young and the Restless' and 'The Bold and the Beautiful' have these actors in common.
Sister soaps The Young and the Restless and The Bold and the Beautiful created some legendary characters during their tenure and continue to thrill fans with mainstays like Victor Newman and Brooke Logan.
We all have our favorites. But over the years, some left Genoa City to stir up drama in Los Angeles with the Forresters or vice versa, catching a flight to Wisconsin for good and bad reasons.
There are a handful of cast members who played in both Y&R and B&B, either through the magic of crossovers or because they left one show and ended up on another. Here's an idea of which actors jumped between both beloved series.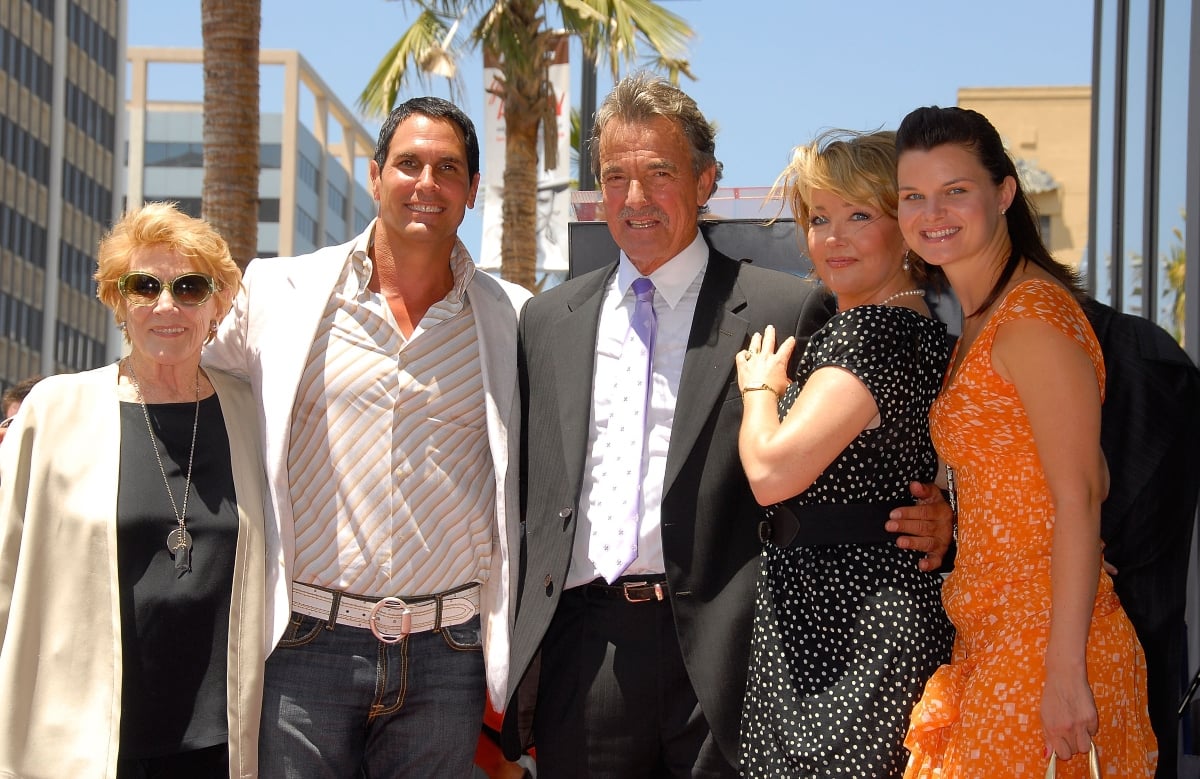 Kimberlin Brown Pelzer
Pelzer nailed her role as the diabolical troublemaker Sheila Carter in both shows, tangling with Lauren Fenmore, the Forresters, Brooke, Taylor, and the list goes on. Pelzer made her last appearance on The Bold and the Beautiful in 2018.
Tracey Bregman
Bregman's Lauren Fenmore flew out to L.A. from Genoa City for work and had a showdown with the villain Sheila after learning she fled there. She also had a brief romance with Eric Forrester.
The two faced death together after a plane almost caused them to freeze to death, and then when a crazed stranger took them in.
Eric Braeden
Braeden was a guest star on The Bold and the Beautiful in 1999 for a Victor crossover story that involved Brooke, Ridge, Taylor, and jealousy.
Don Diamont
Oh, Brad Carlton! He was immortalized by Don Diamont on The Young and the Restless, but was killed off in 2009. Though he was axed after 23 years, Diamont made his was over to B&B where he plays media mogul "Dollar Bill" Spencer.
Heather Tom
She started out as Victor and Nikki Newman's daughter, Victoria, on Y&R, but Tom departed from the show and landed the role of Katie Logan on B&B in 2007.
Peter Bergman
As Jack Abbott, Bergman's been to Forrester Creations while representing Jabot Cosmetics' business interests.
Eileen Davidson
Davidson is known for her role as Ashley Abbott on Y&R, where she's played the character on and off (mostly on) since the '80s.
She switched over to The Bold and the Beautiful for about a year as Ashley was engaged to Ridge Forrester, fooled around with his brother Storm, and worked at Forrester Creations until she decided to return to Genoa City.
Adrienne Frantz
Frantz was Amber Moore on both series, a feisty character who gave the Forresters a run for their money and later was the ultimate opportunist in Genoa City. She did have a genuine friendship with Katherine Chancellor, however.
Sean Kanan
Kanan played Deacon Sharpe, a character who started out on The Bold and the Beautiful with a complicated history as Eric's biological father.
He had romantic dealings with Amber, Bridget, Brooke (Bridget's mama and his future child's mother), and Macy. Deacon made his way to Y&R and got mixed up with Phyllis and Nikki Newman.
Katherine Kelly Lang
Early in her career, Lang played a woman named Gretchen on Y&R, but Lang made Brooke Logan a fixture on B&B with storylines that sometimes intersected with characters in Genoa City, including those who moved from L.A.
That includes Amber, Deacon, and Ashley Abbott. Lang was a guest on the sister show in 1999 and 2007.
John McCook
McCook turned patriarch Eric Forrester into a household name. Due to Eric's brief love affair with Lauren Fenmore, he had a connection to Genoa City and popped into town for a crossover special.
Jeanne Cooper
The late actress was one of the queens of Y&R and did two guest appearances on B&B as Katherine Chancellor, helping her friend Stephanie Forrester navigate a rough patch in her business and marriage.
Lauralee Bell
As Christine Blair, Bell has always been an integral part of The Young and the Restless. Her character took her attorney skills over to L.A. to represent Forrester Creations in a case.