'Young and the Restless' Fans Have No Interest in Seeing Nick and Phyllis Together
Afternoon television viewers have been welcoming The Young and the Restless into their living rooms since 1973. The long-running CBS soap opera delights fans with romantic love triangles, plots twists and turns, and steamy bedroom scenes. For more than 25 years, the power couple of the popular daytime drama has been Nick and Sharon Newman. They are the epitome of both young and restless. Their on-again-off-again relationship has kept fans yearning for them to stay together amidst their ongoing sordid affairs. But, now it appears that Nick's ex-wife Phyllis is back and wanting to rekindle a romance with her sexy ex. It's hard to tell who is more unhappy with this recent turn of events – Sharon or The Young and the Restless fans.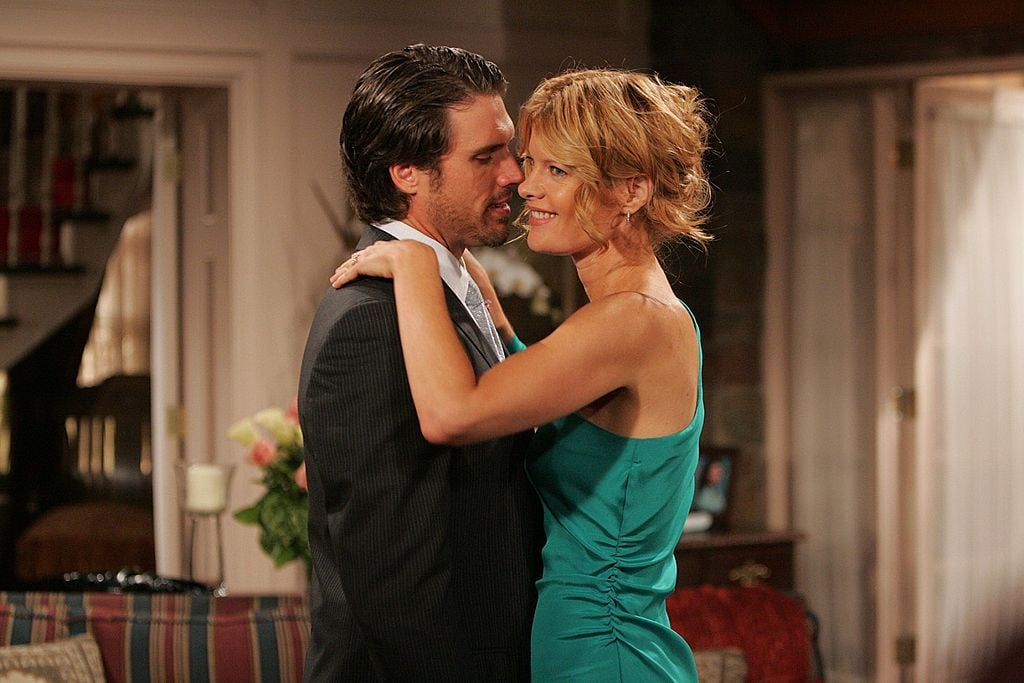 The relationship timeline of Nick and Phyllis
Nick and Sharon's marriage fell apart when their daughter, Cassie, was killed in a car accident. Sharon filed for divorce after finding out that Nick was having an affair with Phyllis, who was pregnant with his child. The couple eloped before their daughter, Summer, was born. Despite giving it a try with his new family, Nick still yearned for his ex-wife. He and Sharon got back together for a brief time until he decided to return to Phyllis and renew his marriage vows with her. Sharon couldn't stay away and, while on a trip to Paris, shared an intimate kiss with Nick, that was seen by Phyllis. Outraged, she had an affair herself and ended her marriage to Nick.
When Summer's paternity became an issue, Nick agreed to a DNA test. Sharon tampered with the results and got into an altercation with Phyllis, who ended up in a coma after falling down a staircase. With Phyllis out of the picture, Nick and Sharon decided to walk down the aisle one more time. But, Phyllis unexpectedly showed up and ruined the ceremony. Sharon called off the wedding when she discovered that Nick was unfaithful to her with Phyllis. This ended their on-again-off-again relationship status once and for all. Phyllis tried to win Nick back but, when he found out about her involvement in J.T.'s death, he decided to give up on their relationship.
Are Nick and Phyllis getting back together?
Recently, the couple has been spending a lot more time together. The chemistry they have always shared has become apparent again. Last month, Phyllis and Nick were stuck in a winter storm with nothing else to do but sleep together. Determined to not get back together, the two parted ways. That didn't last for long, though. Nikki, Victor, and the rest of the Newman family were not happy to learn about his relationship with Phyllis. They told him to put on the brakes before things got serious again. In true Nick fashion, despite his parent's wishes, he grabbed Phyllis' hand, and the duo decided to leave Genoa City for a romantic getaway.
Fans are largely against a Nick and Phyllis reunion
Fans of The Young and the Restless have no desire to watch another Nick and Phyllis reunion. They are tired of the storyline and want new material. Fans took to Twitter saying, "I'd rather stick needles in my eyes" and "I would rather have a root canal without the benefits of anesthesia." Fans are making it abundantly clear that they have had enough of "Phick" and are looking for juicier alternatives. They are saying they are "sick of Nick and Phyllis" and "the repetition is exhausting." Fans agreed that "Nick and Phyllis are painful to watch." Based on the fan reactions, the writers of the show may need to reconsider a reunion of this overplayed couple.