'Younger' Season 7 Begins Filming: See 1 Star's Throwback Tribute To Hilary Duff's Disney Days
Actor Hilary Duff first rose to prominence as the star of the Disney Channel sitcom Lizzie McGuire in the early to mid-00s. She also launched her singing career through Disney's Hollywood Records at this time. Now, Duff stars in the show Younger, but her two worlds collided with a co-star's wink at her early show business days.
Hilary Duff stars in 'Younger'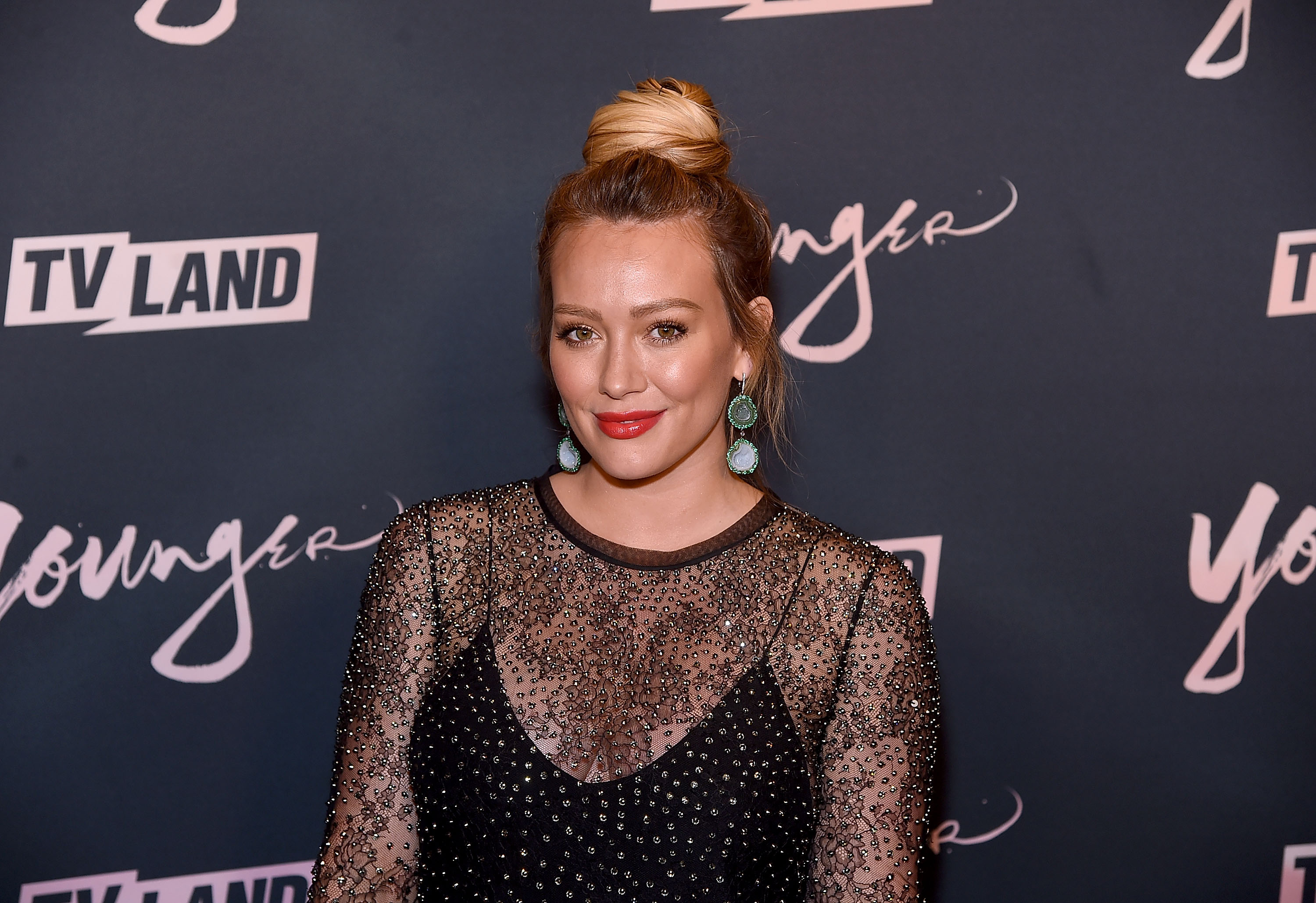 RELATED: Hilary Duff Is Filming 'Younger' Season 6 But She's Missing Someone Special
Younger premiered on TV Land in 2015. The dramedy from Sex and the City creator Darren Star follows Liza Miller (Sutton Foster), a 40-something woman who pretends to be in her 20s to land a job in publishing. Lisa has to work to keep her work life and personal life separate to keep her secret.
Duff portrays Kelsey Peters, an editor with who Liza connects. The two form a friendship based on being the same age and even create an imprint, Millennial, together. Kelsey is among the first to learn Liza's secret, and though she feels betrayed, their friendship and working relationship both survive.
Season 7 was delayed due to the pandemic
A lot has happened on Younger throughout its six-season run. In addition to Liza's secret rocking the boat, there are her two primary love interests and the intertwining lives of those around her, like her roommate and friend, Maggie Amato (Debi Mazur).
A 12-episode season has aired every year since Younger debuted except 2016 when both seasons 2 and 3 aired. This pattern was set to continue in 2020 with a possible summer premiere — however, the coronavirus (COVID-19) pandemic, unfortunately, threw a wrench in those plans.
"We had received the first two scripts and I was supposed to go for a wardrobe fitting," Mazur told ET in April 2020, revealing that filming was scheduled to begin on March 30. "The sets were being built, my apartment was being put back together, and then it just all shut down," she added.
Duff's co-star Molly Bernard wore a throwback shirt
Aside from Liza, Kelsey's best friend on the show is Lauren Heller, a public relations expert who likes to take big swings that help out her pals. Lauren is portrayed by actor Molly Bernard, who is also known for her recurring role on the NBC procedural Chicago Med. Now, the two actors are back on set and having fun.
In celebration of their reunion, Duff shared a video of the two in her Instagram Stories. In the clip, Duff is getting her makeup done while Bernard dances into the frame. And the latter is wearing a TV shirt with her co-star's face on it. She "reps the friendship so hard," wrote Duff, adding that the photo is of her "circa 2005."
When will 'Younger' Season 7 premiere?
Duff, who is based in Los Angeles, shared in October 2020 that she was back in New York, where Younger shoots. Previously, the star had indicated that the show might not resume filming until early 2021. Though that was fortunately not the case, there's still no set date for the season 7 premiere.
What's more, Younger Season 7 looks as though it will be the last hurrah for the hit series. "We are unofficially planning [Season 7] as a final season," Star told TVLine in September 2020. However, Duff fans will be pleased to know that a spinoff all about Kelsey is in the works.