YouTubers Call Tana Mongeau Out For Her Controversial Apology Video
YouTuber and influencer Tana Mongeau has courted her share of scandals over the years, from the notorious TanaCon to her controversial appearances on MTV's digital series, MTV No Filter. But in 2020, Mongeau has seemed to come under fire more than ever.
Recently, Mongeau released an apology video on YouTube in which she declared that she was finally ready to take accountability for her behavior. But fans and fellow YouTubers alike widely slammed the apology, claiming it was disingenuous.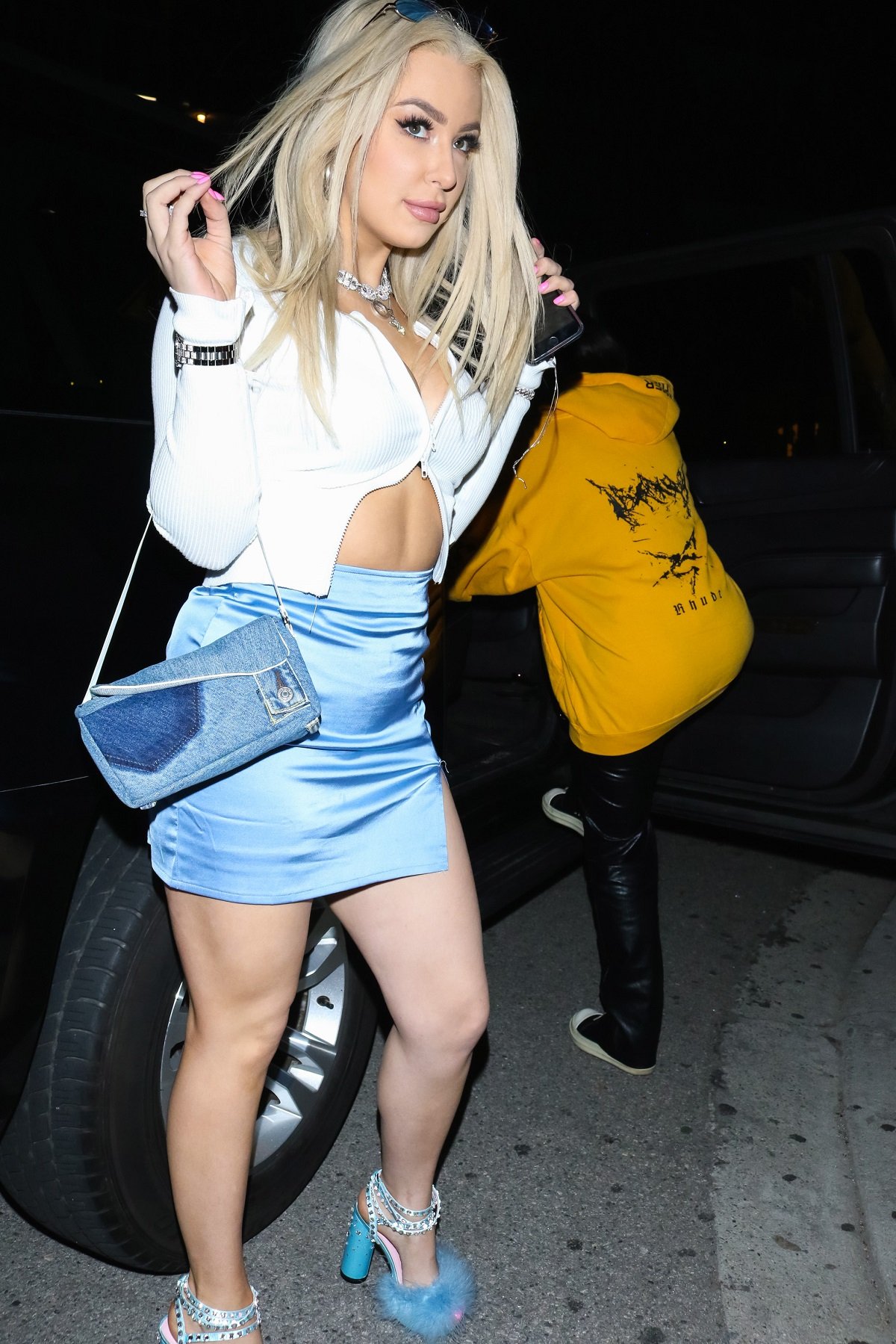 Mongeau was criticized in recent months for both her past and current behavior
Mongeau, 22, faced backlash and criticism—even from longtime fans—earlier in 2020 amid accusations of racist microaggressions and refusal to follow social distancing guidelines. YouTubers SimplyNessa and Kahlen Barry released videos in which they called Mongeau out for alleged racist comments and behavior. Meanwhile, some of Mongeau's former offensive tweets resurfaced and began to circulate again.
What's more, many of Mongeau's followers criticized her for openly (and repeatedly) partying alongside other social media influencers during the coronavirus pandemic. Many of the former MTV star's followers argued that Mongeau was influencing her young fanbase to do the same, while downplaying the significance of the COVID-19 crisis and ignoring guidelines about wearing masks and social distancing.
The influencer posted an apology video in which she claimed she was ready to take accountability
In a Sept. 4 YouTube video titled "a long overdue apology," Tana claimed she was ready to take a "journey" towards greater accountability for her past actions.
As for the racist microaggressions of which she'd been accused, Tana admitted that she didn't feel she had the right to comment much beyond an apology.
"I also understand, with the white privilege that I possess," she acknowledged, "I have no right to ask or expect forgiveness from anyone that I have hurt with my actions… I see so clearly now the microaggressions and terrible values that I was enveloped in for 15 years of my life."
Claiming that she'd listened to "yes people" and enablers in the past, Tana went on to share that she'd been exposing herself and others to the "explosive effects of what running from your problems can do." Expressing her "utter disgust" for her past apology videos—which, she explained, were all about "pandering, deflecting, and making excuses" to get viewers to like her—the YouTuber said she didn't deserve to have a platform until she took accountability.
Tana also admitted that even her recent actions hadn't matched her promise to work on herself and her behavior months earlier. Concluding by encouraging her followers to vote and to donate to worthy causes like the NAACP, Tana promised to do better in the future.
"I intend on showing you that with action, education, and time," she assured viewers.
Some YouTubers thought Mongeau's apology was inadequate
Many of Tana's fans in the YouTube community found her apology off-putting. Some viewers believed the influencer had simply read a script written for her by a manager or PR team, while others called the video "vague" and "robotic" instead of genuine. The video's like-to-dislike ratio was telling, suggesting that it wasn't widely well-received.
YouTuber Smokey Glow criticized Tana's apology video, arguing that it was "riddled with contradictions" and should have been released months earlier.
"She literally did not explain or go into detail about anything," the YouTuber pointed out in a video about Tana's apology, adding that true accountability would likely include specific apologies for particular actions.
"I think Tana is under the impression that accountability and responsibility are the same things," Smokey Glow said. Later, she added, "There's no accountability to be taken when you've been having the time of your life, living in a Beverly Hills mansion, partying constantly, breaking social distancing constantly."
Others thought Tana lacked the 'self-awareness' to craft a genuine apology
Another YouTuber, Alizee, shared several of Smokey Glow's and fans' complaints about Tana's apology.
"She's being vague about what she's apologizing for," Alizee lamented in her own video. "She's just talking about it in general terms. And I feel like, to show growth, you kind of have to go into and understand…to show genuine introspection."
The YouTuber argued that Tana would have to dig more deeply if she truly wanted to make amends and take ownership for her bad behavior. "I don't believe she has any semblance of self-awareness enough to do this, to really introspect about why she did these things in the first place," Alizee said.
As for Mongeau, she has since denied the suggestion that she didn't write the apology herself. But scores of fans and content creators have taken to social media to continue to call Tana out for her video, which many continue to believe was inadequate.