'Yumi's Cells' Season 2: Got7's Jinyoung's Return Teased in K-Drama's New Poster
In the first season of 'Yumi's Cells,' Yoo Babi started to develop feelings for Yumi while she was in a relationship. The new poster for the second season teases his return and romance with Yumi.
Fans are finally getting more details about Yumi's Cells Season 2. The popular K-drama from 2021 combined the reality of relationships with 3D-style animation to tell the story of a simple office worker, Yumi (Kim Go-eun). Yumi's Cells teased another budding relationship that would be explored in its second season. Fans were well aware Yoo Babi, played by Got7's Jinyoung, developed feelings for Yumi. The new poster for Yumi's Cells Season 2 teases the return of Jinyoung.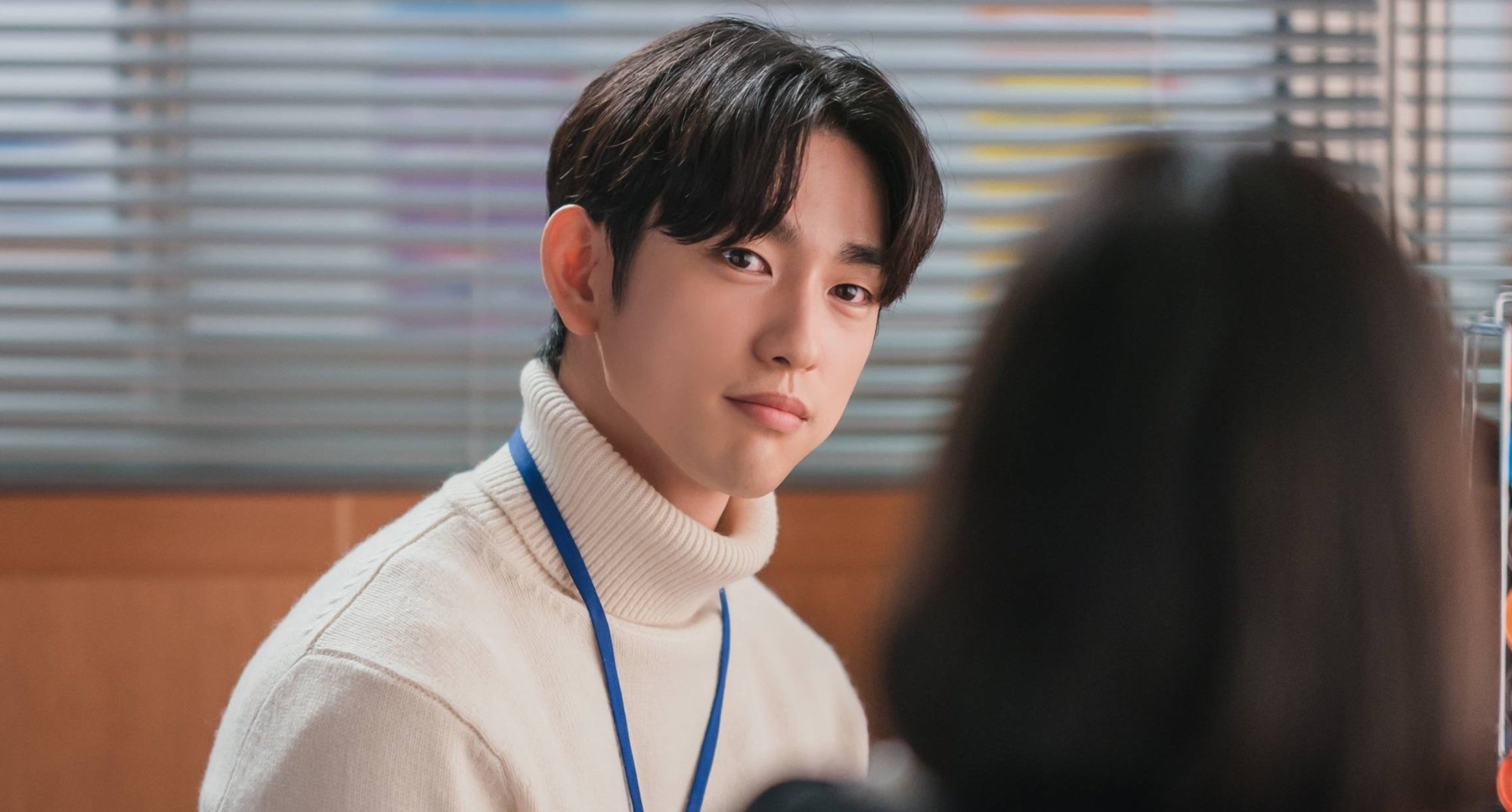 Got7's Jinyoung played Yumi's new friend and co-worker, Yoo Babi, in 'Yumi's Cells'
The crux of the K-drama is Yumi's love cell no longer exists after a bad breakup. It reawakens when she is set up on a blind date with Goo Woong (Ahn Bo-hyun). Their relationship goes incredibly well, but there are a few hiccups. While Yumi is in a good relationship, she meets Yoo Babi.
In the beginning, Yoo Babi is also in a committed relationship but gets dumped by his girlfriend. Babi is the one who pushes Yumi to transfer to the marketing department and use her writing skills. Fans know Babi sees Yumi as more than a coworker and friend. He is often her impromptu voice of reason. At one in the K-drama, he teases that there is someone he likes but does not say who.
Yumi has an idea as she has budding feelings toward Babi. But she brushes them away because she is dating Woong. In Yumi's Cells Episode 14, he notices they are taking a break, and he battles to tell her the truth but does not. In the finale of the K-drama, romance rules were broken as Woong calls for a break-up.
According to Soompi, the creators of K-drama planned for Yumi to explore a new relationship with Babi in Yumi's Cells Season 2.
Fans see how Jinyoung's Babi makes Yumi smile in new poster for 'Yumi's Cells' Season 2
Fans got their first look at the new season when tvN debuted the first teaser poster for Yumi's Cells Season 2. Yumi looks happy, with a new haircut and holding a writing journal. The poster shows Yumi's animated love cell is alive and well, and the new poster for the K-drama explains why.
On April 28, tvN released another poster, but this time teasing the return of Jinyoung as Babi in Yumi's Cell Season 2. The poster focuses on a happy and smiling Yumi as she lovingly gazes up at her co-worker. Fans' hearts flutter as the poster shows a side view of Babi in a white button-up and caressing Yumi's hair.
The poster reads, "The cells are beginning to react again," and hints at Yumi and Babi finally exploring their feelings for each other. According to Soompi, the K-drama's creators explain, "Yumi, who will change and grow through new work and love, will begin her story again. Please look forward to Yumi's second chapter, which will make you laugh, cry, and feel your heart flutter along with her cells."
Jinyoung was seen filming as his character for the upcoming season
The idol-turned-actor has made a name for himself on the small-screen. Despite his supporting role in Yumi's Cells, fans fell for his charm and ability to portray the perfect love interest. The creators teased Babi was here to stay, at least for Yumi's Cells Season 2.
In November of 2021, a fan on Twitter posted photos of Jinyoung filming for Yumi's Cells Season 2. The photos show him on set and at the beach with another actor. Based on the small details, it could be Kim as her character Yumi.
Yumi's Cells Season 2 will continue the storyline from the original webtoon. The webtoon has the answers if fans want a sneak peek of Yumi and Babi's relationship. The new season is expected to air in June. In the meantime, fans can get their dose of Jinyoung in The Devil's Judge and Yaksha: Ruthless Operations.