Are Zac Efron and Lily Collins Dating Again? Inside the Co-Stars' Relationship
Former lovebirds, Zac Efron and Lily Collins are hanging out again. The two are currently promoting their new Netflix movie, Extremely Wicked, Shockingly Evil and Vile, which chronicles the life of Ted Bundy (Zac Efron) through the eyes of his long-time girlfriend, Elizabeth Kloepfer (Lily Collins).

Based on Kloepfer's memoir, The Phantom Prince: My Life with Ted Bundy, the new Netflix movie closely documents what it was like to be in a relationship with the famed serial killer, including Kloepfer's struggle to believe Bundy's heinous crimes.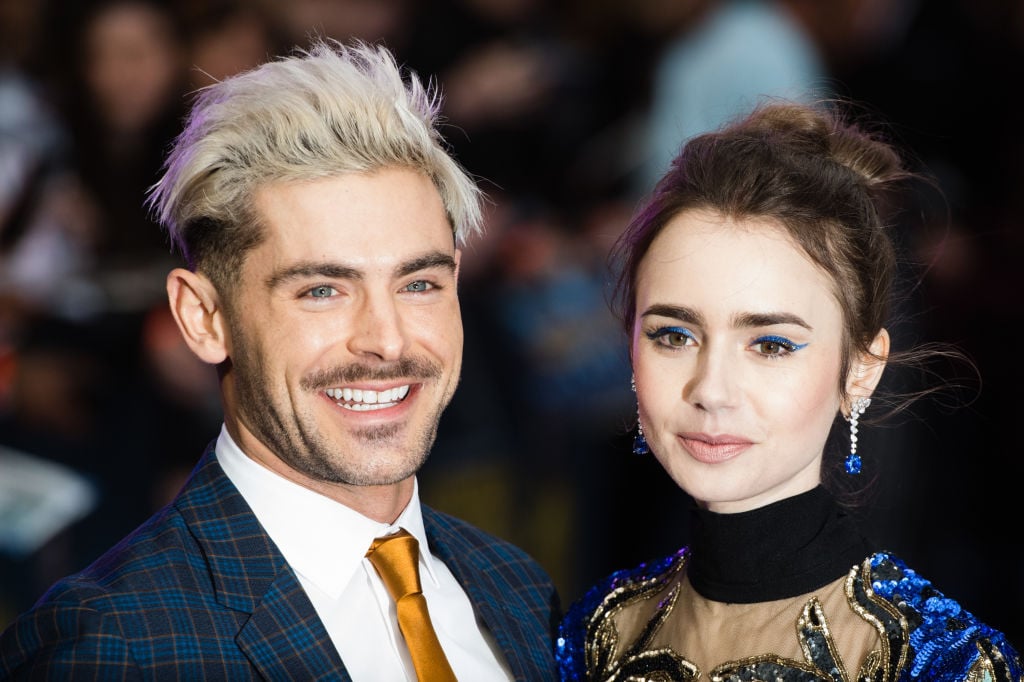 Did the romance between Bundy and Kloepfer reignite the co-stars' former flame? Find out, ahead.

Are Zac Efron and Lily Collins dating again?

Between their shared red carpets and interviews, many want to know: Are Zac Efron and Lily Collins dating again? Initial reports suggest that the duo are back together. According to The Evening Standard, the two appeared very close at the Extremely Wicked, Shockingly Evil and Vile European premiere, which sparked romance rumors. However, it appears that's all they are — rumors.

According to Star (via Gossip Cop), an unnamed source close to the co-stars admitted that the two "have been hanging out loads since filming wrapped, and if Lily has her way, it will continue." Adding, "no one will be surprised if Lily tries to get serious with Zac again. It'll make for a very interesting publicity trail when it's time to promote their new movie, that's for sure!"

Although they play lovers in their new film and spending more time together promoting their film, the two appear to be just friends for now. However, that doesn't take away from Zac Efron's sheet pride for his former fling. He even gushed about her performance in Extremely Wicked, Shockingly Evil and Vile to E! News. "I remember a few days into filming, I just came to work to watch on set because [Lily] was having scenes with Haley Joel Osment, and I was watching her performance and I was blown away," he told the publication. "She was bringing it, and this was, like, the fourth or fifth day of filming. I was like, I really need to step up my game. Lily is killing it," he added.

Lily Collins also admitted to being good friends with her co-star. "I used to do reporting for Nickelodeon, so I literally interviewed him at an orange carpet event years ago. We've been friends ever since, so we finally got to work together, she told E! News while promoting the film at the Sundance Film Festival.

Zac Efron and Lily Collins dating history

They Extremely Wicked, Shockingly Evil and Vile co-stars might be just friends now, but it hasn't always been this way. Back in 2012, the two were allegedly in a romantic relationship for a few months. However, E! News reports that the fling was blown out of proportion. "They were never really together, so you could say they split, but they were never an official couple," an unnamed source told the publication. "They hung out a bit, but it was super casual," they added.

Check out The Cheat Sheet on Facebook!