Zach Braff and Donald Faison Announce the 'Second Best Thing' to a 'Scrubs' Revival: Their Own Podcast
The long-running hit TV series Scrubs aired its final episode ten years ago. But for many fans, it never really ended. Stars Zach Braff and Donald Faison have helped keep love for the show alive via social media. And now, they have a special announcement. Read on to learn more about them and their new project.
'Scrubs' aired from 2001-2010
The series, which began its run on NBC, follows the staff at Sacred Heart Hospital. At the center of it all is J.D. (Braff), a medical intern who is something of a dreamer. Along with his best friend, Turk, a surgeon, he learns about what it really means to be a doctor, as well as many life lessons.
Scrubs aired for seven seasons of NBC. It then ran for two additional seasons on ABC, the latter of which was retroactively known as Scrubs: Med School. The series was officially canceled in 2010.
There was a 'Scrubs' reunion in 2018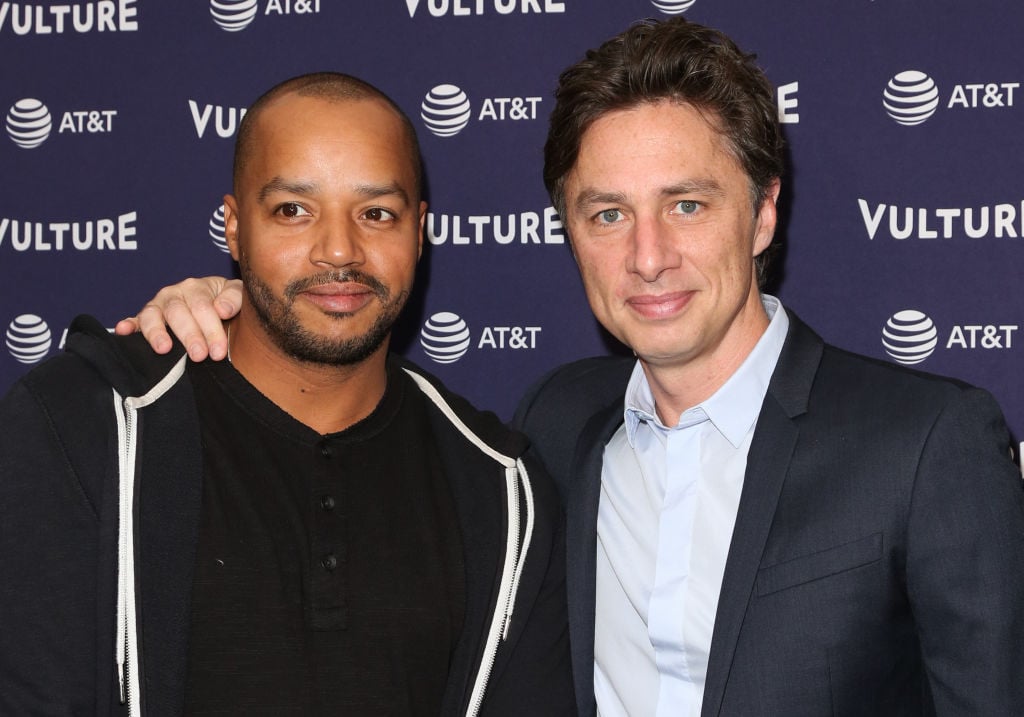 Over the years, there have been plenty of pseudo-reunions. Faison and Braff are good friend in real life, and often get together to post photos just hanging out. They even guest starred in an episode of the NBC series Undateable together in 2015.
But if they can't have the actors as their characters, what fans really want is to hear more about their time on the show. The 2018 Vulture Fest in Los Angeles allowed for just that, as Braff and Faison were reunited with many of their former co-stars to reminisce.
Star Zach Braff teased a special surprise
At this strange time, a lot of people are turning to their favorite shows for comfort. Scrubs is that series for many. Perhaps in a time where a lot of the focus is on health and hospitals, fans are seeking out the beloved comedy as a shining example of what good doctors (and all medical personnel) can do. There's even an episode titled "My Quarantine" which has been quoted and cited by fans across social media.
On March 30, 2020, a fan suggested "a brief return of Scrubs, but during the COVID-19 pandemic" to Braff on Twitter. The actor replied, "Second best thing coming together." Later, he followed this up with a number of social media posts, including the above throwback of he and Faison.
Their podcast is called 'Fake Doctors, Real Friends'
"There was a lot of interest from you, our amazing fans," said Braff in an Instagram Live stream with Faison on March 31, 2020. "We're going to put it out every single week. We're going to talk about our lives and goof around." He added that he and Faison wrote the "fire" theme song with Charlie Puth.
The podcast, titled Fake Doctors, Real Friends, is a way to keep the series alive in real-time. The actors will be re-watching the series and giving their own commentary, as well as having guests on. Episode 1 is already available. So Scrubs fans, there's now another great way to pass the time while you're stuck inside.