Zendaya Was Worried This Would Happen Right Before Her Emmy Speech
When it was announced that Zendaya received an Emmy nomination for Outstanding Lead Actress in a Drama Series, fans were overjoyed. While it came as a surprise to many people, nobody could deny that the talented actor was deserving of the nomination. Zendaya's portrayal of Rue, a 17-year-old drug addict trying her best to navigate addiction and adolescence, in the hit HBO show, Euphoria has taken her career to the next level. With the role, the Disney alum proved that she was more than ready to explore more adult subject matter in her career.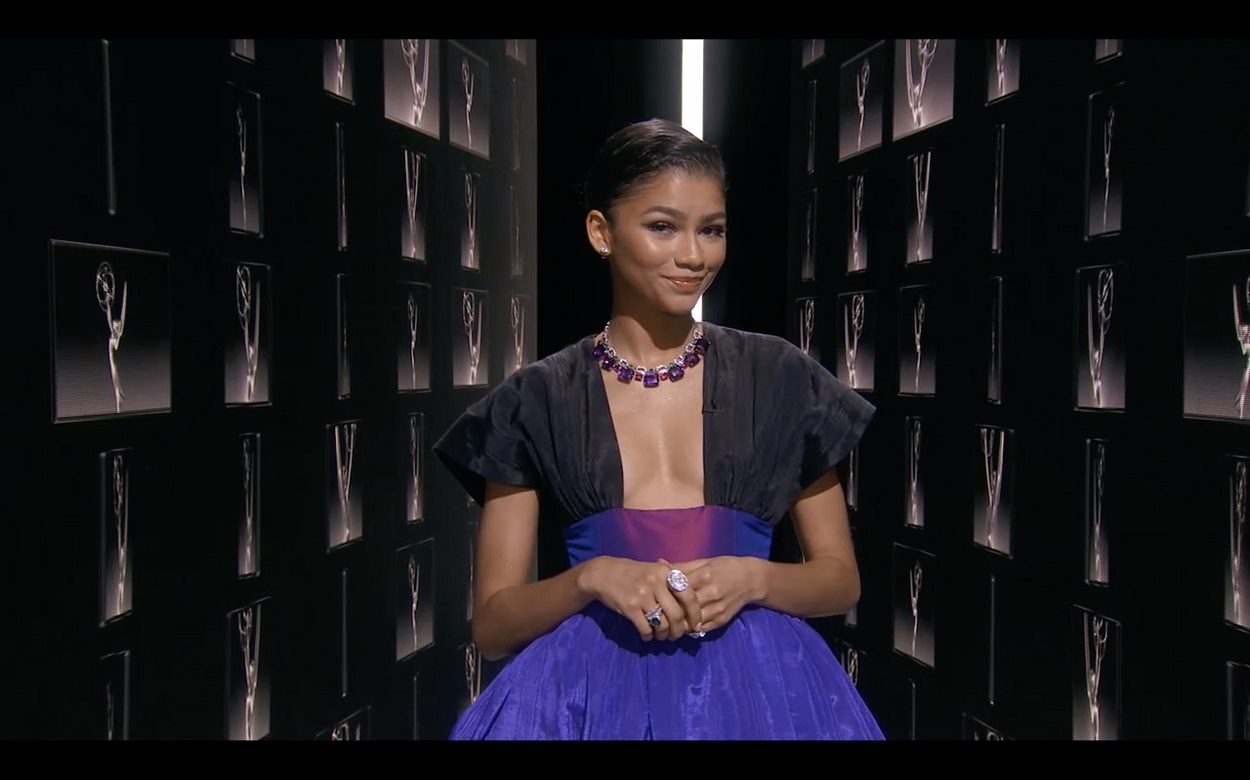 Being nominated for Euphoria was already an honor for Zendaya. But, when she went on to win the award, she made history. The 24-year-old became the youngest person to ever win in her category. Furthermore, she is only the second Black woman to win in the category, behind acting legend, Viola Davis.
Zendaya made history with her Emmy win
Of course, the Emmys were quite different in 2020 thanks to the coronavirus (COVID-19) pandemic. Instead of celebrating in a room full of her castmates and peers, Zendaya got all dolled up in a custom Armani Privé gown and settled in for an evening of celebration in the living room with her family. Zendaya was patched in via zoom and fans watched as Zendaya's family erupted in unbridled joy when her name was announced and her assistant, Darnell Appling, handed her the Emmy.
RELATED: 'Euphoria': Zendaya Already Knows Where Rue Ends up; 'The Only Thing That Gets Me Through'
The moment was enough to make Zendaya pretty emotional. In fact, while giving her speech she revealed that she was actually crying, which is a rarity for her. In an interview with Elle, the Euphoria star also shared that despite the fact that the Emmys were virtual, she was still pretty nervous about the prospect of speaking during the award show. She even went back and forth about whether to write something down. Ultimately though, she just wrote down notes because superstition prevented her from writing down a full speech.
The 'Euphoria' star was nervous about having to give a speech at the Emmy Awards
"I was nervous about the possibility of having to get up and speak," Zendaya confessed about how she was feeling prior to her historic Emmy win. "So I was like, 'Okay, let me just write down a few little bullet points.' Usually I would just go up there and say what's in my heart, but everybody was like, 'No, I think you should definitely write something down.' But then I worried maybe that's bad luck to have something prepared, because it's like, I don't know…So the day of, I just wrote a little thing down to have just in case. And that was very helpful. I was very nervous, but I'm glad my family was there."
While Zendaya was pleased that her entire family was close by to celebrate with her, she was a bit worried that their celebrations might actually eat into the amount of time she had to deliver her speech. "Everybody was there and screaming, as my family does!" the "Rewrite the Stars" singer shared. "We are a very loud family, and I was worried that they were going to be screaming for too long. And the little clock would start ticking, and I'd be like, 'Ah, thank you.' And then it would be over."
Fans loved watching Zendaya's family celebrate with her
Fortunately, Zendaya's family celebrations didn't bleed into the time she had to deliver her Emmy speech. The actor was able to deliver a speech about finding hope in young people and also enjoy her family's screams of pride and celebration. Personally, we loved watching Zendaya's family celebrate her win with her. Perhaps there's something to be said for the virtual award shows of 2020 after all.