Zendaya Says Storm Reid Playing Her Little Sister Is Her 'Dream Casting'
Though their Euphoria characters may have a complex relationship, there's nothing but deep love between Zendaya and Storm Reid. The talented actors, who portray Rue and Gia Bennett in the hit HBO show, aren't shy about showing their support for each other. When Zendaya made history with her 2020 Emmy win, Reid was quick to celebrate her co-star and friend with an adorable video.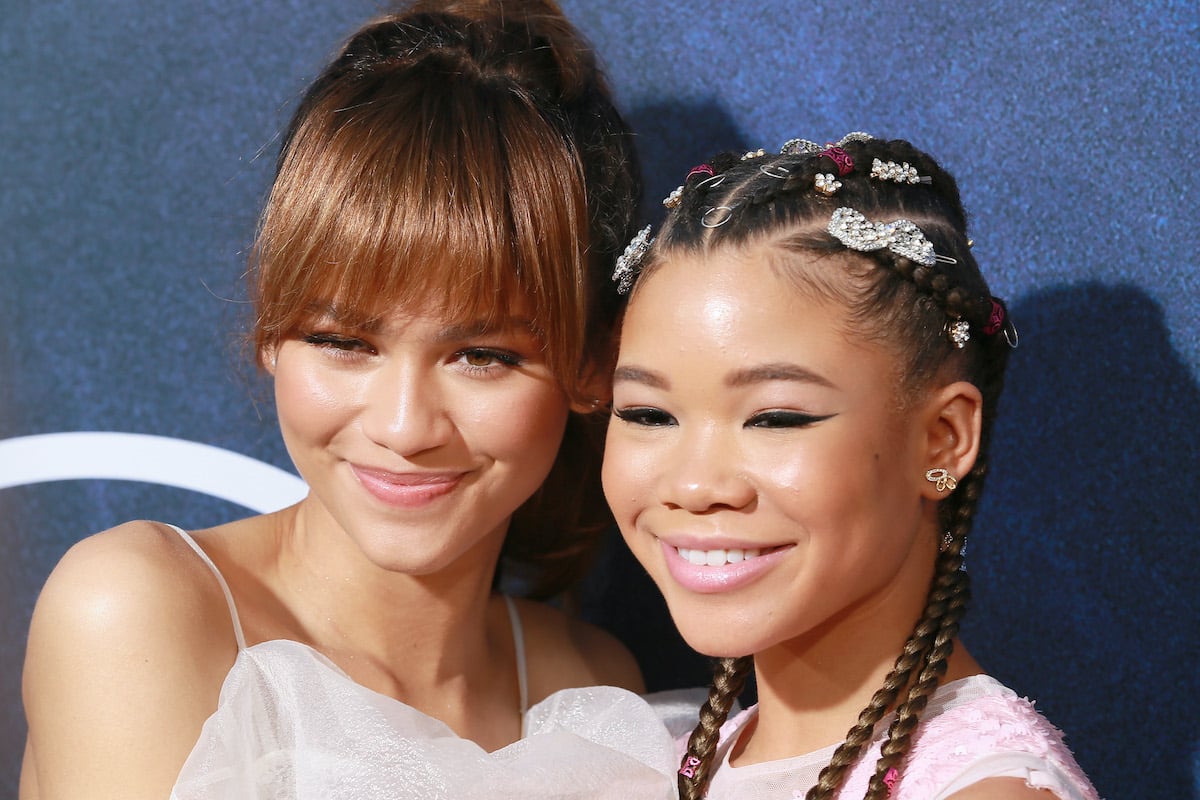 Storm Reid champions Zendaya for her constant support
The lovefest between the pair certainly predates Euphoria. Zendaya and Reid have been publicly and privately showing each other support for years. While attending the 2021 Essence Black Women in Hollywood Awards, Reid got choked up while thanking her on-screen sister. She praised the Spider-Man: No Way Home star for never wavering on her support.
"There's lots of people that came into my life when [A} Wrinkle [in Time] came out," Reid shared with Zendaya. "And they were like, 'Oh yeah, I'm here to support you.' But you were one of those people that stuck to that. So for that, thank you."
RELATED: 'Euphoria': Why Storm Reid Was Initially Worried About Playing Her Character, Gia
Zendaya was quick to share that the love was mutual. Calling Reid her "baby sister", she recounted meeting The Invisible Man star at a Ben & Jerry's. "We're real-life sisters, I believe that," Zendaya shared. "And TV sisters, and I'm so proud of everything that you do. You know that. I'm a ride or die and I'll continue to support everything you do. You're phenomenal and the love is mutual."
The 'Dune' star reveals that Reid playing her little sister in 'Euphoria' is her dream casting
Turns out that Reid was actually Zendaya's first choice to play her little sister in Euphoria also. While speaking to BuzzFeed UK, the Dune star got candid about how eager she was for Reid to fill the role of Gia. She was always gunning for Reid to join her in Euphoria.
RELATED: Zendaya Refused to Have Her First Kiss on Camera; 'I'm Not Gonna Do This'
"I kind of got my dream casting as my little sister with Storm," Zendaya shared. "As she's come up, I've always been told, 'Oh my gosh, she looks just like Zendaya!' So when a role for my little sister came around, I was like, 'Storm! We have to work together!' She's adorable and she's awesome."
Reid has impressed Zendaya while they were filming 'Euphoria'
Zendaya has also revealed that she loves watching Reid work. In a separate interview with Collider, Zendaya shared that Reid is able to slip into a scene with ease, no matter how intense or emotional it is. "Baby Storm is so good," Zendaya exclaimed. "She's so talented. It's crazy. She can go there, at the drop of a hat. I can't do that. It takes me a second to be on camera."
Clearly, the pair have a lot of respect for each other. We're sure Euphoria fans are interested in seeing how their on-screen relationship progresses in season 3.
RELATED: Zendaya Met Her Assistant, Darnell Appling, Years Ago on a TV Show