What Are the Zodiac Signs of the Pentatonix Members?
You don't have to like choir music to enjoy Pentatonix. Mitch Grassi, Kirsten Maldonado, Scott Hoying, Kevin Olusola, and Matt Sallee continue to surprise audiences with their live performances, arrangements, and unique voices. What are the zodiac signs of these Grammy award-winning singers? Here's what we know about the Pentatonix members and their birth charts.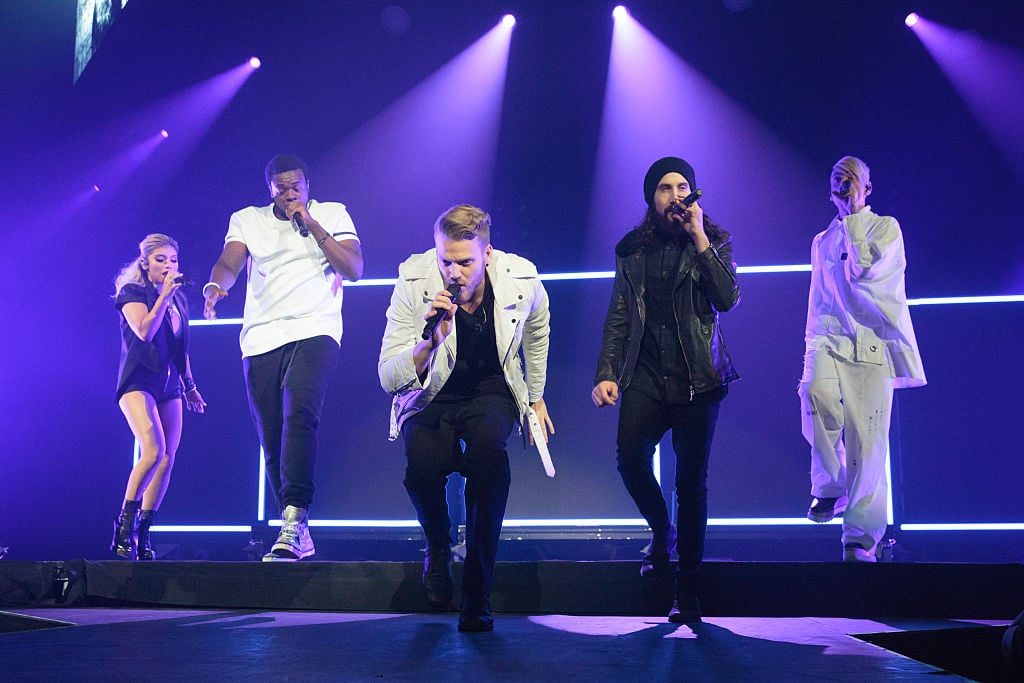 Pentatonix is a 5-piece a cappella group, with Kirsten Maldonado as the alto/soprano
Originally formed for the television show The Sing-Off, Pentatonix has since gone on to become one of the most popular groups in a cappella, earning multiple Grammy Awards for their arrangements. Currently, there are five members of Pentatonix: Mitch Grassi, Kirsten Maldonado, Scott Hoying, Kevin Olusola, and Matt Sallee.
As the only woman in this group, Kirsten Maldonado often sings both the soprano and alto parts, even taking a break from the a cappella group to perform on Broadway. This singer is a vibrant Taurus, with her birthday being on May 16. They're known for being stubborn, but according to Astrology Zodiac Signs, this sign is also devoted, responsible, and stable.
The beatboxer of the group, Kevin Olusola, was born on Oct. 5. That makes Kevin Olusola the group's resident Libra. While Libras are known for being gracious, social, and friendly, this performer is also extremely talented and hardworking, attending Yale University before joining this group.
Mitch Grassi and Scott Hoying perform songs together for Superfruit, in addition to Pentatonix
You might've seen them briefly talk about zodiac signs for their "Hurry Up" music video. Aside from their work with Pentatonix, Mitch Grassi and Scott Hoying occasionally post videos on their YouTube Channel, Superfruit.
It's there that Mitch Grassi revealed that he's a Leo — a fire sign, in fact. Born on July 24, Mitch Grassi signs everything from tenor to soprano for Pentatonix and definitely exhibits the bold personality associated with Leos. Scott Hoying, the baritone of the group, was born on Sept. 17, making him a Virgo. Known for their attention to detail, this sign is also generally sensitive, artistic, and reserved nature, according to Famous Birthdays.
Avi Kaplan, the former Pentatonix member, is an Aries
Born on April 17, the bass behind songs like "Problem" and "Rose Gold" is an Aries. Known for being driven and hardworking, Avi Kaplan stepped down from Pentatonix in 2017 to pursue other musical endeavors. He's since debuted as a solo artist.
Since then, Matt Sallee joined the group, performing as a baritone and bass. Born on Feb. 11, this performer is an independent Aquarius. According to Allure, people with this zodiac sign are often eccentric and "they can often be identified by their offbeat fashion sensibilities, unusual hobbies, and nonconformist attitude." We totally see it.
Music by Pentatonix, including their most recently-released album The Best of Pentatonix Christmas, is available on Spotify, Apple Music, and most major streaming platforms. Pentatonix embarks on another world tour starting in February 2020.