Zoë Kravitz's Ideal Vacation Is Making Music in a Studio
Zoë Kravitz has been landing supporting acting roles for years. She's been a part of such successful film franchises as the Divergent series, X-Men, Fantastic Beasts, and Mad Max. But it's her lead role in the new show, High Fidelity, that is really skyrocketing her into a new level of fame. We all know that she has acting chops, but does she make music like her famous father too?
Zoë Kravitz's comes from a blended family of actors and musicians
Zoë Kravitz's father, Lenny Kravitz, is a singer-songwriter with nine Grammy nominations and four Grammy wins. All of his wins are in the category of "Best Male Rock Vocal Performance." Lenny Kravitz also acts and has been in a successful film franchise of his own, playing Cinna, the stylist for Katniss Everdeen, in The Hunger Games.
Lenny Kravitz is still friends with his ex-wife and Zoë Kravitz's mother, Lisa Bonet, who is now married to Game of Thrones star Jason Momoa. Bonet is also an actress and was in the original film version of High Fidelity with John Cusack. Momoa and Bonet had two children together, Zoë Kravitz's half-siblings, Lola and Nakoa-Wolf. Everyone gets along well, with Lenny Kravitz even saying that Momoa is like a brother to him.
Zoë Kravitz said she has 'dabbled' with instruments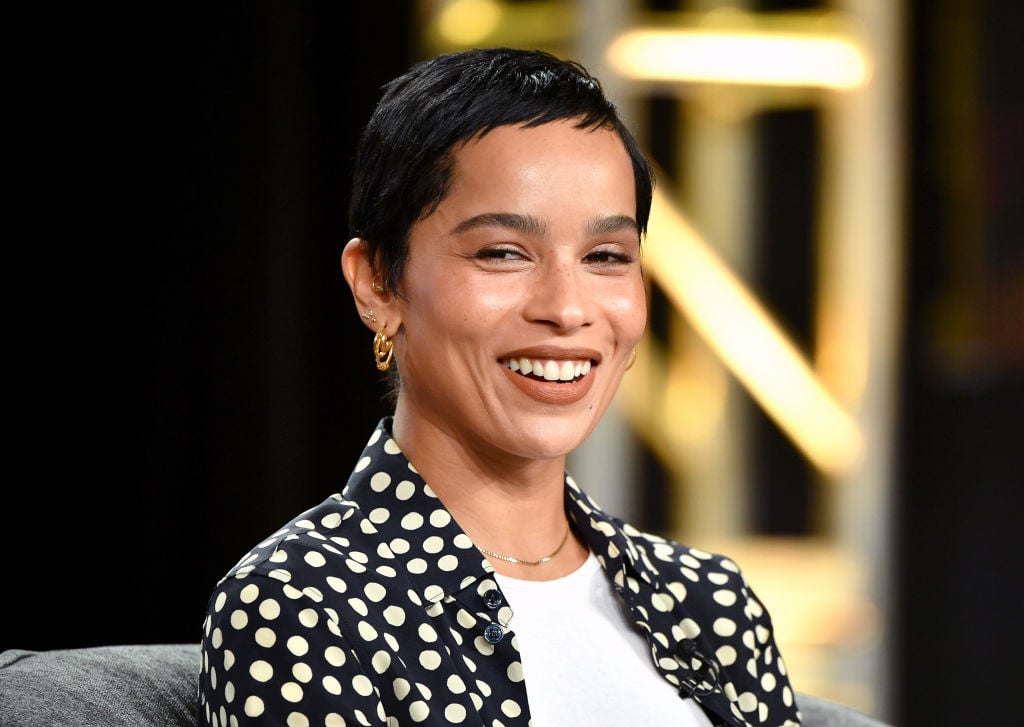 Kravitz gave an interview recently with Rolling Stone discussing her role in High Fidelity. During the course of the interview, she was asked about her love of music, and if she played. Kravitz sings and even performed a song for the soundtrack of her other show, Big Little Lies.
She told the magazine: "I've dabbled with instruments. I played the drums for a little bit in high school and piano. But I never had the discipline to stick with anything. I was in a band in my early twenties, and now have been kind of, when I have time, attempting to write some new music."
She goes on to explain that she loves making music and that because it's not her main focus, it feels like a vacation. She elaborates: "I'd rather go make music in a studio when I have time off than go sit on a beach. I like being active and creative in that way."
Zoë Kravitz talks record stores
Kravitz described Amoeba as her "home away from home." The iconic Hollywood record store regularly hosts free concerts and now has locations in Berkeley and San Francisco as well. She goes on to reminisce about other music stores, such as Kim's Video in New York, that no longer exist now.
She also discussed Championship Vinyl, the fictional record shop that is one of the sets for High Fidelity: "[The production staff] would constantly be rotating [the records] so it felt like a real place, and so we'd make all these new discoveries. It was a real record store. All the records were there, they're real, and we could actually browse and discover new music, too, which was really cool."
What's next for Zoë Kravitz?
In the upcoming film iteration of one of the most beloved superheroes, Kravitz is going to play Selina Kyle, aka Catwoman, alongside Robert Pattinson in Chris Reeves' The Batman. She is excited to take on the role and has said that Michelle Pfeiffer's version of the character was inspiring and iconic.
Kravitz is already getting into the nuances of the character saying in a recent press interview: "I think Batman represents a very kind of masculine power, and Catwoman represents very feminine power — slightly more complicated, and softer, too. I like the idea that you can be soft, you can be gentle and still be very powerful and still be very dangerous."