'Zoey's Extraordinary Playlist': What Brings Back Zoey's Heart Songs in Season 2?
The NBC musical dramedy series Zoey's Extraordinary Playlist returned with season 2 on January 5, 2020. Zoey's ability to hear what she deems "heart songs" is a focal point of the show. However, she hasn't heard one in a while when the season begins. So what brings her heart songs back?
'Zoey's Extraordinary Playlist' is about a woman who hears people singing their feelings
Zoey's Extraordinary Playlist premiered in January 2020. The show depicts Zoey Clarke, a coder at a San Francisco tech company. Due to her father's neurological condition, she takes an extra precaution after experiencing headaches and gets an MRI. But an earthquake during the scan gives her a very strange ability.
Suddenly, Zoey sees and hears those around her perform song and dance numbers that no one else can. With the help of her neighbor, she discovers that what they're singing reflects their true feelings — sometimes those they don't even know they have. At one point in the season, her ability reverses, and Zoey sings her feelings.
She isn't fond of her power at first
As Zoey is the only one who can see or hear these musical numbers, she's very disconcerted. It doesn't help that she's someone who doesn't really listen to music or know much about it. That's where Mo (Alex Newell), Zoey's building manager, with who she rarely interacted before, comes in.
Mo encourages Zoey to learn more about her ability and identify the heart songs she hears and what they mean about herself and those around her. They form a fast friendship through their time spent together. Despite this, Zoey still finds her ability to be frustrating at times.
In 'Zoey's Extraordinary Playlist' Season 2, Zoey hasn't heard heart songs in weeks
RELATED: 'Zoey's Extraordinary Playlist': Why Jane Levy Left Horror For the Musical Series
The season premiere, "Zoey's Extraordinary Return," begins with Mo singing — for real. Zoey says that her power seems to have faded following her dad's passing in the season finale weeks earlier. "I'm desperately hoping these powers come back before I lose interest in you," replies Mo.
"But be honest. Come on. You miss them just a little bit, don't you?" Mo asks Zoey. But Zoey, still grieving, disagrees. "Honestly, the world has been upside down so long. All I want is to feel normal," she replies. "So if my powers really have gone away, I mostly feel relieved."
Returning to work brings back her power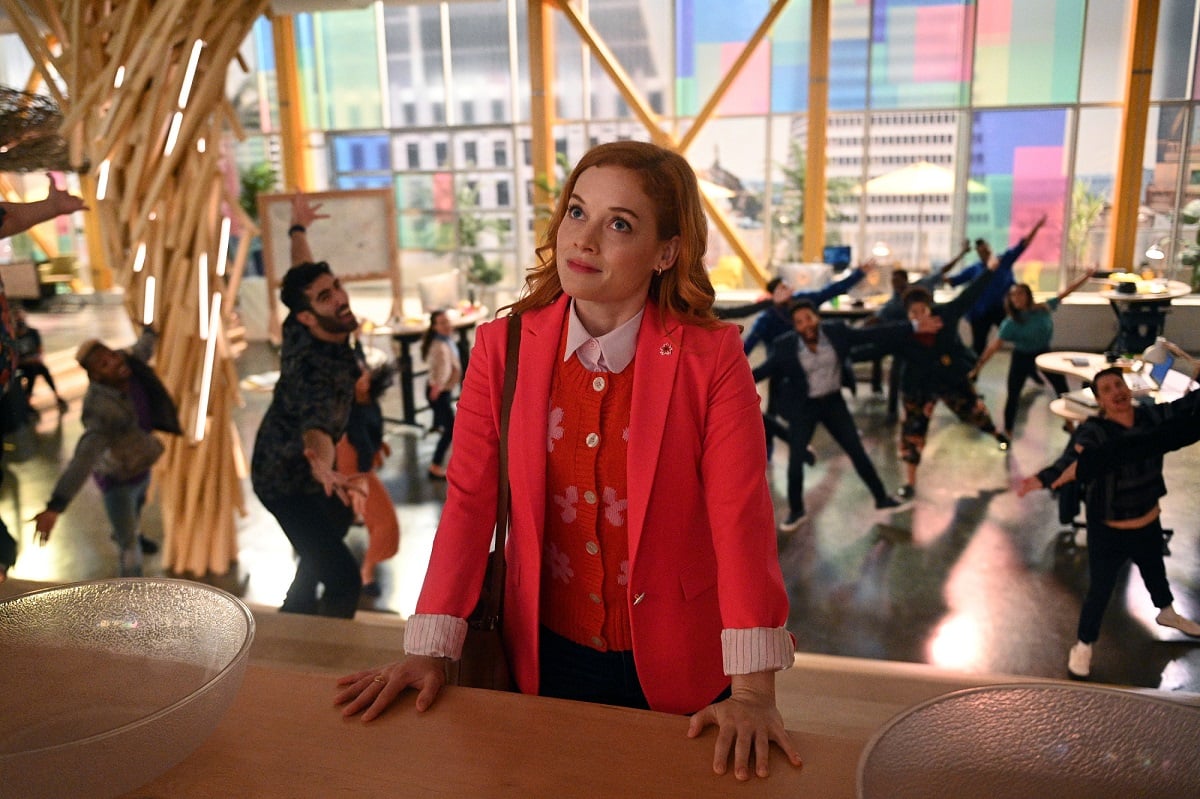 Zoey and Mo's conversation takes place as the former heads back to work at SPRQ Point following her bereavement leave. And, as it turns out, she doesn't have to wait long to find out how she'll feel with her power back intact. It returns as soon as she arrives back in the building.
After her potential love interest, Simon, welcomes her back, he (and the rest of her coworkers on the fourth floor) begin singing and dancing to the titular song from the hit Broadway musical Hello, Dolly! It seems that getting back to her daily routine brought about the ability stifled by her initial mourning period.