1 'Classic Amber Heard Slip-up' Called out by a Body Language Expert
After receiving an unfavorable verdict in the Johnny Depp defamation trial, Amber Heard sat down with Savannah Guthrie for an interview that aired in full on NBC's Dateline. And one prominent body language expert thinks she made a "classic Amber Heard slip-up" during that chat.
Though she doubled down on her claims against her ex-husband, she seemed to say that she understood why "the average person" might have been "disgusted by the whole thing."
But what words did she use that caught that analyst's attention?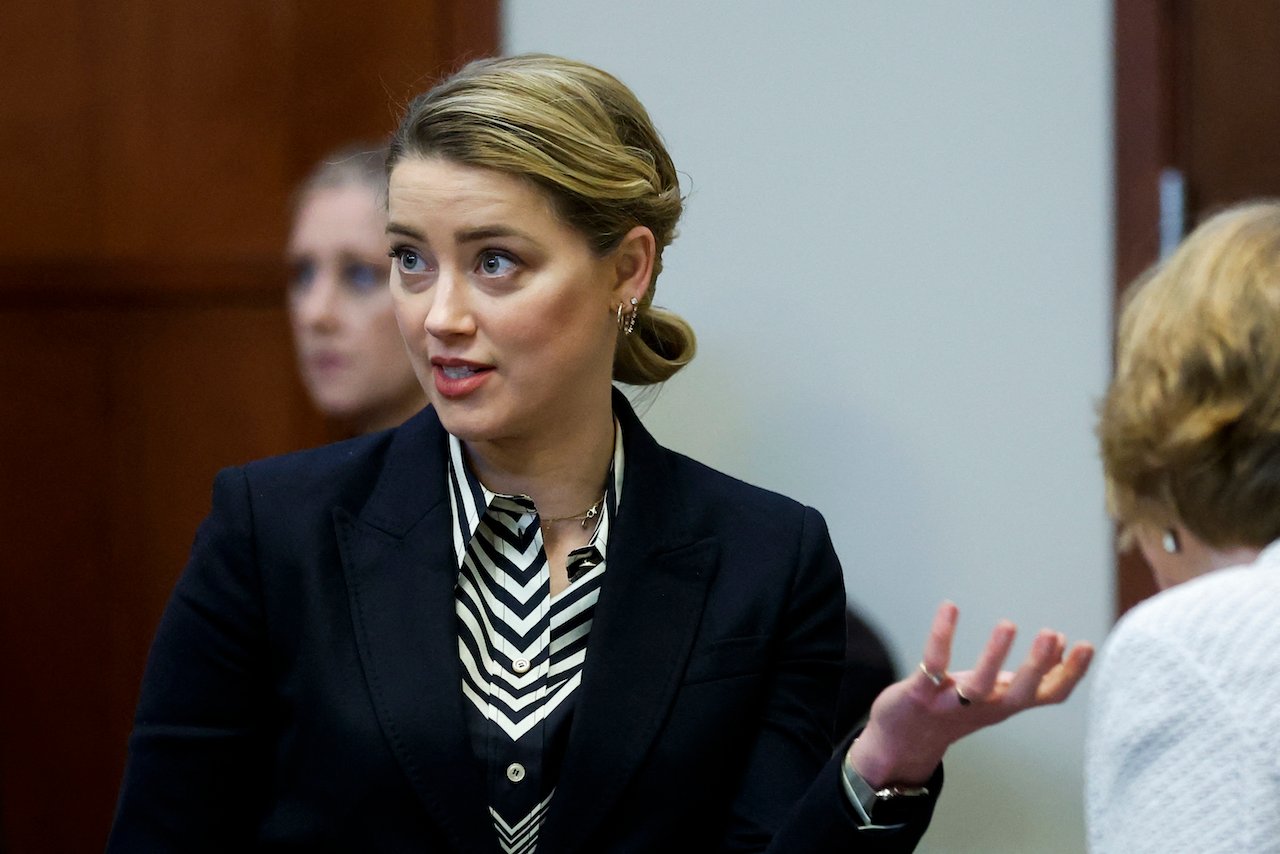 Amber Heard seemed to say she didn't blame 'the average person' for judging her behavior along with Johnny Depp's
Guthrie confronted Heard with some uncomfortable questions during their chat. She asked, "For some people, they were just frankly disgusted by the whole thing and don't have much sympathy for either one of you. Can you understand that?"
"Absolutely," the superhero movie star replied. "I would not blame the average person for looking at this and how it's been covered and not think that it is Hollywood brats at their worst. But what people don't understand is it's actually so much bigger than that."
But a famous body language expert called Spidey noticed she made a "classic Amber Heard slip-up" in that reply. And it made the meaning of her statements ambiguous — or perhaps a little clearer.
Amber Heard's 'classic slip-up': using double negatives
Spidey evaluated Heard's language and behavior during the interview with Guthrie. And he found the Zombieland actor used double negatives in the above response. She appeared to be trying to connect to the audience by coming off as understanding. But she changed the meaning to the opposite, he explained.
It could be a mistake in speech on her part, of course. But Spidey noted how she followed that statement by saying the trial was "so much bigger than" just two "Hollywood brats at their worst."
To him, it all indicated Heard didn't understand how people could not have sympathy for her, given the weight attached to her case. He thought trying to say she understood was a "tactic," and her "slip-up" revealed the truth.
How did Johnny Depp's legal team respond to Amber Heard's interview?
Heard said the trial's verdict was a "setback" for women in the aftermath. And she explained to Guthrie how she was denied her First Amendment right. She claimed she lost the freedom to speak "truth to power," three words experts say she should "be careful" using.
As reported by People, a spokesperson for Depp briefly responded to Heard's interview. They said, "It's unfortunate that while Johnny is looking to move forward with his life, the defendant and her team are back to repeating, reimagining, and re-litigating matters that have already been decided by the Court and a verdict that was unanimously and unequivocally decided by a jury in Johnny's favor."
Heard's spokesperson told Page Six, "If Mr. Depp or his team have a problem with this, we recommend that Johnny himself sit down with Savannah Guthrie for an hour and answer all her questions."
RELATED: Amber Heard's Attorney: Blame the Judge, Jury, and Johnny Depp's Legal Team For the Verdict