There Was 1 Easter Egg Hidden for the BTS ARMY in the 'Home' Performance on 'The Late Show Starring Jimmy Fallon'
This K-pop group loves their ARMY. So much, in fact, that there was a soda can with the BTS ARMY symbol hidden in their 'Home' performance on 'The Late Show Starring Jimmy Fallon.'
Sure, they took over Grand Central for a performance of "On" on this talk show. Recently, however, this K-pop group shared a few socially distant performances on The Late Show Starring Jimmy Fallon. One of which held a special easter egg for the BTS ARMY. 
Here's what we know about their live performance of "Home."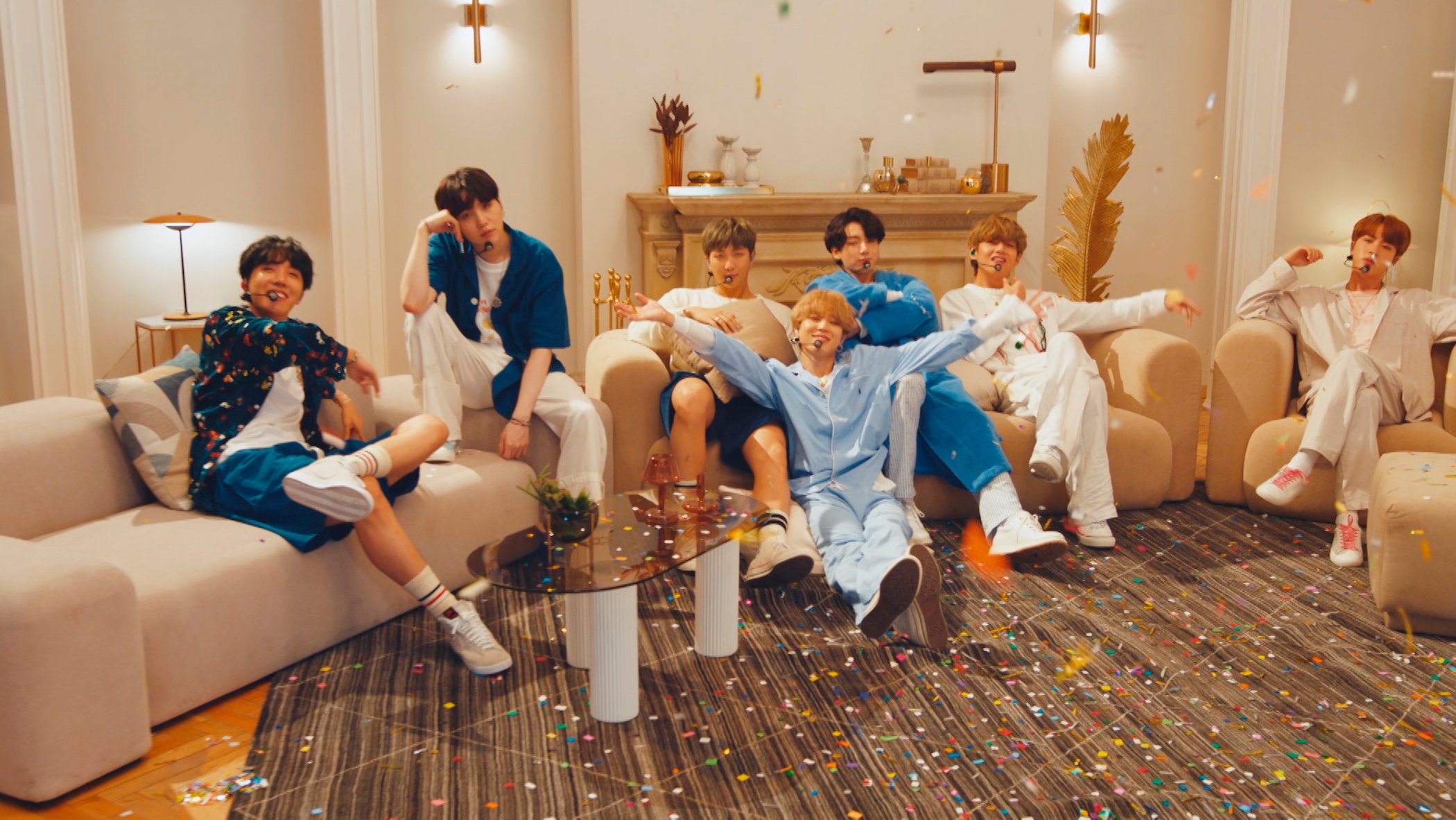 BTS performed for a full week on 'The Late Show Starring Jimmy Fallon'
They went from taking over the New York City subways to taking over the YouTube trending page. During 2020, The Late Show Starring Jimmy Fallon had a special week dedicated to BTS skits, interviews, and performances.
These performances included never before seen versions of songs like "Black Swan," "Idol," and "Mikrokosmos," each of them holding a special meaning for fans. Their performance of "Home," however, held a special easter egg just for the BTS ARMY.
BTS hid an 'easter egg' during their performance of 'Home'
For one performance during "BTS Week," the K-pop performers dressed in bathrobes and shades of blue, sharing their "casa" with fans across the globe.
This was their performance of "Home," which, since its release, earned over 17 million views on YouTube. This production starts with Jimin, who opens the refrigerator in this house to grab a water bottle.
On the door of this fridge were a few black soda cans with a unique logo on them. This was a special message just for BTS fans and although they only appear for a few seconds, they held a lot of meaning.
BTS first revealed their new and improved logo in 2017. This new logo, inverted, is the logo that represents the BTS ARMY, connecting this band even more to their fan base. This was, in fact, that logo that appeared in the fridge, along with the word "ARMY" on the soda can.
BTS often shares their love for their ARMY
Whether they're performing for thousands of fans in a stadium or millions of fans online, these boys often share their love and appreciation for their fans. In fact, BTS won the Billboard Music Award for "Top Social Artist" four years in a row.
"I want to say, ARMY really is our inspiration," Jimin said during an interview with Entertainment Tonight. "Things are tough for everybody, and everybody's really going through a hard time. But I think for ARMY to have this energy and show this drive, it really inspires us."
"It inspires us to make our music and it comes out through our music," he continued. "So again, we want to thank ARMY. Thank you, ARMY, for being our inspiration."
The "Dynamite" music video is now available on YouTube. Music by BTS, including their recently released album, Map of the Soul: 7, is available for streaming on Spotify, Apple Music, and most major platforms.