1 of Elvis Presley's Songs Has Lyrics About a Country Singer
One of Elvis Presley's songs was partially inspired by a time when a songwriter spelled out a word. The song charted in the United States and the United Kingdom.
TLDR;
One of Elvis Presley's songs was inspired by a country singer who performed late at night.
The song's hook was inspired by someone writing out a word.
The track charted internationally.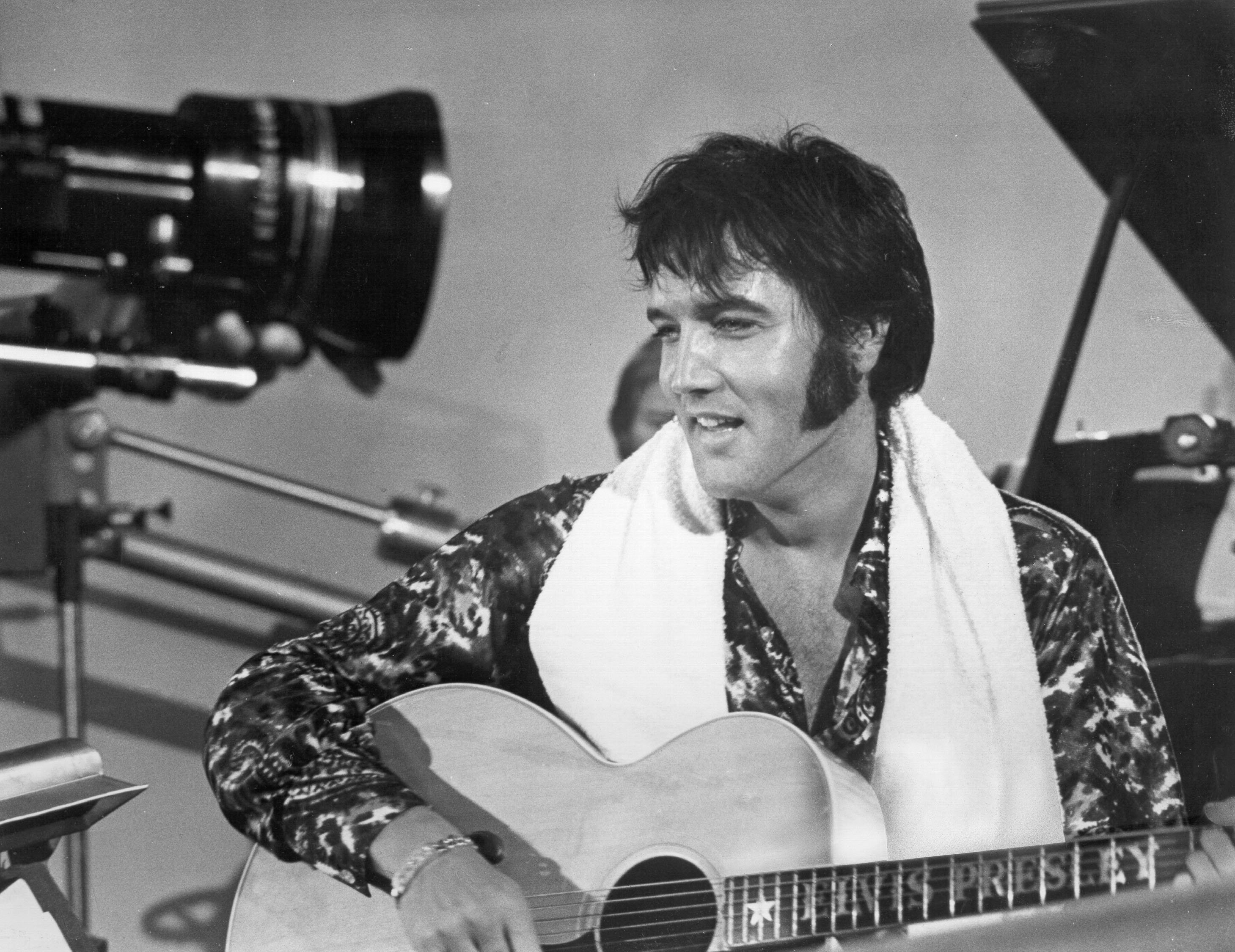 Elvis Presley's songs often drew inspiration from other artists. For example, one of his tracks has lyrics about a contemporary country singer. The writer of the song explained how he came up with its hook.
1 of Elvis Presley's songs was originally intended for another singer
"T-R-O-U-B-L-E" was written by Jerry Chesnut. Chesnut wrote songs for country stars including Loretta Lynn, George Jones, and Faron Young. During a 2014 interview with The Tennessean, he revealed he was trying to write a hit when he penned "T-R-O-U-B-L-E." He drew inspiration from a country musician he knew named Little David Wilkins.
Wilkins used to play piano at a restaurant late at night. "He's like Jerry Lee [Lewis], man, he's wild and great," Chesnut recalled. "We'd go over there and eat, have a few drinks and listen to David. I had watched him do this for a long time, and one morning, I decided to write a song for him, and I thought, 'What would I write for David that he could really do? It needs to be uptempo,' because man, he could get out there and rock."
How Jerry Chesnut thought of the hook of the song
Chesnut decided what he wanted the song to be about. "'[Wilkins will] probably play it at that place, and he plays from 9 til 1. Well, I'll just write it about him,'" Chesnut thought. "I started out with 'I play an old piano from 9 til half past 1/I'm trying to make a living watching everybody have fun.'"
Chesnut thought about what it was like to meet women while performing. 'I'd played so many skull orchards myself, and seen a good-looking woman walk in by herself, and it's trouble," he said. "I thought of that and thought, 'I'll put that in there.'"
While writing "T-R-O-U-B-L-E," Chesnut wrote the word "trouble" while saying every letter of the word to himself. That's how he came up with the song's hook. He said every part of the song fell into place.
The way listeners in the United States and the United Kingdom reacted to Elvis Presley's 'T-R-O-U-B-L-E'
"T-R-O-U-B-L-E" became a modest hit in the United States. It peaked at No. 35 on the Billboard Hot 100 and lasted on the chart for nine weeks. Elvis included "T-R-O-U-B-L-E" on his album Today. The album reached No. 57 on the Billboard 200 and stayed on the chart for 13 weeks.
"T-R-O-U-B-L-E" was similarly successful in the United Kingdom. The Official Charts Company reports the song peaked at No. 31 in the U.K. and remained on the chart for four weeks. Today hit No. 48 there and spent three weeks on the chart. "T-R-O-U-B-L-E" and Today were minor hits, even if they weren't as prominent as some of Elvis' other material.
Wilkins might not be as well-known as Elvis but one of Elvis' later songs might not exist without him.