1 'Gunsmoke' Episode CBS Didn't Want You to See Because They Thought It Made Amanda Blake Look Bad
Actor Amanda Blake joined Gunsmoke at the very beginning as a member of the principal cast. She wasn't in every episode, but the presence of Miss Kitty Russell was always felt on the show just as much as the rest of the characters. However, there was one episode that Gunsmoke network CBS didn't want to air because they feared that it wasn't a good look for Blake. Nevertheless, the story still managed to make it to small screens across the country.
CBS typically gave 'Gunsmoke' production creative freedom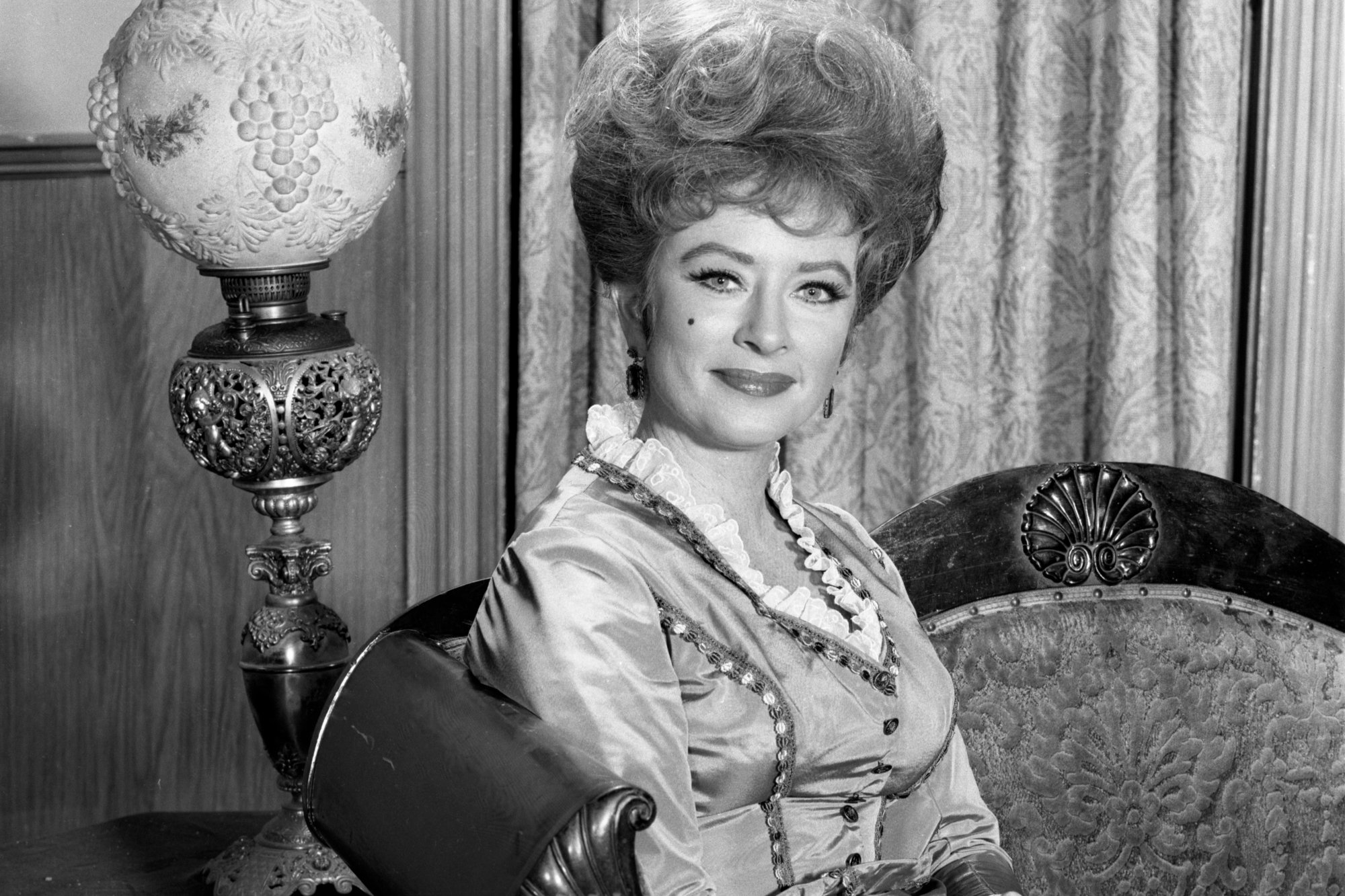 In a 1989 interview shared via The Legacy of Gunsmoke, James Arness, Amanda Blake, and producer John Mantley spoke with a live audience about their experience on the show. Gunsmoke ended in 1975 after a 20-season run, so they had plenty of stories to share about their time working on one of the biggest shows ever to hit television.
Some episodes followed a more somber tone than others, so one audience member wanted to know if CBS ever asked them to "lighten up" the content for a happier viewing experience. Mantley responded that they never truly micromanaged them as many networks do with most shows. However, there were two occasions when they did want to stop him in his tracks.
"No, I must tell you that I was the most fortunate producer ever in this town because Gunsmoke allowed me to make this show as if it were my own," Mantley said. "They never told me, except in two incidences, which I'll tell you briefly about, they never told me what we could do or what we could not do."
'Gunsmoke' Season 15 Episode 19 featured Amanda Blake selling the Long Branch Saloon
Mantley continued to talk during the 1989 interview about those two Gunsmoke episodes. The first of which involved Blake's Miss Kitty. He called out season 15 episode 19, which was called "The Badge," and called it one of their "finest shows."
Mantley emphasized how, at that time, shows taking place in Gunsmoke's time period didn't typically provide female characters with very interesting roles because they were "third-class citizens." But, "The Badge" went against the grain. Mantley explained the episode after Matt Dillon got shot and Doc Adams was working on him all night:
"Finally, when Doc straightened up after working all night, he said, 'Well, we're lucky. He's going to make it.' She didn't say anything. She just turned and walked out of Doc's office down the stairs over to the Long Branch. It was in the middle of the night, there was no one about, no one behind the bar. Poured a water glass of bourbon and began to drink it. Doc came in and said, 'What's the matter with you? I told you, he's going to live.' And she downed the glass and said, 'Yeah, Doc. What are you going to tell me about next time? 11 times, I sat there and watched you dig bullets out of that man's body, never knowing whether he was going to live or die. I love him more than any man has ever been loved by a woman, but I can't live this way anymore.' Smash cut, Long Branch was up for sale."
CBS didn't want to bring that Gunsmoke story to the screen because they thought "it was the wrong broadcasting image" for Blake.
The second instance involved a storyline with Stone's Doc. However, Mantley noted that he didn't have enough time to go through that tale.
Amanda Blake stuck around for 19 seasons total
CBS took Gunsmoke from a half-hour-long Western television show to an hour-long adventure for audiences to enjoy. It was an ensemble show that then incorporated guest actors, which Stone himself hated the idea of. Nevertheless, it allowed for greater diversity from one episode to the next.
Blake remained a part of Gunsmoke for 19 seasons, leaving only one complete season without her. She even returned to play Miss Kitty in the first of the five made-for-TV movies. The film was subtitled Return to Dodge.