10 Chilling Horror Series on Netflix That Will Get You Hyped for Halloween
Spooky season is here and it's the perfect time to dive into something scary on Netflix. The streamer carries award-winning shows like American Horror Story and Penny Dreadful, as well as critically acclaimed originals like The Haunting of Hill House. So, if you're looking to add something chilling to your watchlist, here are 10 horror series on Netflix that will get you hyped for Halloween.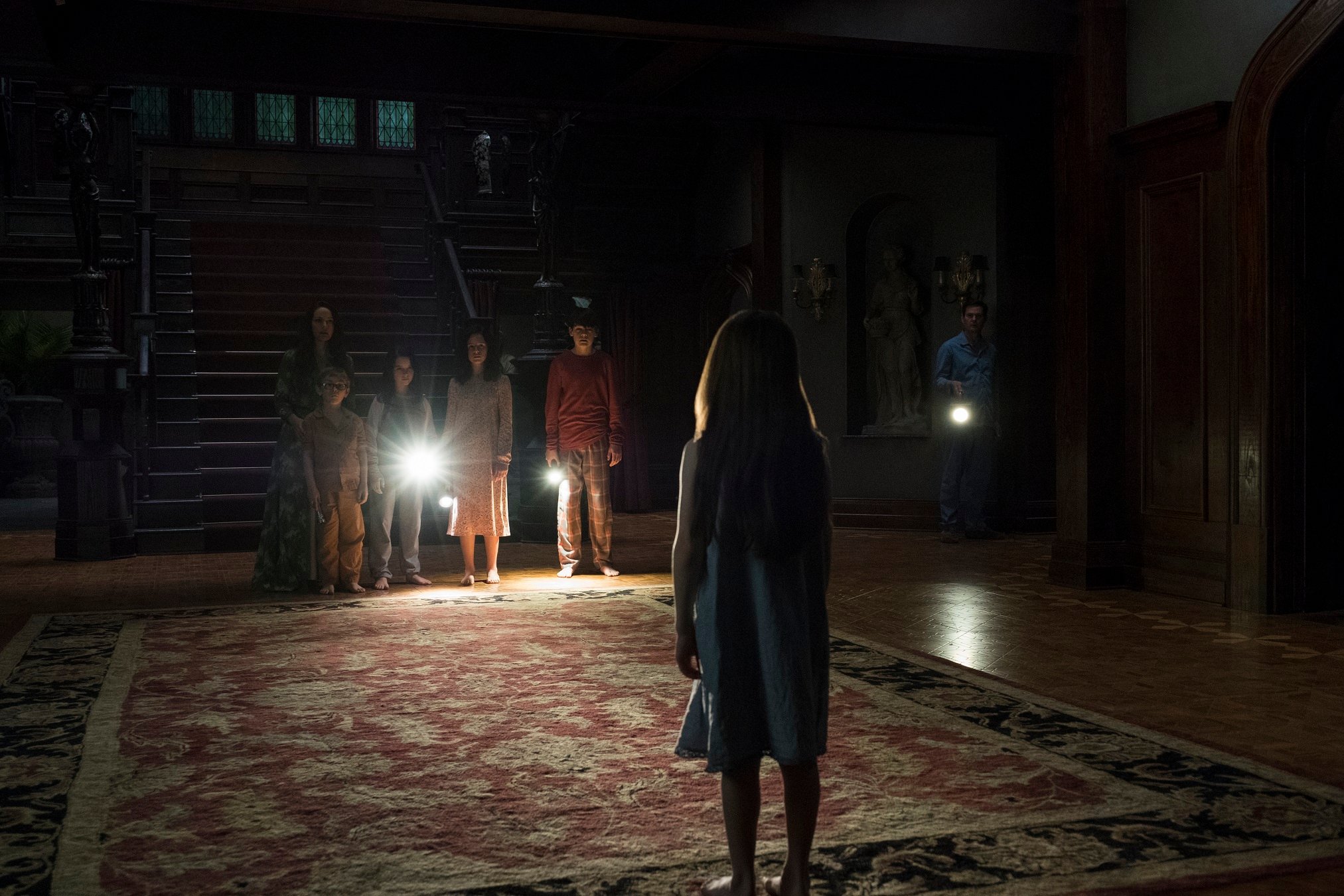 1. 'The Haunting of Hill House'
Lauded as one of the most beautiful and perfect pieces of horror ever made, The Haunting of Hill House tells the story of a young family who is seduced by the ghosts of their new haunted home. But even after leaving the sinister mansion, the family is still plagued by the metaphorical and literal ghosts that followed them out.
The Haunting of Hill House — which is loosely based on Shirley Jackson's 1959 novel — is an anthology series with one complete 10-episode season. The Michael Flanagan directed drama stars Michiel Huisman, Elizabeth Reaser, Carla Gugino, Victoria Pedretti, Oliver Jackson-Cohen, Henry Thomas, and Kate Siegel.
2. Netflix's 'The Haunting of Bly Manor'
RELATED: 'The Haunting of Bly Manor' Features a Former Child Star You Might Recognize
The Haunting of Bly Manor comes from the creators of The Haunting of Hill House, but tells an entirely different story. Inspired by Henry James 1898 novella, The Turn of the Screw, the Netflix original follows a young American au-pair who is hired to care for two orphaned siblings. But unbeknownst to her, the children's remote English manor is plagued by ghosts.
Like its predecessor, The Haunting of Bly Manor is an anthology drama. The complete nine-episode season premiered on Netflix on Oct. 9.
3. 'Evil'
RELATED: From 'Hocus Pocus' to 'Ghostbusters,' All the Spooktacular Movies You'll Find on Freeform on Halloween Day
Evil is a psychological-horror drama that premiered on CBS in 2019. It tells the story of an unlikely trio who is hired by the Catholic church to assess claims of demonic possession. While they try to explain away some of their cases through psychology and science, they soon realize there is a much larger sinister force at play.
Evil stars Katja Herbers, Mike Colter, Michael Emerson, Aasif Mandvi, and Renee Elise Goldsberry. The 13-episode first season is currently streaming on Netflix.
4. Netflix's 'The Order'
RELATED: Netflix's 'The Order': The Surprise '90210' Reunion That Has Fans ROFL
Netflix's original series, The Order, is centered on a college freshman who is obsessed with avenging his mother's death. His college, Belgrave University, houses a secret magic society that he believes is responsible. He infiltrates the order with revenge on his mind, but when he encounters a werewolf on campus, his plans take a monstrous turn.
The Order stars Jake Manely, Sarah Grey, and Matt Frewer. The first two seasons — which are 10 episodes each — are available on Netflix.
5. Netflix's 'Chilling Adventures of Sabrina' 
Based on writer/showrunner Roberto Aguirre-Sacasa's Archie Comics reboot, The Chilling Adventures of Sabrina follows teen witch Sabrina Spellman. While her aunts, Zelda and Hilda, help her navigate her new witch abilities, Sabrina faces the fact that her dark side could end up hurting those around her.
The Netflix original series stars Kiernan Shipka, Ross Lynch, Jaz Sinclair, Lucy Davis, Miranda Otto, Chance Perdomo, and Michelle Gomez. All three seasons are streaming on Netflix.
6. 'Penny Dreadful'
With characters like Victor Frankenstein, Dorian Gray, and Dracula, Showtime's Penny Dreadful pays homage to classic horror literature. Set in Victorian London, the series follows a trio of unlikely friends who come together to battle the city's monsters.
The show stars Josh Hartnett, Timothy Dalton, Eva Green, and Harry Treadaway. All three seasons are available to stream on Netflix.
7. Netflix's 'Locke & Key'
Netflix's original series, Locke & Key, tells the story of three siblings who discover the alluring and deadly secrets of their father's family home. While looking for keys that will unlock supernatural dimensions in the house, they encounter a demonic force who wants the keys for herself.
Locke & Key stars Darby Stanchfield, Connor Jessup, Emilia Jones, Jackson Robert Scott, and Aaron Ashmore. The 10-episode first season is streaming on Netflix.
8. Netflix's 'October Faction'
October Faction follows a couple who secretly hunts monsters, unbeknownst to their twin teens. But when the high schoolers inadvertently release a sinister force, they discover a hidden secret about themselves.
The Netflix original series stars Tamara Taylor, J. C. MacKenzie, Aurora Burghart, and Gabriel Darku. The 10-episode first season is available to stream on Netflix.
9. 'American Horror Story'
Created by Ryan Murphy and Brad Falchuck for FX, American Horror Story tells chilling stories of murderous ghosts, witches, and other evil beings. Each season of the award-winning series tells a different terrifying tale. Some notable recurring actors include Jessica Lange, Kathy Bates, Frances Conroy, Evan Peters, Lily Rabe, Sarah Paulson, Denis O'Hare, Emma Roberts, Jamie Brewer, and Angela Bassett.
Netflix is currently streaming seven seasons of AHS — Murder House, Asylum, Coven, Freak Show, Hotel, Roanoke, and Cult.
10. 'Haunted'
The Netflix original series, Haunted, provides witness accounts and re-enactments of mysterious supernatural occurrences. Each episode follows a different event and features testimony from the people who lived through it.
The first two seasons are available on Netflix.