10 Ina Garten Recipes Perfect For Fall
ARTICLE HIGHLIGHTS
Ina Garten's perfect fall recipes include a Cape Cod Salad bursting with apples and cranberries and a roasted butternut squash salad that will use one of the season's most popular vegetables.
Don't be scared by the amound of garlic in 'The Barefoot Contessa's' Chicken with 40 Cloves of Garlic — as they cook down the garlic gets nutty and sweet.
Ina Garten's perfect desserts for Fall both include apples, but one adds the tart flavor or cranberries and the sweetness of oranges.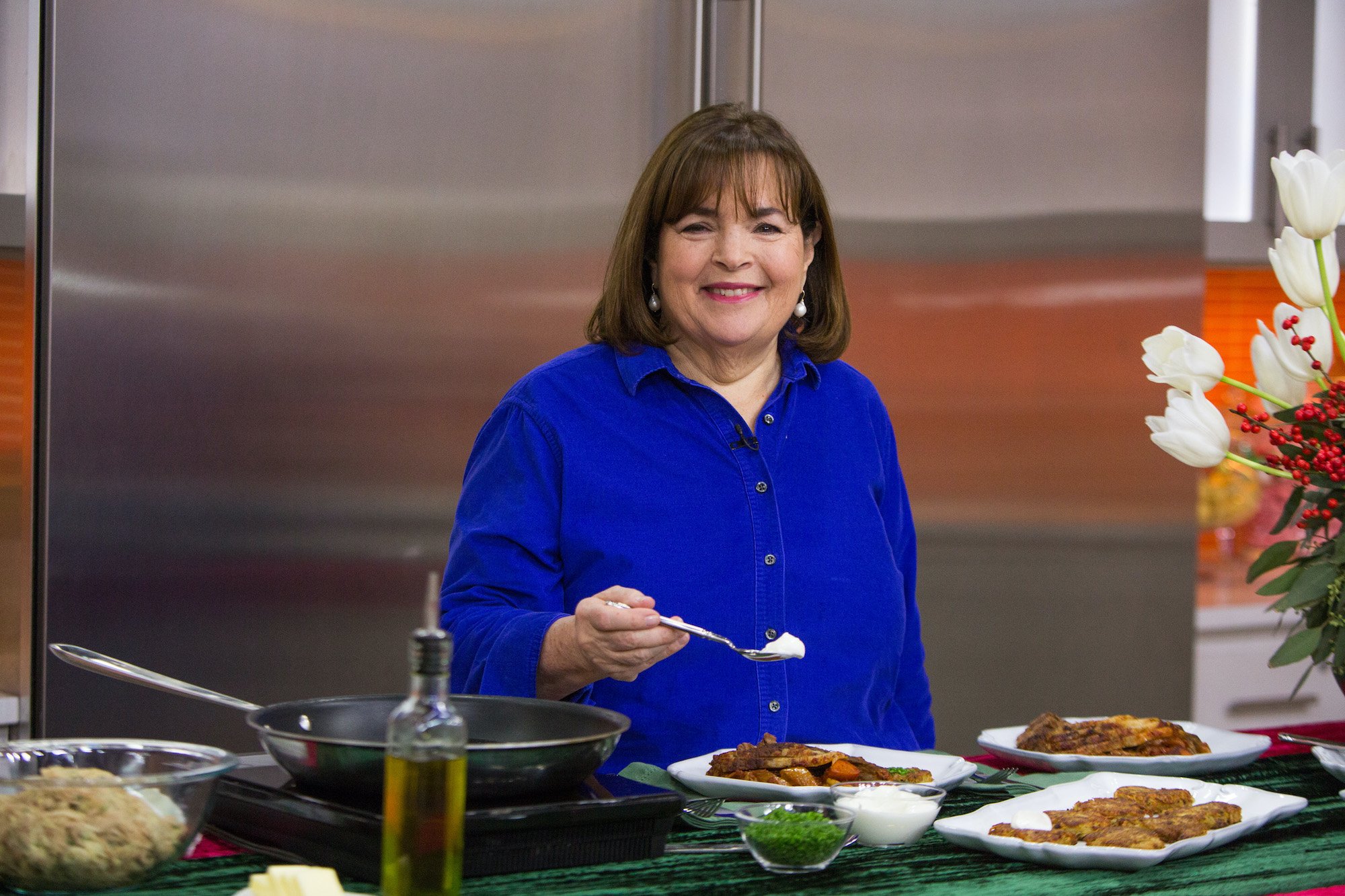 Ina Garten loves to include fall and winter veggies in her recipes. From salads to soups to main dishes to desserts, fans of the Barefoot Contessa can easily find dishes loaded with everything from apples to butternut squash. Here are 10 Ina Garten recipes that are perfect for fall.
10. Cape Cod Chopped Salad
From her Back to Basics cookbook, Garten's recipe for Cape Cod Chopped Salad features "fabulous flavor with simple ingredients." For the salad, you'll need thick-cut bacon, baby arugula, Granny Smith apples, toasted walnut halves, dried cranberries, and blue cheese crumbles.
For the dressing, the ingredients include apple cider vinegar, grated orange zest, freshly-squeezed orange juice, Dijon mustard, pure maple syrup, salt, pepper, and olive oil.
9. Maple Roasted Carrot Salad
Another delicious fall side dish, Garten says her Maple Roasted Carrot Salad just might be her favorite salad recipe ever. It features roasted carrots tossed with maple syrup, which are added to a bed of peppery arugula, orange-soaked cranberries, creamy goat cheese, and salty Marcona almonds.
8. Butternut Squash Salad With Warm Cider Vinaigrette
The Barefoot Contessa's recipe for Butternut Squash Salad with Warm Cider Vinaigrette includes butternut squash tossed and roasted in maple syrup. The vinaigrette features apple cider, Dijon mustard, shallots, cider vinegar, olive oil, and a dash of salt and pepper. The roasted squash mixture is placed on a bed of arugula with walnuts and grated Parmesan.
7. Onion and Fennel Soup Gratin
Garten's Onion and Fennel Soup Gratin comes from her cookbook How Easy Is That? Even though it's super easy to make, this soup still brings a mouthful of joy. This recipe is loaded with butter, good olive oil, Spanish onions, and fennel. You'll also need some dry sherry, Cognac or brandy, dry white wine, beef broth, bay leaves, salt, and pepper.
Top this dish off with toasted sourdough bread and grated Gruyère cheese, then broil for a couple of minutes until the cheese is melted and bubbly.
6. Parker's Beef Stew
One of Garten's famous make-ahead dishes, her recipe for Parker's Beef Stew actually requires that the beef marinates overnight in a bowl of red wine, garlic, and bay leaves. The prep time, though, takes just 15 minutes. After you let the beef marinate, toss all of the ingredients into a Dutch Oven and let it cook for a couple of hours.
5. Roasted Loin of Pork with Fennel
Moving on to Garten's perfect main dishes for fall, her Roasted Loin of Pork with Fennel is absolutely divine. But it does require some kitchen skills. Does anyone even know what a mortar and pestle is, much less have one in their cupboard? We can't all be on Ina's level, but she says a food processor fitted with a steel blade will get the job done.
4. Chicken with Forty Cloves of Garlic
There is no such thing as too much garlic. Garten proves that with her recipe for Chicken with Forty Cloves of Garlic. How much is 40 cloves? About three heads. But The Barefoot Contessa has a trick for peeling all of that. She says to drop the cloves into a pot of boiling water for a minute. Which will have the skins coming off on their own.
3. Prosciutto Roasted Sea Bass with Autumn Vegetables
The title of this dish definitely gives it away, while making it clear it's the perfect autumn dish. Garten's Prosciutto Roasted Sea Bass with Autumn Vegetables will definitely make a dent in your vegetable stash. It features butternut squash, carrots, Yukon gold potatoes, and parsnips.
2. Old-Fashioned Apple Crisp
You can NEVER go wrong with an apple crisp for dessert, and this recipe definitely deserves to be shared with friends and family.
Garten's Old-Fashioned Apple Crisp recipe comes from her Parties! cookbook. The apples, cinnamon, nutmeg, brown sugar, butter, oatmeal, orange juice, and lemon juice create a symphony of fall flavors that is second to none.
1. Cranberry and Apple Cake
Another fall dessert from the Barefoot Contessa is her Cranberry and Apple Cake. This easy dish features fresh cranberries, Granny Smith apples, brown sugar, orange zest, freshly squeezed orange juice, cinnamon, eggs, sugar, butter, vanilla, sour cream, flour, and salt.
New episodes of The Barefoot Contessa air Saturdays on The Food Network.