10 Ina Garten Salad Recipes To Start Your Year Off Right
Ina Garten can help with all of your new year's weight loss resolutions. Thanks to the Barefoot Contessa's amazing collection of salad recipes, you can create a delicious, healthy menu that will keep you on the right track and prevent "healthy food" boredom. Here are 10 Ina Garten salad recipes to help you start the year off right.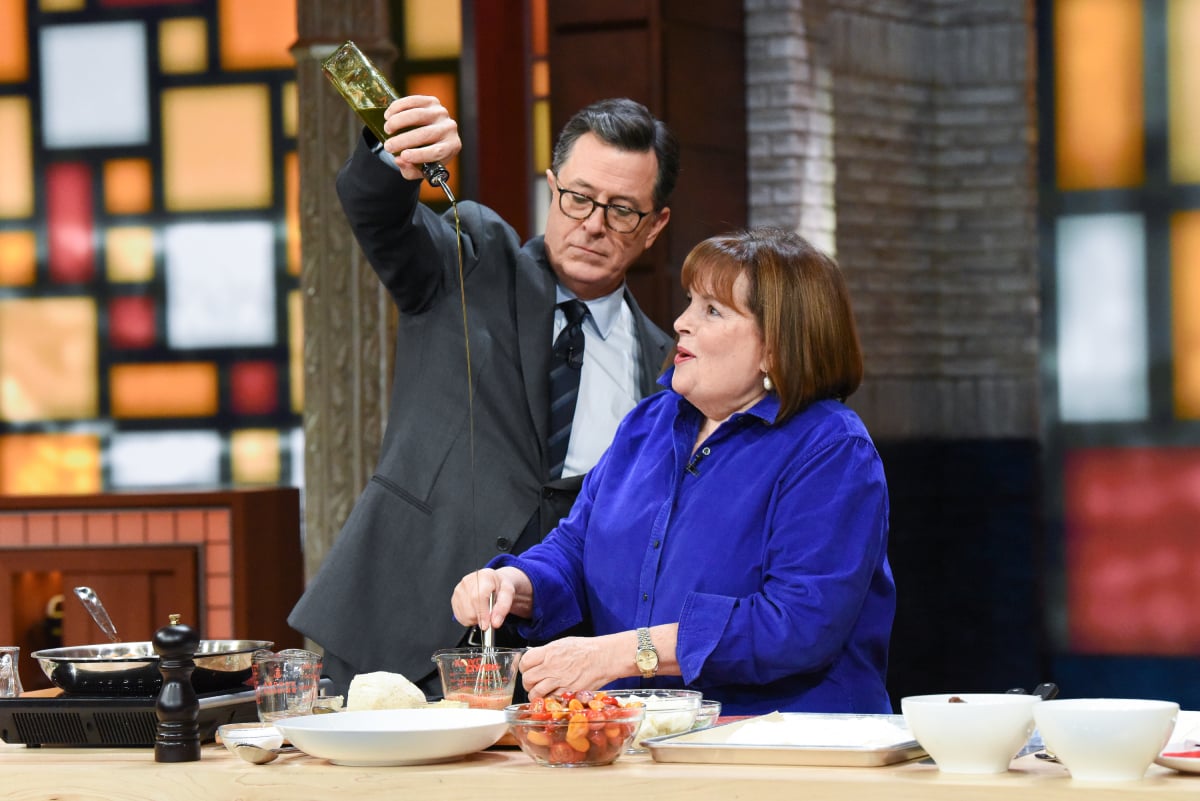 10. Ina Garten's Tomato Avocado Salad is deliciously simple
Garten's Tomato Avocado Salad is a simple mix of a few ingredients that quickly becomes a delicious, healthy menu option. All you need to make this salad is freshly-squeezed lemon juice, ripe Hass avocados, cherry or grape tomatoes, red onion, good olive oil, kosher salt, freshly ground black pepper, and baby arugula.
9. Balsamic Roasted Beet Salad is 'Foolproof'
From the cookbook Barefoot Contessa Foolproof comes Garten's recipe for Balsamic Roasted Beet Salad.  This vegetarian and gluten-free salad can be made ahead and portioned out for easy meal planning. It features toasted, salted Marcona almonds, soft goat cheese, and roasted beets with a vinaigrette made from balsamic vinegar, olive oil, Dijon mustard, salt, and pepper.
8. Grilled Lemon Chicken Salad is 'tasty diet food'
On The Barefoot Contessa: Modern Comfort Food episode titled "Perfect Cocktail Party," Garten told viewers to marinate the chicken in her Grilled Lemon Chicken Salad recipe for a few hours for maximum lemon flavor.
7. Ina Garten's Greek Panzanella is 'perfection'
There's no need to change a thing in Garten's five-star recipe for Greek Panzanella. One reviewer wrote that following it to the letter resulted in absolute "perfection."
"Super easy to put together. Delicious and filling. Ina is amazing, always," the fan shared. Another added, "Easy and it's literally a party in the mouth! Best Panzanella salad ever!!"
6. Maple-Roasted Carrot Salad is one of Jeffrey's favorites
From Garten's cookbook Cooking for Jeffrey comes her recipe for Maple-Roasted Carrot Salad. This vegetarian dish features carrots, good olive oil, salt & pepper, Grade A maple syrup, dried cranberries, freshly squeezed orange juice, sherry wine vinegar, garlic cloves, baby arugula, goat cheese, and salted Marcona almonds.
5. Grilled Salmon Salad is ready in 30 minutes
Garten's easy recipe for Grilled Salmon Salad requires just 15 minutes of prep time and 15 minutes of cooking time. All you have to do is break up some cooked, chilled salmon into very large flakes (removing any skin and bones) and place them in a large bowl. Next, add celery, red onion, dill, capers, raspberry vinegar, and olive oil. Plus some salt and pepper to taste. Mix well and serve cold or at room temperature.
4. Quinoa Tabbouleh with Feta is one of Ina Garten's favorite go-to recipes
The Food Network star says that her Quinoa Tabbouleh with Feta is one of her go-to recipes. Quinoa is a superfood because it contains more protein than most grains, which makes it a super healthy salad ingredient.
"It has a nutty flavor that tastes wonderful with the cucumbers, tomatoes, scallions, feta and mint, and it's a great gluten-free alternative to traditional bulgur wheat," Garten writes. "Best of all, you can make this salad ahead; if it sits at room temperature for a few hours, the lemon vinaigrette really has time to soak into the quinoa and vegetables, so the salad is even more delicious!"
3. Roasted Salmon Nicoise is a crowd-pleaser
Another easy, healthy salad in Garten's menu arsenal is Roasted Salmon Nicoise. And her fans will be happy to tell you that this one is a home run.
"I love serving it at dinner parties because it can be made ahead and everyone can serve themselves. So easy, healthy & deeeelish. I always make extra marinade/dressing and serve with a big green salad. Yum!" one happy fan shared.
2. Fans of the 'Barefoot Contessa' want to eat Israeli Couscous and Tuna Salad every day
Garten's fans can't get enough of her Israeli Couscous and Tuna Salad. This healthy dish features a number of yummy ingredients, like Italian tuna, capers, olives, roasted red peppers, and scallions. Reviewers do advise keeping the salt to a minimum since there is plenty in the capers and olives.
"SO delish. Such a bright, citrusy, salty dish that I can't get enough of. Would eat this every day for lunch!" one happy reviewer wrote.
1. Ina Garten's Warm Fig and Arugula Salad can be ready in just minutes
From Garten's Make It Ahead cookbook comes her Warm Fig and Arugula Salad. The only ingredients you'll need are aged sherry vinegar, Dijon mustard, honey, kosher salt, freshly ground black pepper, good olive oil, ripe figs, walnut halves, baby arugula, and Roquefort cheese.
While the figs and walnuts roast in the oven for five to 15 minutes, whisk together the vinaigrette. Place the arugula in a large bowl, add the vinaigrette and toss well. Distribute the arugula among your salad plates, add the Roquefort cheese, and place the warm figs and walnuts on top before serving.
The Barefoot Contessa: Modern Comfort Food airs Sundays on the Food Network.
RELATED: What Ina Garten Really Means When She Says 'Store-Bought Is Fine'