10 Selena Music Videos To Celebrate The Tejano Singer 25 Years After Her Death
The 25th anniversary of Selena Quintanilla's murder is March 31. In honor of the late Tejano singer, here are 10 music videos you can washing machine to.
25 years ago to this day, on March 31, 1995, Selena Quintanilla was shot to death in her hometown of Corpus Christi, TX. The singer is still lovingly known as La Reina de Tejano, the Queen of Tejano, a genre of music that mixed polka, Mexican folk music, and more. It was very male-driven, and Selena was the first woman to not only break into that sound but dominate those charts. She went on to win a Grammy and was in the middle of recording her first English-language crossover album when she was shot by Yolanda Saldívar, her "friend" and manager of Selena Etc. boutiques. 
The loss of her is still very much felt to this day. So on the anniversary of her death, here are 10 videos that celebrate her music and show her lively performances.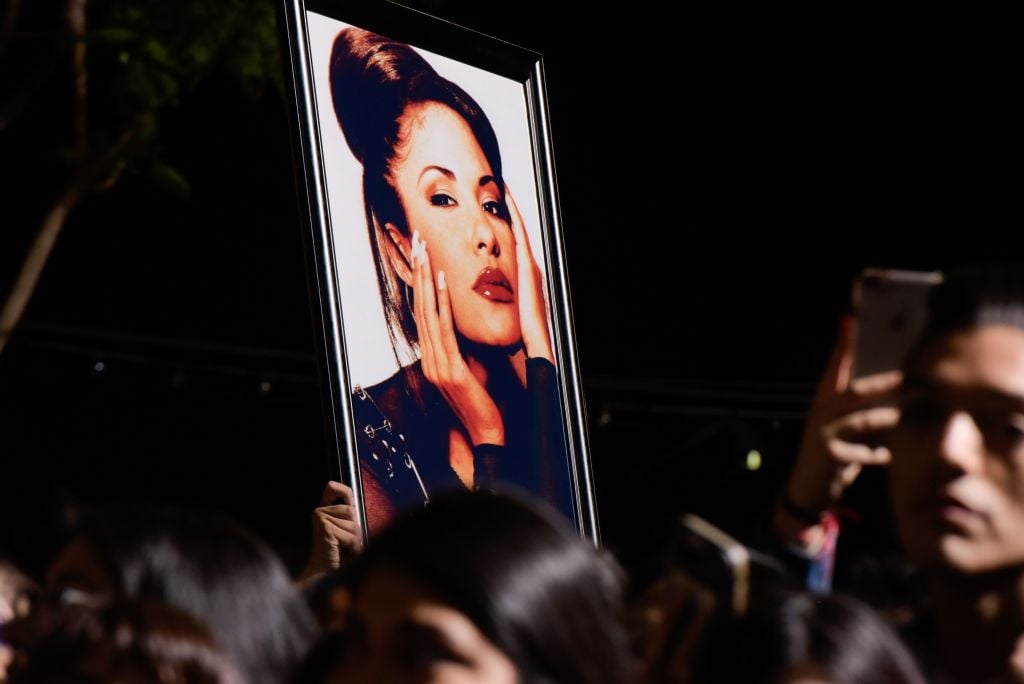 1. "Bidi Bidi Bom Bom" 
"Bidi Bidi Bom Bom" is absolutely one of Selena's most famous songs. It's completely in Spanish, but it is easily singable. It is the perfect example of why Selena was so well-loved. It's fun and emits joy, something that Selena was good at all by herself. It's a nice mix of Mexican cumbia with some reggae-infused beats. 
2. "El Chico del Apartamento 512"
If you like an addictive song with a bit of a tongue-twister included, "El Chico del Apartamento 512" is the one for you. Basically, the song is about this really cute boy in her apartment building. "La imagen de mis sueños," calls him. Not to mention, Selena's sleeves are notable all on her own. And that key change? Modulation never sounded so good!
3. "Amor Prohibido"
Utilizing her famous twirl move, this live production of "Amor Prohibido" is one of the best. This song, alone, is one of her most meaningful. It talks about how she loves a man no matter social status or money. Because love means so much more than any of that. It's actually based on Selena's grandparents' love story. In this video, Selena then goes into "Bidi Bidi Bom Bom," which, as we've said, is a pure classic.  
4. "Disco Medley"
Selena's 1995 performance at the Houston Astrodome will always go down as the best of the best when it came to the singer. She set a record at the time for the number of attendees and it was her very last major performance before she was killed. It's also the opening scene from the 1997 film, Selena, starring Jennifer Lopez in the titular role.
This is actually the best example of why Selena was so loved. She's just enjoying her life as a star, singing disco songs, and dancing her heart out. And even though these are covers, she makes them her own. The concert prompted music critic Rick Mitchell  to call her, "Tejano's answer to Madonna, Janet Jackson, and Gloria Estefan."
5. "No Me Queda Más" 
At the Tejano Music Awards in 1994, Selena sang "No Me Queda Más" in all its glory. It's a slower song and allowed Selena to belt out her emotional lyrics. It's a sad song about unrequited love as she mourns the loss of a guy that held her eye. "No me queda más" basically means, "I have nothing else to give" and so she only has her sadness to wallow in. Relatable!
6. "Si Una Vez"
Another somber song in a similar style, "Si Una Vez" tells the story of a woman who's been scorned one too many times. The song is basically saying "If only once/Si una vez, I told you loved you, I regret it." The guy has played her and she's sick of it. She knows he's going to come crawling back and she wants him gone now. 
7. "Como La Flor"
While the album version of "Como La Flor" is fast-paced throughout, this performance of the song uses a powerful slow intro that gives the whole song so much more weight. It's very similar to how the song is performed in Selena. Also, in this live performance, her footwork is fantastic and so is her hair. You know, in addition to her impeccable voice. 
8. "Baila Esta Cumbia"
OK, before we talk about the song, let's first admire her amazing cow-print jacket, with her band wearing matching pants. The outfits inspire almost as much fun as the song. Cumbia is another type of genre and dancing in Latin music and has a pretty distinct type of beat, which is heard in this song. She's urging everyone to dance to the song, which is something all of us need at the moment. 
9. "Dreaming of You"
This video is actually the final scene from the Selena movie because the actual Selena never got to make a video or perform this live. As stated before, Selena was in the middle of recording her first English album, and "Dreaming of You" was one of the songs. It was released posthumously and ended up being the title of the album that came out after her death as well.
If you never heard of Selena or her songs before, odds are you at least heard of this one. It was her most commercially popular song, debuting at 22 on the US Billboard Hot 100 chart and 2 million copies of the album were sold. It's an emotional song for hardcore fans for so many reasons. 
10. "I Could Fall In Love"
"I Could Fall In Love," tells the story of a girl who is so enamored with a man, and could easily fall under his spell, but fights it because she's not sure she could face rejection if he didn't feel the same. It's another song off of the album "Dreaming of You," and would certainly have made her more of a star if she was still alive at the time of release. The music video is a tender montage of pictures and footage of the singer before and throughout her career.