10 Years Ago, 'Alice in Wonderland' Kicked Off Fans' Divisive Relationship with Live-Action Disney Remakes
A decade ago, Disney released Tim Burton's 'Alice in Wonderland,' and the studio's approach to live action has never been the same.
In today's nostalgia-driven world, few discoveries are as jaw-dropping as realizing how long it's been since a certain movie or album came out. This is especially the case when it comes to family entertainment. So it's with a heavy heart that we must inform you that Disney's live-action Alice in Wonderland hit theaters a full decade ago.
In hindsight, it's crazy that only 10 years have passed since director Tim Burton and his frequent collaborator Johnny Depp taught audiences all about the Futterwacken. Alice in Wonderland actually changed a ton about not only how movies are made but, more specifically, Disney's own creative focus.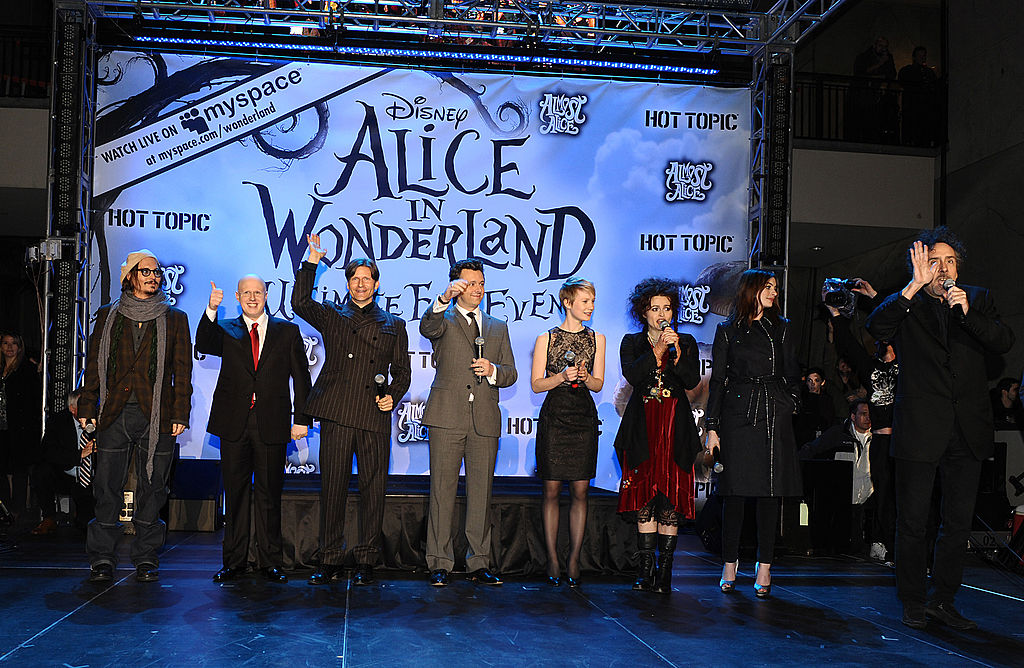 'Alice in Wonderland' marked a turning point for Tim Burton
When fans learned Burton had signed on for a live-action reboot of Disney's Alice in Wonderland, it seemed like the perfect match. After all, Lewis Carroll's story largely features the same balance of whimsy and darkness as Burton's best work. So how could it go wrong? From a financial perspective, it certainly didn't.
Despite gambling a hefty $200 million, Disney's investment paid off to the tune of more than $1 billion. In fact, Alice in Wonderland crossed that milestone at a time when only few movies had managed to do so. Nowadays, studios consider blockbusters to be disappointing if they don't reach that level.
For Burton and Depp, Alice in Wonderland also marked the end of their respectability in some circles. Many fans and critics alike believed the film to fall short of their collective talents. And it certainly doesn't hurt this argument that the duo's only collaboration since was the abysmal 2012 flop Dark Shadows.
Disney threw millions at fantasy epics like 'A Wrinkle in Time'
Hollywood has long focused on spectacle. But Alice in Wonderland played a key role in emphasizing its appeal for family films. Notably, the movie reached its box office heights in part because of the elevated ticket prices of IMAX and 3-D screenings. Granted, Burton's film hit theaters just a few months after Avatar. So it really piggy-backed off of that momentum.
Yet, the CGI-heavy environment and ensemble cast influenced Disney to try and duplicate the Alice in Wonderland success elsewhere. In the years since, the studio has released movies like John Carter, Oz the Great and Powerful, The Lone Ranger, Tomorrowland, A Wrinkle in Time, and The Nutcracker and the Four Realms.
Most, if not all, of the above films bear a clear stylistic resemblance to Alice in Wonderland. And yet, they have failed where Burton's movie miraculously succeeded. Even its own sequel, 2016's Alice Through the Looking Glass, failed to meet box office expectations.
'Alice in Wonderland' led to countless remakes, such as 'Mulan'
Yet, this isn't the only trend Alice in Wonderland kicked off. The movie also reignited Disney's interest in dusting off its archives. In the mid-1990s, the studio saw success with its live-action 101 Dalmatians. However, aside from spawning a sequel, the film didn't leave much lasting impact. Perhaps Disney was too focused on straight-to-video animated sequels at that time.
In any case, the billion-dollar success of Alice in Wonderland changed everything. While the movie isn't explicitly connected to Disney's 1951 animated classic, the studio soon began fast-tracking reimagined versions of its biggest hits. Starting with 2014's Maleficent, Disney has consistently released live-action remakes or revivals, such as Cinderella, The Jungle Book, Beauty and the Beast, and Mary Poppins Returns.
Even a decade after Alice in Wonderland, its legacy lives on. In 2019, Disney released no fewer than five live-action remakes, with Mulan next up on March 27, 2020. With several more on the way, there's no telling when this particular Disney trend will end. But we can safely say it all started in 2010 with Alice in Wonderland.