'1000-Lb Sisters' Fans Slam Tammy Slaton for Using a Blaccent in New Video With Two Black Men
Fans have come to know and love Tammy Slaton from 1000-lb Sisters over the course of the tv show's two seasons. However, just because fans love Slaton doesn't mean they won't call her out. Recently, Slaton posted a video to her TikTok account that had fans highly upset with her.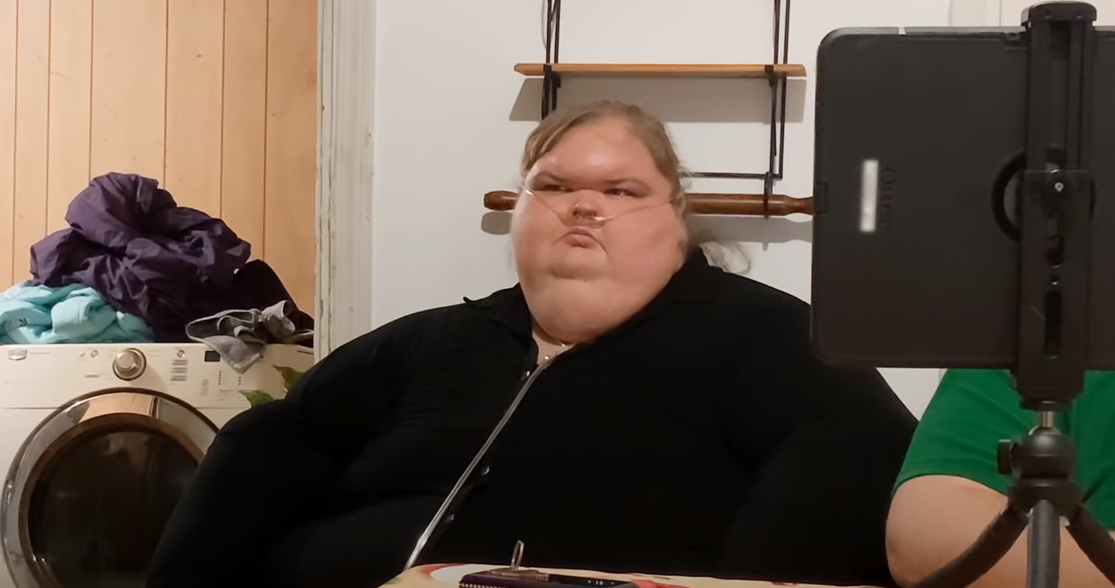 Tammy from '1000-lb Sisters' uses a Blaccent
Recently, Slaton tried to do a viral TikTok trend where users put mustard on watermelon. In the video, Slaton sits at the table with two of her friends who happen to be Black men. The video opens with Slaton saying her classic, "I pay my bills, my bills are paid" line which makes the men laugh.
"Are you recording," Slaton asks the person filming. Once the person confirms they are recording, Slaton switches to what some people would call a blaccent.
"How you doing?" she says in an exaggerated manner.
"We finna do the watermelon mustard challenge," she says introducing her friends. "These my fool ass….family."
At one point in the video, Slaton even acknowledges that she's talking strangely.
RELATED: '1000-Lb Sisters': The Painful Reason Tammy Slaton Didn't Go to Amy Slaton's First Wedding
What is a blaccent?
Using a blaccent refers to when someone tries to speak in a manner that is stereotypical toward African Americans. Blaccents are often used in comedy. Stars like Awkwafina and Iggy Azalea have come under fire in the past for stereotypical way that they speak.
Tammy Slaton's fans are upset
Slaton's fans immediately began calling her out.
"Just because you get around your Black 'friends' you don't have to change your voice for acceptance," one user commented.
"No, not the accent change…girl please," another said.
"I don't know if this is racist…but it don't feel right," another wrote.
"Why do you change the way you talk when you are around your home boys?" one user commented.
"Why is she talking like that??" one person asked. "It completely changed from the ay she normally talks."
Tammy Slaton's weight loss journey
Slaton's use of a blaccent hasn't been the only thing that fans criticize the 1000-lb Sisters star for on TikTok. Throughout 1000-lb Sisters Seasons 1 and 2, Slaton has been trying to get healthy. At the end of 1000-lb Sisters Season 2, she had actually gained weight, which meant that she could not get weight loss surgery.
Slaton typically only posts videos on TikTok of herself from the chest or shoulders up. But in the watermelon challenge, fans could see Slaton's whole body. Some people commented on the post with concern, asking Slaton if she had stopped trying to get healthy.
RELATED: '1000-Lb Sisters': Tammy Slaton May Be Headed for Legal Trouble
Slaton has yet to update fans on her weight loss journey, however it is doubtful that fans will receive any sort of update before season 3 comes out.
'1000-lb Sisters' Season 3
1000-lb Sisters has been renewed for season 3.
"Tammy and Amy Slaton have captivated us with their fun-loving personalities, heartfelt challenges, and uplifting victories," Alon Orstein, SVP Production and Development at TLC said, according Deadline. "We admire their genuine, evolving journeys and we are rooting for them as they pursue paths toward healthier lifestyles."
As the show is currently filming, there is only so much that Slaton can reveal on TikTok about what is going on with her life. She did, however, reveal that 1000-lb Sisters Season 3 should be out sometime next year.