'1000-Lb Sisters': New Photos Reveal Tammy Slaton's Health Has Taken a Turn After Vaping
Fans have been worried about 1000-lb Sisters star Tammy Slaton's health since before she even contracted coronavirus (COVID-19). Since then, Slaton has been on and off of oxygen as she gets over long-term affects of the virus. Despite needing breathing help, Slaton has been seen vaping or smoking several times. Recently, the tv show star revealed that she was off of oxygen. But after posting and deleting pictures of her vaping, Slaton is back to needing assistance.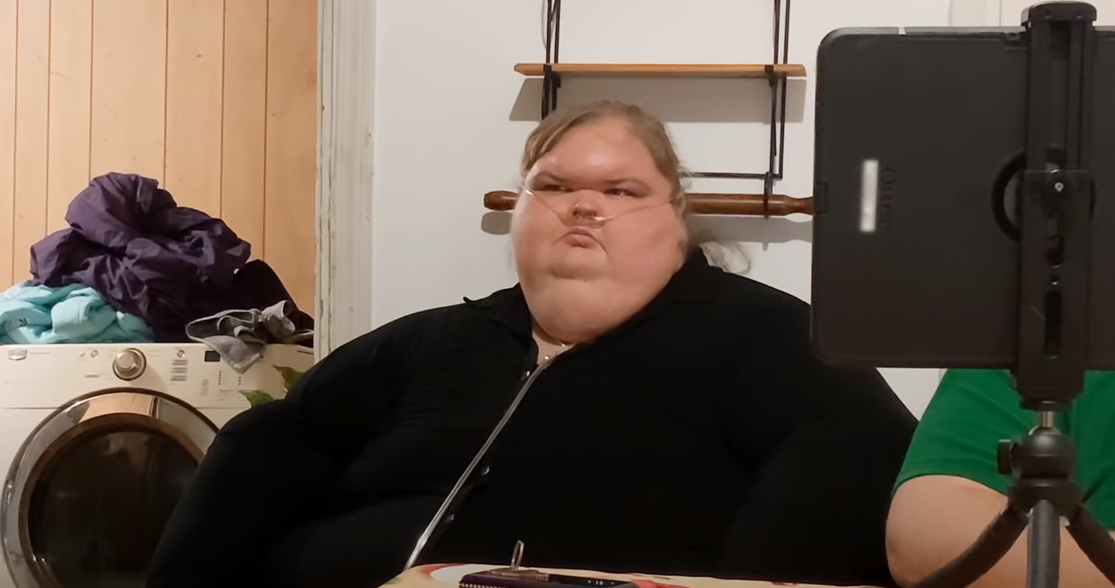 Why was Tammy Slaton on oxygen?
In Nov., Tammy revealed that she had contracted COVID-19 and pneumonia.
"I was in the hospital just about two weeks," she said in a video update on YouTUbe. "I'm doing great. I mean yes, I'm on oxygen. That's just to keep my lungs sturdy, strength — I won't be on [oxygen] much longer. I was on 15 liters of oxygen and now I'm on three."
Some fans worried that Slaton was in the hospital for another reason, but she responded to those rumors in a video posted Dec. 4, 2020. 
"[Some of] the comments are stupid," she said. "There's people saying I wasn't in the hospital for COVID. Don't always believe everything you read on the internet. It blows my mind that everybody thinks so bad of me." 
Tammy was off oxygen
Recently, fans noticed that Slaton had stopped wearing oyxgen tubes in some of her videos. Some people wondered if she just didn't want to wear the tubes when her ex-boyfriend was around.
"So you don't need oxygen when he's there?" one fan commented on a video of Slaton and her ex.
"How come you don't wear oxygen when you're with him," one fan wrote. "And why are you even still on it lol."
Slaton eventually responded to one fan asking if she was still on oxygen.
"No not completely," she answered. "I have it in case I do need it, but right now I'm good. Don't have it on. Yea just as needed."
Tammy Slaton kept smoking
After deleting all of the content on her Instagram, Slaton posted a photo of her smoking. The picture was quickly deleted after fans stared criticizing her. Though she deleted the post, fans still talked about the photo on her other posts.
"We saw that post of you smoking miss girl," one person said.
"She's acting like we didn't see her smoking," another fan wrote. "I'm worried for her."
"Deleting your smoking photos doesn't erase the damage you did to your lungs," another person said.
Tammy is back on oxygen
On Aug. 4, Tammy posted a group of pictures to her Instagram. In the photos, she was wearing the oxygen tubes once again.
Some fans commented on the photo, wondering how Slaton was doing.
"How are you doing/feeling ❤️"one person asked.
Others wanted her to work to get off oxygen.
"Get that oxygen off!!" one person commented. "You're young and beautiful, get back on your journey to make your body healthy.
"Back on oxygen?" another person wrote. "That's disappointing to see."
"She's taking a vape break," one user wrote. "Gotta replenish oxygen before she inhaled all the poison again."
Others speculated as to why Slaton was back on oxygen.
"She has had it on ever since she had covid/pneumonia," one person wrote. "Then she didn't post with it while she was smoking and posting smoking pictures and now she's back on it so maybe the smoking is contributing to her lack of being able to breathe on her own.
RELATED: '1000-Lb Sisters': Tammy Slaton Posts and Deletes Troubling Pictures After Clearing out Her Instagram