'1000-Lb Sisters': New Video Shows Tammy Slaton Vaping While on Oxygen
Tammy Slaton's health has been up and down lately. After contracting coronavirus (COVID-19), the 1000-lb Sisters star was put on oxygen. Though the tv-show is not currently airing, fans have been keeping up with Slaton through her TikToks. In a recent TikTok, Slaton vaped while on oxygen, which concerned many of her fans.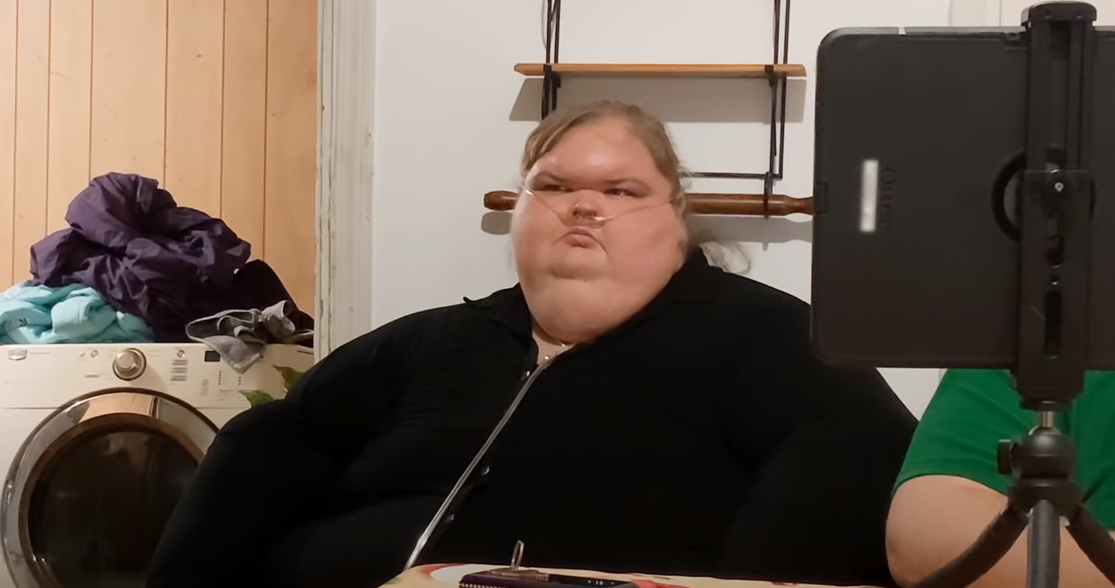 Vaping on oxygen
Fans have known about Slaton's smoking habit for quite some time. In the past, she has even posted TikToks about how much she loves smoking.
In one TikTok, a voiceover says "Quit smoking weed or die in 30 seconds." Then, Slaton blows out a large amount of smoke while the voice comes back on and says, "30 seconds, alright, 29 more seconds till I die, I'm so excited."
Most recently, Slaton has shared pictures of herself using a vape pen. In the photo, captured by SoapDirt, she shows fans her vape pen and has her oxygen tube in the photo. Slaton has also posted pictures of herself using a portable oxygen booster called Boost Oxygen.
Tammy Slaton is using less oxygen these days
When Slaton contracted coronavirus, she was admitted to the hospital.
"I was in the hospital for just about two weeks. …  I'm doing great. I mean yes, I'm on oxygen," she said in a video. "That's just to keep my lungs sturdy, strength — I won't be on oxygen much longer. I was on 15 liters of oxygen and now I'm on three."
But recently, she revealed that she didn't need as much oxygen anymore when a fan asked if she was still using her oxygen machine.
"No not completely," she answered. "I have it in case I do need it, but right now I'm good. Don't have it on. Yea just as needed."
Fans are upset with Tammy Slaton smoking on oxygen
Slaton's fans are very vocal with their opinions. So, when the star posted the TikTok of her smoking, they were quick to fill up the comments section.
"Tammy, I can't do this today," one person wrote.
"Tammy you're on oxygen please," another person said.
"You smoke and just got off oxygen?" one user wrote. "You'll be back on soon."
"Tammy please don't get into this kind of stuff, you're already not in a healthy situation, this is just speeding up the amount of time you have left," one fan said.
"You were just on oxygen," one person said. "Not very smart Tammy."
Some fans warned Slaton not to smoke near her oxygen machine and others commented that Slaton should be allowed to do what she wants, regardless of if it's healthy or not.
Tammy Slaton on '1000-lb Sisters' Season 3
Fans will continue to get to watch Slaton's health journey on tv as the show was just renewed for a third season.
"Tammy and Amy Slaton have captivated us with their fun-loving personalities, heartfelt challenges, and uplifting victories," Alon Orstein, SVP Production and Development at TLC said, according to Deadline. "We admire their genuine, evolving journeys and we are rooting for them as they pursue paths toward healthier lifestyles.
Season 3 is already filming, so it's likely that Slaton will still be on oxygen in season 3.
RELATED: '1000-Lb Sisters': Tammy Slaton Updates Fan on Why She Hasn't Been Wearing Oxygen Tubes Lately