'1000-Lb. Sisters' Season 4: Does Tammy Slaton Still Have a Tracheotomy?
TLC's 1000-Lb. Sisters Season 4 brings Amy and Tammy Slaton back into the spotlight in 2023. The first episode of the season brings viewers up to speed on what's been going on in the sisters' lives — and Tammy needed a tracheotomy for her health. So, does she still have the tracheotomy after the first episode aired? Here's what to know.
'1000-Lb. Sisters' Season 4 Episode 1 shows Tammy Slaton getting a tracheotomy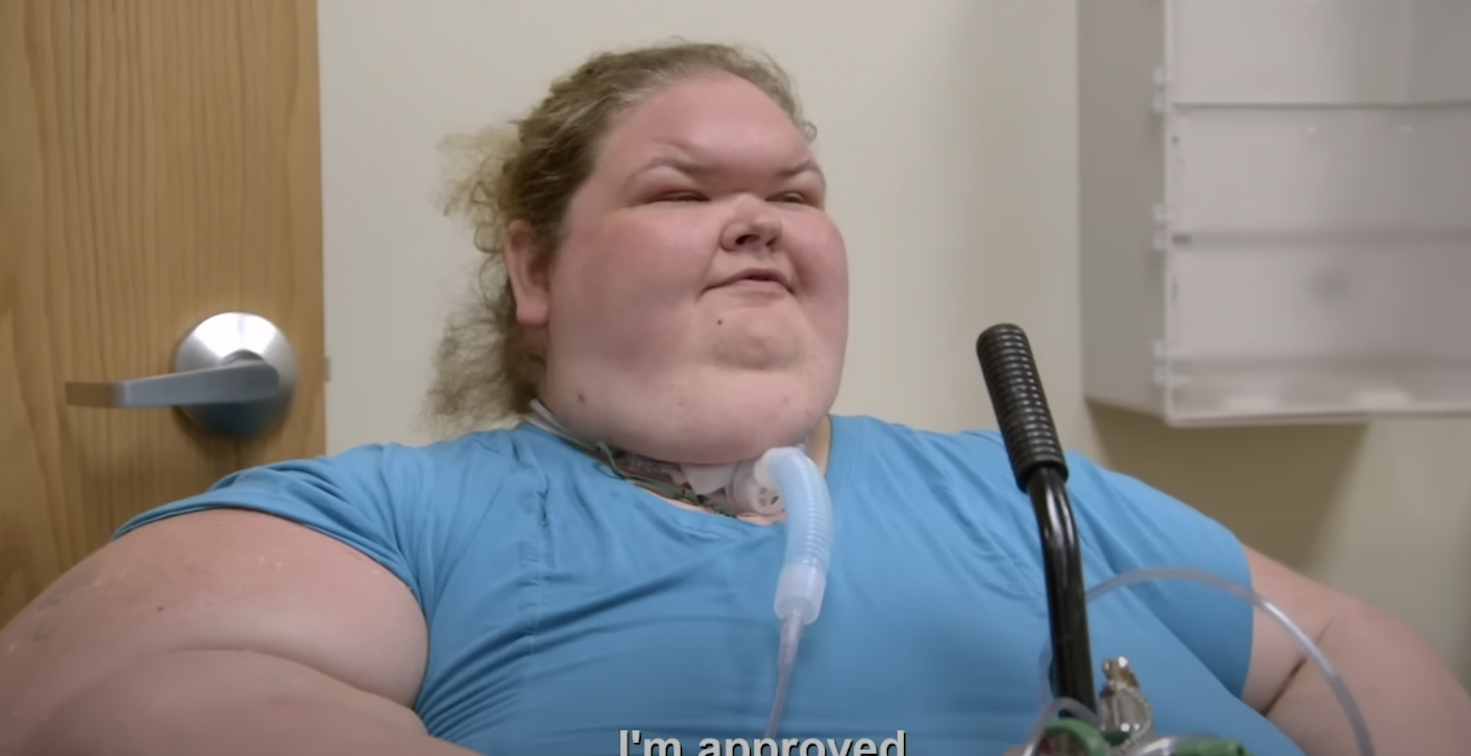 Tammy Slaton's health is the center of discussion in 1000-Lb. Sisters Season 4 Episode 1. The beginning of the episode shows her heading to rehab, as she's "fed up with being sick all the time." Unfortunately, Tammy had to get transferred to a hospital after her health took a turn for the worse.
"She had quit breathing," Chris Combs explained. "They didn't know if she was going to make it through the night."
Thankfully, Combs added that Tammy woke up the last day he was there. Amanda Halterman also talked about the idea, stating that she and the Slatons "prayed for a miracle and God gave us one."
"She's still alive," Amy stated with tears in her eyes. "She has her life."
The road to recovery wasn't easy for Tammy, though. She said she "doesn't remember" the day she headed to the hospital. When she first went to rehab, she noted her "oxygen level dropped" within 30 minutes of her arrival. The hospital then put her in a medically-induced coma, and she had to receive a tracheotomy after turning septic. "They told me it was reassured that I had a clear line into my lungs," she noted.
Does she still have a tracheotomy in 2023?
Tammy Slaton has a difficult time adjusting to the tracheotomy in 1000-Lb. Sisters Season 4. "I've had a rough time with it," she explained while telling the cameras about the procedure. "They cut your throat open, and they put like a — I call it a PVC pipe. I don't know what else to call it. But, it's a tube, and it's in your throat, and it's about that long, and I get direct air, oxygen. There's some stuff I didn't even know could happen, like everything stuck in your throat. If it gets too stuck, I have to be suctioned out."
So, does Tammy still have the tracheotomy in 2023? She no longer has it as of Dec. 19, 2022. Tammy posted a video of her on TikTok that shows she had the trach removed. The previous video she posted on Dec. 6, 2022, shows she still has it. Tammy must've had the trach removed at some point between these two dates.
Has Tammy Slaton lost any weight?
The 1000-Lb. Sisters Season 4 premiere shows Tammy Slaton stating she entered rehab at the highest weight she'd ever been. "Two months ago, I decided to go back to rehab," she said. "I weighed the most I ever weighed."
So, has she lost weight since then? It seems she has, though she can't talk much about it. She posted a TikTok explaining her contract with TLC doesn't allow her to give further details.
"I really wish I could talk about all this stuff that's going on with my weight and my hair and my clothes, my marriage," she said. "I can't. I'm still under contract. Season 4 is coming out January 17. That's when it's premiering."
1000-Lb. Sisters Season 4 airs Tuesdays at 9 p.m. ET on TLC.
For more on the entertainment world and exclusive interviews, subscribe to Showbiz Cheat Sheet's YouTube channel.