11 Ina Garten Recipes Perfect For Summer
'Barefoot Contessa' star Ina Garten has a huge catalog of recipes that are perfect for summer – here are our 11 favorites.
Ina Garten has an entire catalog of fantastic summer recipes, but which ones are the best? We think we've found them. From salads to seafood and citrus-based dishes to light garden pastas with fresh veggies, here's our picks for the 11 Barefoot Contessa recipes that are perfect for summer.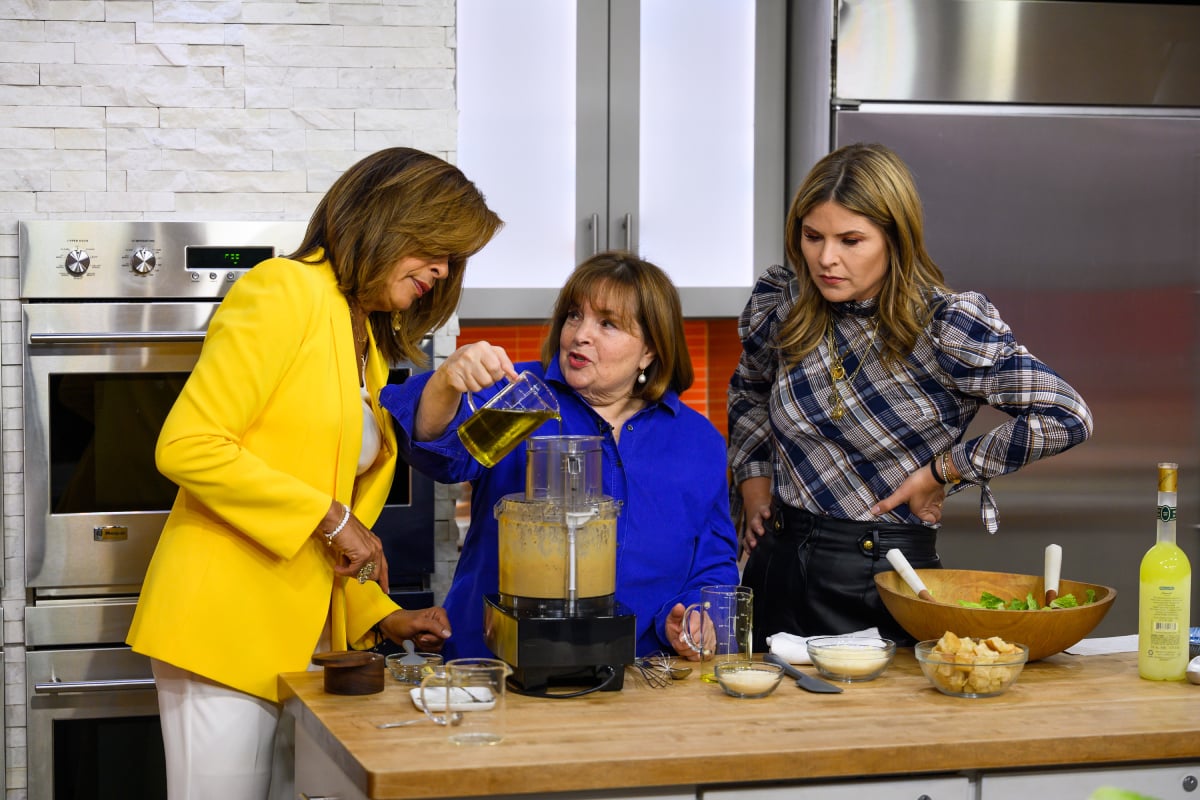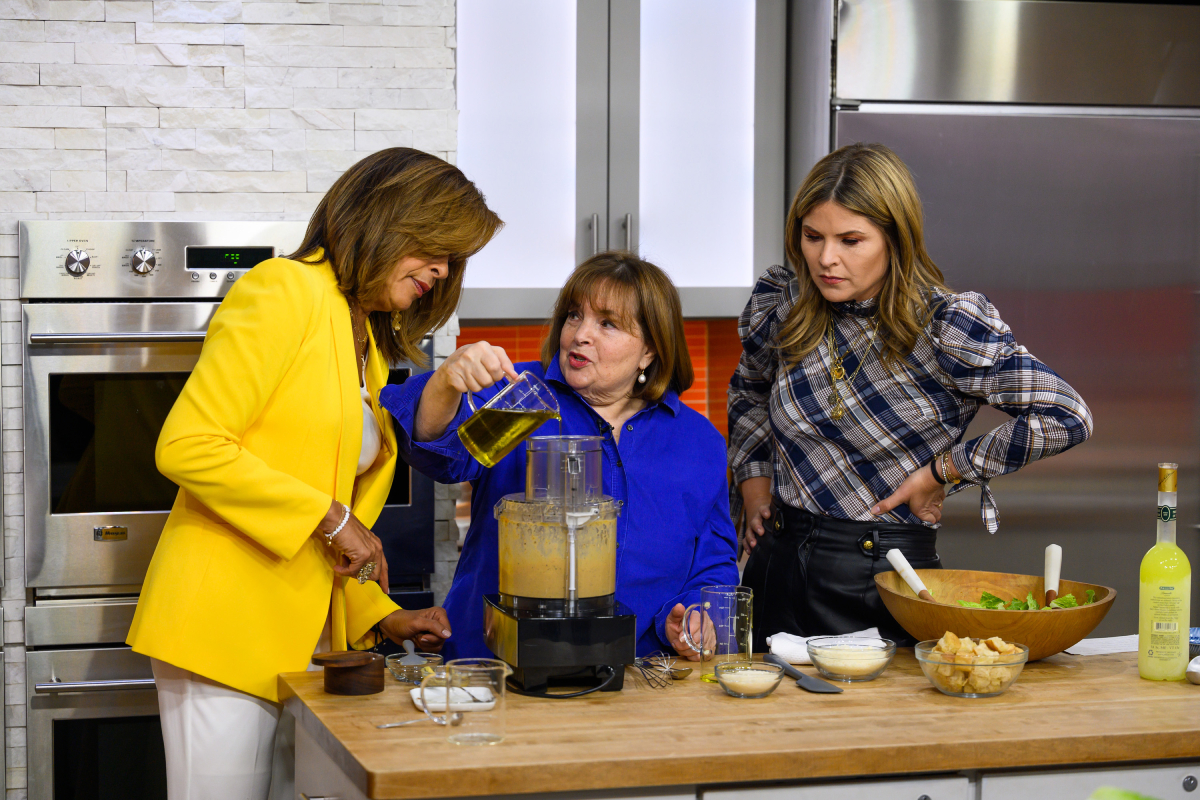 1. Ina Garten's Tomato Crostini With Whipped Feta is a 'Foolproof' summer recipe
Garten's Tomato Crostini With Whipped Feta is a yummy starter that comes from her Foolproof cookbook. It features a homemade whipped cheese made from feta and cream cheese.
The recipe also calls for olive oil, freshly squeezed lemon juice, Kosher salt and freshly ground black pepper, minced shallots, minced garlic, red wine vinegar, heirloom or cherry tomatoes, fresh basil leaves, baguette slices, and toasted pine nuts.
2. Making Summer Garden Pasta couldn't be easier
It doesn't get any easier — or more delicious — than Garten's Summer Garden Pasta. Simply combine cherry tomatoes, olive oil, garlic, basil leaves, red pepper flakes, salt, and pepper in a bowl, then cover it with plastic wrap. Let it sit at room temperature for about four hours.
When you are ready to eat, boil a pot of water with a splash of olive oil and some salt. Add angel hair pasta, then cook al dente for about three minutes. Finally, drain the past and add it to the bowl with your cherry tomato mixture. Serve in big bowls with parmesan cheese on top.
3.  A chilled Shrimp Salad is perfect recipe during a hot summer
Another quick and easy recipe is Garten's Shrimp Salad. It calls for just a handful of ingredients — kosher salt, lemon, shrimp, mayo, Dijon mustard, white wine, freshly ground black pepper, minced fresh dill, red onion, and minced celery.
Simply boil your shrimp in water with salt and lemon for about three minutes — until the shrimp are barely cooked through. Meanwhile, whisk together the remaining ingredients in a bowl and then combine it with the shrimp. You can serve this dish right away, or let it sit in the fridge for a few hours.
4.   Don't change a thing on the Caesar Club Sandwich
Reviews for the Barefoot Contessa's Caesar Club Sandwich make it clear that there is no need to change a single thing. You'll begin by baking chicken breast rubbed with olive oil and sprinkled with salt and pepper. While that's in the oven, layer some pancetta on a sheet pan and roast it.
Next, mince garlic and parsley in a food processor fitted with a steel blade. Add anchovy paste, mustard, lemon juice, and mayo, then process until it's a smooth Caesar dressing. Slice a loaf ciabatta bread in half horizontally and toast it in the oven, cut side up. When the bread is finished, spread each piece with the Caesar dressing and add arugula to the bottom piece. Then layer sun-dried tomatoes, shaved Parmesan, crispy pancetta, and sliced chicken breast. Sprinkle with salt and pepper and finish with a final layer of arugula and the top slice of ciabatta.
5. Break out the grill this summer for Blue Cheese Burgers
Garten's Blue Cheese Burger patties are made with a mix of ground chuck and ground sirloin, plus steak sauce, egg yolks, salt, and pepper. When you make the patties, the Food Network star says to press a thin slice of butter into the top of each one until the meat entirely encases it.
Once the burgers are cooked on the grill to your desired temperature, allow them to rest while you grill the buns cut side down. To make your burger, place a patty and some blue cheese on each bun, and top with arugula and tomato.
6. Ina Garten makes a BLT even better by adding lobster
Take your BLT's to the next level with the Barefoot Contessa's Lobster BLT's. To make four sandwiches, you'll need a half-pound of cooked lobster meat, four slices of thick-cut applewood smoked bacon, a half-cup of Hellmann's mayo, a quarter-cup of Heinz ketchup, a tablespoon of sweet relish, salt and pepper, two ripe Hass avocados, and the juice of one lemon.
The final ingredients in the recipe are eight slices of good bakery white bread (lightly toasted), four large butter lettuce leaves, and four ripe red tomato slices.
7. Old-Fashioned Potato Salad is an easy make-ahead side dish
The only ingredients you'll need for this beginner Old-Fashioned Potato Salad recipe are small red potatoes, kosher salt, mayo, buttermilk, Dijon mustard, whole-grain mustard, fresh dill, black pepper, celery, and red onion.
Start by boiling the potatoes until barely tender, then let them steam for about 20 minutes. Meanwhile, whisk together the mayo, buttermilk, Dijon, whole-grain mustard, dill, salt, and pepper in a bowl.
When the potatoes have cooled, cut them into quarters and put them in a large bowl. Add enough dressing to moisten, then add the celery and red onion plus some more salt and pepper. Finally, toss well and refrigerate.
8. Pasta, Pesto, and Peas is the perfect addition to a summer cookout
From Garten's Parties! cookbook comes her Pasta, Pesto, and Peas recipe. Cook some fusilli and bow tie pasta in boiling salt water for 10 to 12 minutes, until each pasta is al dente. Drain the pasta, then toss it in a bowl with some olive oil and let it cool to room temperature.
The pesto mixture is made in a food processor fitted with a steel blade. You'll need pesto, spinach, lemon juice, and mayo. When that's pureed, add it to the cooled pasta. Then, mix in Parmesan cheese, peas, pignolis, salt, and pepper. Mix it well, and season to taste.
9. The Fresh Corn Salad won't disappoint
The Barefoot Contessa's Fresh Corn Salad has hundreds of five-star reviews from happy fans, proving you can't go wrong with this easy and delicious side dish.
"Great recipe that didn't disappoint. I've had great success with Ina's recipes. How easy is that?" one happy fan wrote. Another added, "We look forward to this recipe every summer when fresh corn is available."
10. Strawberry Rhubarb Crisp is the ultimate summer dessert
Garten's recipe for Strawberry Rhubarb Crisp comes from her cookbook How Easy Is That?. If you have access to fresh rhubarb and fresh strawberries — plus some freshly squeezed orange juice — this recipe is a must. The only way to serve this ultimate summer treat is hot with a side of vanilla ice cream.
11. Make Ina Garten's Flag Cake for your 4th of July celebration
Another yummy dessert from Garten that features fresh fruit is her Flag Cake, which is perfect for serving on Independence Day. The red stripes are made with raspberries, while the white stripes are made with a creamy icing. The blue background for the icing stars is made with blueberries.
Kitchen tools needed include a sheet pan, an electric mixer fitted with the paddle attachment, a rubber spatula, toothpicks, and a pastry bag fitted with a star tip.
The Barefoot Contessa airs Sundays on the Food Network.