11 Ina Garten Tomato Recipes Perfect to Make This Summer
Ina Garten's cookbooks are the absolute best resource when it comes to cooking with summer fruits and vegetables. She has a number of recipes that put your garden harvest to good use — especially when it comes to tomatoes. Here are 11 tomato recipes from The Barefoot Contessa that are perfect to make this summer.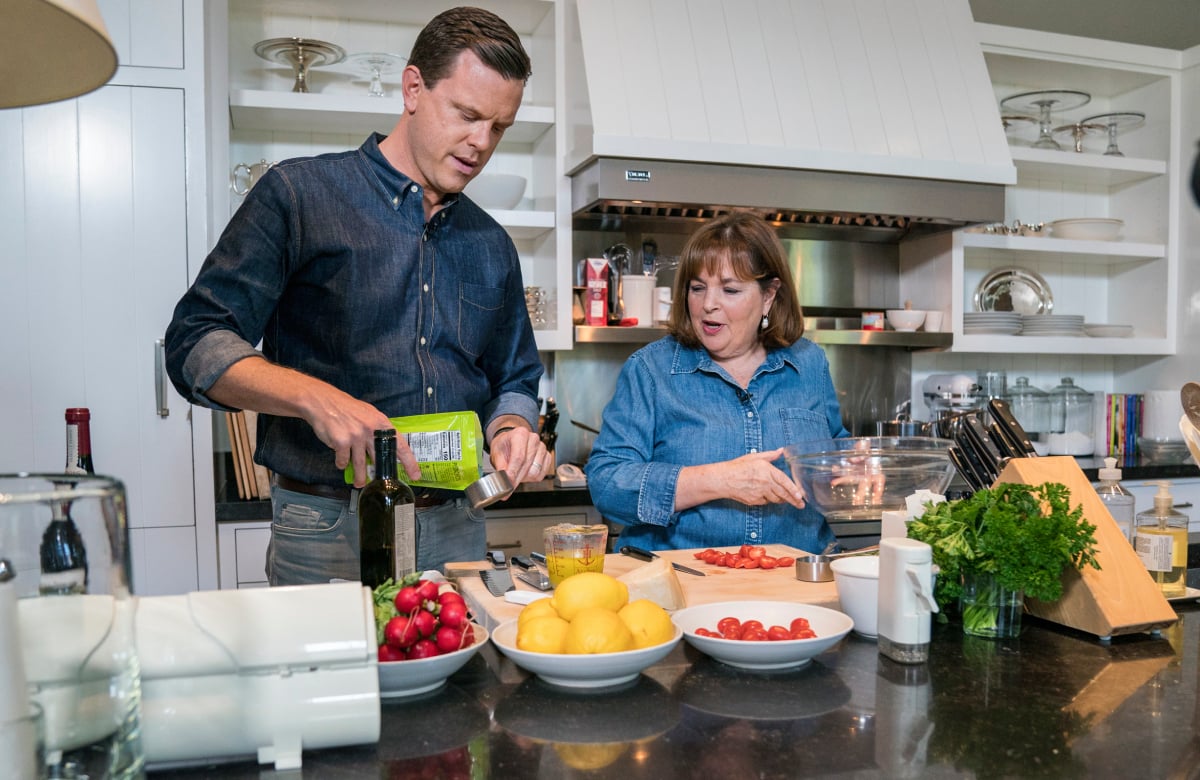 1. Roasted Tomatoes are a quick, easy, and healthy summer snack
Garten doesn't disappoint when it comes to her recipe for Roasted Tomatoes. All you need is plum tomatoes, olive oil, balsamic vinegar, minced garlic cloves, sugar, kosher salt, and some freshly ground black pepper, and in 30 minutes you'll have a healthy snack that tastes like a "rich, decadent tomato sauce."
"Look no further for a wonderful tomato recipe with endless serving possibilities. Thanks, Ina!" wrote one happy fan in the reviews.
2. 'Keep it Simple' with this recipe for Slow-Roasted Tomato & Ricotta Bruschetta
You don't even need a recipe to make Garten's Slow-Roasted Tomato & Ricotta Bruschetta.  She told her 3.5 million Instagram followers to "keep it simple" by whipping up a crowd-pleasing dish that only needs three ingredients: fresh bread, soft cheese, and some slow-roasted tomatoes (see recipe #1 on our list).
The chef suggests pairing it with either pesto pasta or grilled lamb chops for an easy, delicious dinner.
3. Tomato Carpaccio is a meal in itself
Garten's easy recipe for Tomato Carpaccio takes just 25 minutes to make, and it will end up being a whole meal in itself.
Carpaccio (pronounced "car-PAH-chee-oh") is a traditional Italian appetizer that's usually made with raw beef sliced paper-thin and drizzled with olive oil, and lemon juice, then topped with capers and onions. But Garten's version ditches the beef and subs ripe, red summer tomatoes, and it's absolutely divine.
4. Tomato and Burrata is a fresh and delicious summer treat
If your garden is overflowing with tomatoes, then look no further than the Barefoot Contessa's recipe for Tomato and Burrata.
You'll need about eight to 10 heirloom tomatoes for this dish, plus olive oil, aged balsamic vinegar, salt and pepper, fresh basil leaves, Fleur de sel or sea salt, and a ball of fresh burrata cheese.
Serve the Tomato and Burrata with garlic toast made with a baguette, olive oil, salt and pepper, and a garlic clove.
5. Garlic & Herb Tomatoes can be on the table in just minutes
Do you need a side dish for dinner that can be made in less than 10 minutes? If so, we'd like to suggest Garten's Garlic & Herb Tomatoes. All you'll need are two pints of small cherry tomatoes or grape tomatoes, olive oil, minced garlic, basil, parsley, thyme, salt, and pepper.
Simply heat the olive oil in a saute pan that is large enough to hold all the tomatoes in one layer. Add in the garlic and cook over medium heat for 30 seconds. Next, add the tomatoes, basil, parsley, thyme, salt, and pepper.
Reduce the heat to low and cook for five to seven minutes, tossing occasionally. When the tomatoes begin to lose their firm round shape, sprinkle them with some fresh chopped basil and parsley, then serve hot or at room temperature.
6. Ina Garten says her Tomato & Goat Cheese Crostata recipe is 'the perfect summer lunch'
The Barefoot Contessa is a big fan of crostatas, both savory and sweet. She says the trick to her recipe for the savory Tomato & Goat Cheese Crostata is to bake it on an upside-down sheet pan because there are no sides to block the heat. Which allows the tarts to brown more evenly.
Garten made this version of a crostata with the same flaky crust that she used with a raspberry-rhubarb filling in her book Cooking for Jeffrey.  But for the Tomato & Goat Cheese version, she left out the sugar and added in a layer of creamy goat cheese on the bottom and "big slices of gorgeous heirloom tomatoes on top."
"This crostata, served with a salad, is a perfect summer lunch!" Garten says.
7. Ina Garten's Roasted Tomato Basil Soup can be served hot or cold
A hot bowl of tomato soup may not sound very appetizing in the summer months. But, Garten's recipe for Roasted Tomato Basil Soup works well in the hot summer months because this creamy comfort food can be served cold.
This five-star recipe requires about 15 minutes of prep time. You'll also need 45 minutes for the tomatoes to roast in the oven, and 40 minutes for the soup to boil then simmer in a stockpot over medium heat.
8. Bring Anna's Tomato Tart to your next summer cookout
If you want to wow everyone this summer at the neighborhood or family cookout, try whipping up Garten's recipe for Anna's Tomato Tart.
As the celebrity chef explained on Instagram, "One of my favorite summer lunches is Anna's Tomato Tart – the whole thing is prepared before anyone arrives and I can have a great afternoon with my friends. And boy, will they be impressed by this stunning tart!!"
9. Tomato Feta Salad is amazingly simple recipe
It doesn't get much easier — or much tastier — than Garten's Tomato Feta Salad. Simply cut four pints of grape tomatoes in half and put them in a large bowl.
Then, add a cup-and-a-half of small-diced red onion, a quarter-cup of white wine vinegar, six tablespoons of olive oil, a tablespoon of kosher salt, a teaspoon of freshly ground black pepper, a quarter-cup of chopped fresh basil leaves, and a quarter-cup of chopped fresh parsley leaves and toss well.
Finally, dice one-and-a-half pounds of feta cheese into three-quarter inch cubes, crumbling it as little as possible. Gently "fold the cheese" into the salad and serve it at room temperature.
10. Ina Garten's Summer Garden Pasta is an easy weeknight dinner
To make Garten's Summer Garden Pasta, simply combine cherry tomatoes, olive oil, garlic, basil leaves, red pepper flakes, salt, and pepper in a bowl, then cover it with plastic wrap. Let it sit at room temperature for about four hours.
When you are ready to eat, boil a pot of water with a splash of olive oil and some salt. Add angel hair pasta, then cook al dente for about three minutes. Finally, drain the pasta and add it to the bowl with your cherry tomato mixture. Serve in big bowls with parmesan cheese on top.
11. Scalloped Tomatoes are an 'absolutely delicious' side dish
Garten's fans can't get enough of her Scalloped Tomatoes, which she featured in her episode titled "Farm Stand Food." In addition to plum tomatoes, olive oil, minced garlic, sugar, salt, pepper, basil, and Parmesan, you'll also need some bread from a French boule with the crusts removed.
Or you can do like one of Garten's fans did and substitute "leftover sourdough bread from Panera."
"Made this tonight and it was excellent! Served with grilled chicken on the kamado grill. Not a single bite left in the pan. Can't wait to make it again," the happy fan wrote.
Episodes of The Barefoot Contessa air Sundays on the Food Network.
RELATED: 'Barefoot Contessa' Ina Garten's 15 Best Recipes to Refresh Your Summer Dinner Menu