11 Latin Songs That'll Get Anyone Dancing When You Need a Pick-Me-Up (Or Whenever)
Being stuck inside or having the same day-to-day routine or views can get a bit mundane. With real-life struggles getting you down, it's important to move around, whether it's safely traveling outside for a run or walk, or simply dancing in your kitchen. With that said, music can be a great way to blow off steam and truly lift your spirits. And what better way to do that than with some amazing Latin bops.
Now, Latin music is vast. From bachata, cumbia, reggaeton and more, Latinx artists have many genres and ways to express themselves. Putting them all together, this handy little playlist-starter will open you up to some truly great hip-shaking tracks.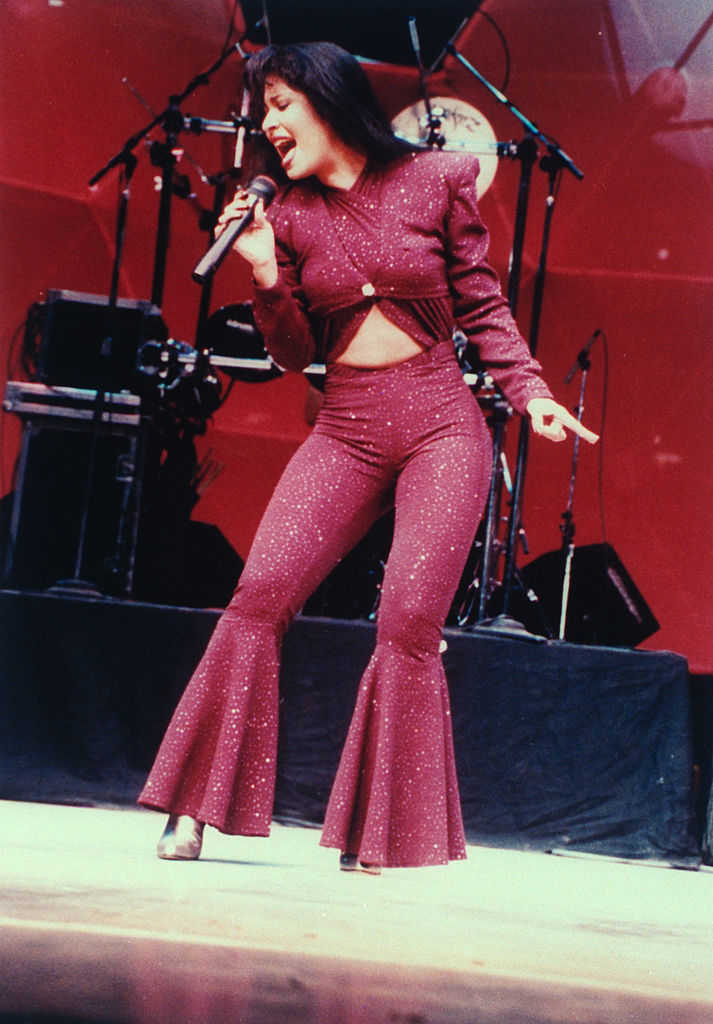 1. "Bidi Bidi Bom Bom" — Selena
La Reina de Tejano, as fans still lovingly call her, Selena Quintanilla set the music world on fire when she was alive. In the '90s, she paved the way as one of the most successful Tejano singers, which was a male-dominated genre before she came on the scene. Tejano can also technically be known as "Tex-Mex" and mixed Mexican folk music with polka and more. Selena was so popular because she fused it with pop as well.
With "Bidi Bidi Bom Bom," you can also hear why everyone loved her. Her voice is so inviting and the song will always get your hips moving. Not to mention, the video shows what a killer performer she was too.
2. "What a Bam Bam" — Amara La Negra
Amara La Negra is a reggaeton singer who has faced a lot of hate for being Afro-Latina but has still kept churning out amazing dance tunes. The Miami native gained a large following when she appeared on Love & Hip Hop: Miami, but has been making tracks since before her hit "Ayy" in 2013. As stated above, she's received a lot more hate than other Latinas in the business due to colorism in the Latinx community, and racism in America, but the Dominican-American singer lays it all out in her music. "What a Bam Bam" came out in 2018 and will always get you in a good mood.
3. "Safaera" — Bad Bunny (ft. Jowell & Randy and Ñengo Flow)
Straight off of Bad Bunny's new album YHLQMDLG (Yo Hago Lo Que Me Da La Gana, or I Do Whatever I Want), Pitchfork calls "Safaera" a "technical masterpiece" for its several beat changes, rap flows, and samples like Missy Elliott's "Get Ur Freak On." Bad Bunny, aka Benito Antonio Martínez Ocasio, is a Puerto Rican singer and rapper who specializes in addictive Latin trap and reggaeton beats. His flow and lyrics are mesmerizing and "Safaera" proves just how many times he can make you lose your mind in 5 minutes with how good it is.
4. "Rompe" — Daddy Yankee
Just like Selena is the Queen of Tejano, Daddy Yankee is the King of Reggaeton. The Puerto Rican singer and rapper didn't create the genre, but his songs go hard and brought the genre to the forefront of mainstream music. "Rompe" is one of his lesser-known songs, at least to the general, non-reggaeton-listening audience. But it deserves to be on your playlist. Latin trap from the early 2000s just hits different when you're cooped up.
5. "Rabiosa" — Shakira
While everyone knows Shakira and all of her popular songs like "She-Wolf," "Hips Don't Lie," and "Whenever, Wherever," she has so much more to add to your playlists. The Colombian singer, who recently wowed audiences at the Super Bowl, has been in the game since she was 13. "Rabiosa" comes from her 2010 album Sale el Sol which includes other bangers like "Loca," "Addicted To You," and "Waka Waka."
6. "Suavamente" — Elvis Crespo
Known as the song to get any Latino up and dancing at a party, "Suavamente" is a must for any gathering. Or for cleaning your apartment. Elvis Crespo is a Puerto Rican merengue singer and makes some of the best tunes to dance to or mop to; it's just a scientific fact at this point. There truly isn't a feeling in the world like the one you get when "Suavemente, bésame," just starts blasting when your playlist is on shuffle.
7. "Gasolina" — Daddy Yankee
Another amazing song that will get even the most stubborn person up and dancing is "Gasolina." Daddy Yankee called it the most "innocent song" he ever composed, and is about a girl who goes out and just has fun. This is the song that skyrocketed reggaeton to mainstream music audiences and hasn't really gone anywhere as one of the most recognizable reggaeton songs ever.
8. "Otro Trago" — Sech (ft. Darell or Ozuna, Anuel AA and Nicky Jam)
A little more on the smoother, slower side, "Otro Trago" by Sech is still a good song to make you get up, moving, and happy. The song was a viral hit and made it on to Billboard's Hot 100 chart, which isn't a feat that a ton of Latinx artists can claim. Sech is a Panamanian singer and this was only from his second album. Watch out for what this breakout singer does next.
9. "Dem Bow" — Nando Boom
Unfortunately, the Latinx music industry, and history, tends to leave behind pioneers in genres like reggaeton when they're Afro-Latinx. Nando Boom was one of the founding fathers of the genre when the Panamanian singer came onto the scene '80s and '90s with his Reggae en Español songs. Reggae en Español came from Panama and was a mix of Jamaican reggae but with this Spanish twist because that's what was spoken there, and is the basis of modern reggaeton. "Dembow" is a rhythm that came from Jamaica and is now very popular in reggaeton.
10. "Mi Niña Bonita" — Chino & Nacho
Alright, this one is truly the definition of a feel-good song. It's truly just about the singer's love for this "pretty girl" and is pretty repetitive but that doesn't make it any less of a bop. Chino y Nacho make up this Venezuelan pop group and the album this song is on, also called Mi Niña Bonita, won a Latin Grammy for Best Urban Album in 2010.
11. "Vivir Mi Vida" — Marc Anthony
You can't have a Latin music playlist and not include Marc Anthony on it. And "Vivir Mi Vida" is the most perfect song to include in your shuffle at this moment. The song is all about living your life to the fullest and enjoying every moment of it. While things can seem doom and gloom right now, there are good things to look out for. So while you're manifesting happy thoughts, let the joyous beats of "Vivir Mi Vida" lull you into happiness today.