'1883' Episode 6 Debunks This Popular Fan Theory
'1883' has sparked a popular theory about Elsa Dutton. However, episode 6 proved this theory was incorrect.
1883 returned with a new episode on Sunday after a two-week-long break. In episode 5, Elsa experienced her first love and was physically intimate with Ennis. Unfortunately, the cowboy died during a conflict with bandits. This series of events has led many fans to believe that Elsa is pregnant with Ennis' child. However, a subtle comment from Elsa in episode 6 of the Yellowstone prequel debunks this theory.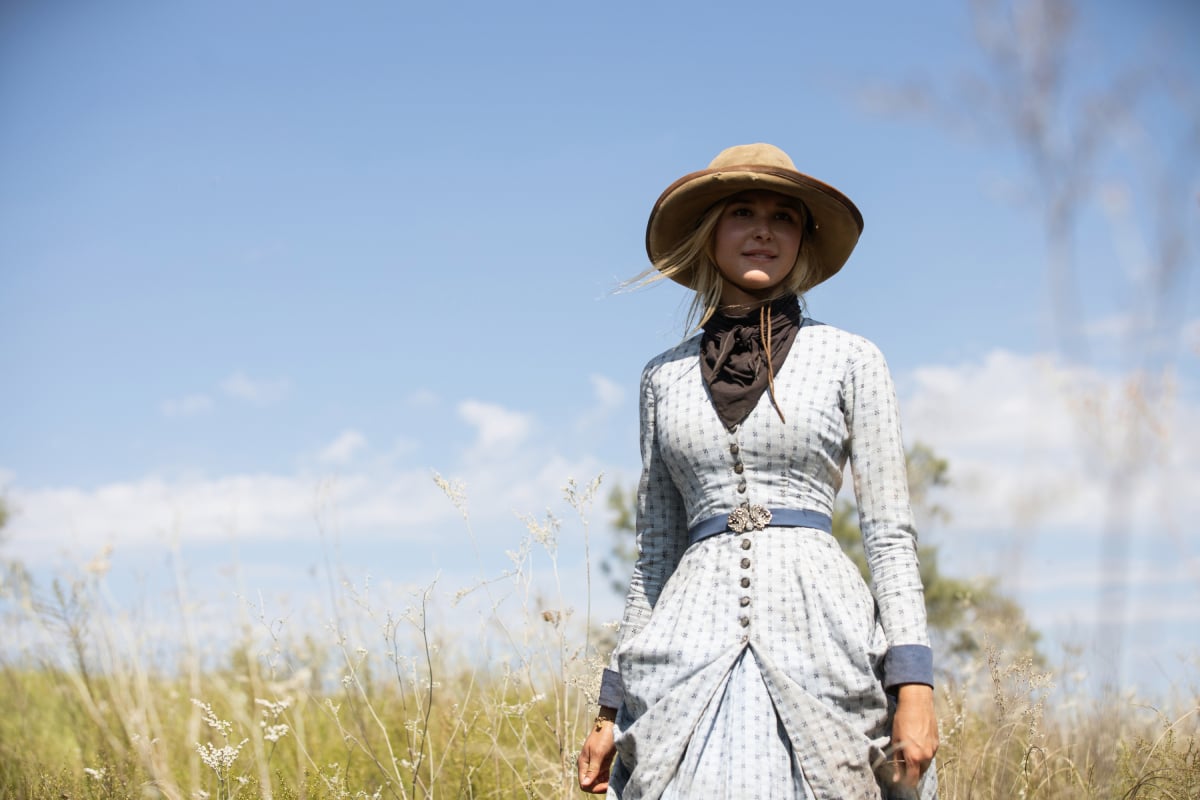 Is Elsa pregnant in '1883'?
In 1883, Elsa met and fell in love with a handsome cowboy named Ennis. The pair were physically intimate in episode 5, after which Margaret reminds her daughter that pregnancy is a possible consequence of sex. When Elsa asks if Ennis would raise a baby with her should she fall pregnant, Ennis responds, "Hell yeah!" Unfortunately, Ennis is killed in a confrontation with bandits shortly after.
Many fans believed that Elsa became pregnant from her short relationship with Ennis. "Anyone else think Elsa has Ennis baby and that was the other boy at the table in the cabin?" a fan wrote on Reddit. This theory suggests that Spencer Dutton, who is seen in a flashback during Yellowstone, is actually Elsa's biological son.
'1883' Episode 6 debunks a popular fan theory
Although many fans subscribed to the theory that Elsa is pregnant in 1883, episode 6 proved that theory wrong. At the beginning of the episode, a grieving Elsa walks away from her family for some "privacy." When Margaret asks why she needs privacy Elsa responds, "I got my period."
This pretty much proves that Elsa doesn't get pregnant on the journey to Montana — at least not with Ennis' baby. Isabel May previously teased to extratv that questions surrounding Elsa's pregnancy would be answered very soon, and she wasn't exaggerating.
Now fans know that Elsa isn't going to have Ennis' baby. However, some believe that a pregnancy for her isn't out of the question. "I agree that Spencer is Elsa's son, but it's unlikely that he's from Ennis after last night's tragedy. Maybe Elsa had Spencer with a man she meets in Montana? Maybe even a member of the Crow Tribe?" a fan suggested on Reddit.
The opening scene of 1883 predicts a dark future for Elsa. She is shot through the stomach with an arrow, an injury that very likely killed her or left her infertile. With this in mind, if Spencer is Elsa's son, she would have to have given birth to him before the opening scene. However, it's unclear when this conflict took place, which makes it difficult to deduce if a possible pregnancy could line up with Spencer's age in the Yellowstone flashback.
What's next for Elsa in '1883'?
In 1883 Episode 6, Elsa is angry and grieving Ennis' death. She even points her gun at a trader who stares at her as she rides by. James and Margaret worry about their daughter's change in mood. However, a talk from James finally gets through to her. Elsa sleeps and dreams of Ennis and after she wakes up some of her old self seems to return.
New episodes of 1883 release Sundays on Paramount+.