'1883': What Happened to Shea Brennan's Family?
Sam Elliott's character Shea Brennan is tasked with leading a group of immigrants on a dangerous journey. Shea also suffered a terrible loss at the beginning of '1883.'
The Yellowstone prequel series 1883 is off to a great start, with the first few episodes captivating viewers and critics alike. 1883 has a lot going for it, with an intriguing time period, stellar costuming, and a star cast. The legendary Sam Elliott tackles the role of Shea Brennan, a no-nonsense man hired to lead a group of immigrants into the unknown northwest. Shea endured a tragic loss at the beginning of the series, but what exactly happened to his family?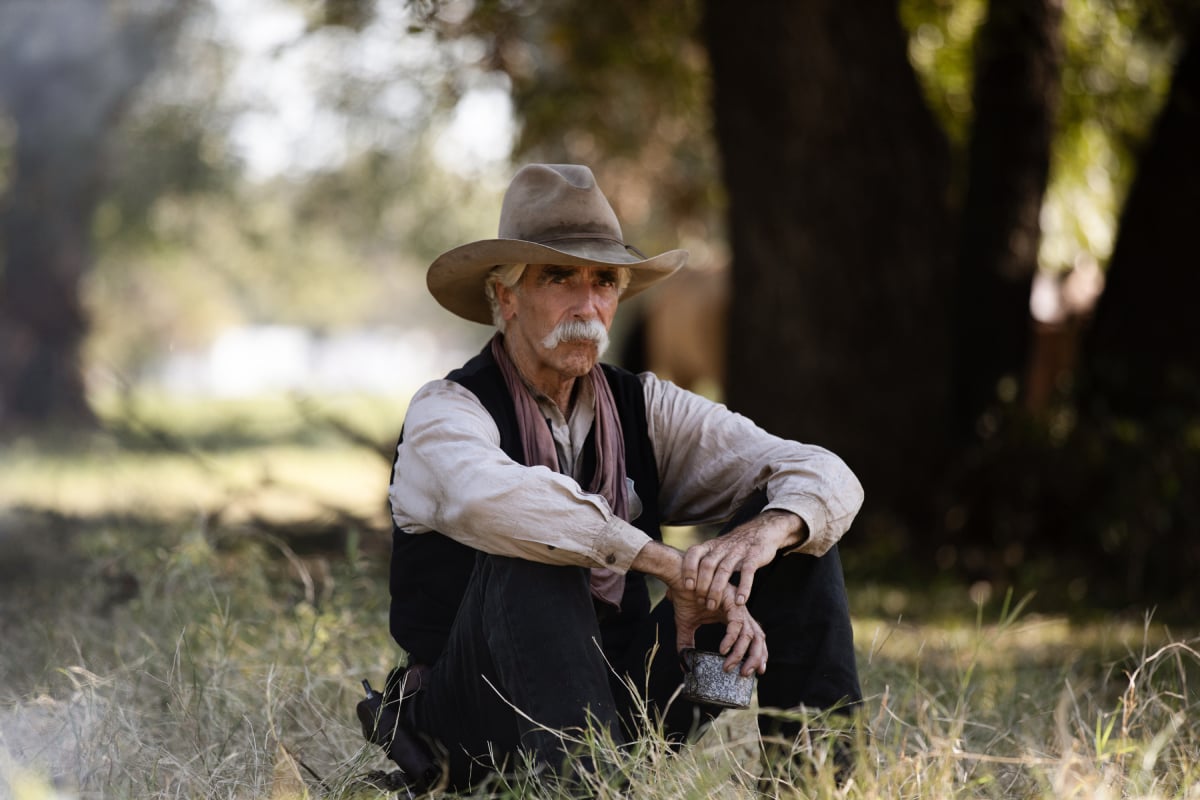 Sam Elliott plays Shea Brennan in '1883'
Elliott is a legendary actor known for playing rugged cowboy-type characters. He made his film debut in Butch Cassidy and the Sundance Kid, and went on to play a part in everything from The Big Lebowski to A Star is Born, according to IMDb. Elliott is easily recognizable by his thick mustache and low, soothing voice.
The role of Shea Brennan in 1883 seemed made for Elliott. Shea is a tough-as-nails Pinkerton Agent and a veteran of the American Civil War. There he met Thomas, a Buffalo Soldier who became Shea's, right-hand man. Now Shea faces the enormous task of leading a group of immigrants on a dangerous journey.
What happened to Shea Brennan's family?
The very beginning of 1883 reveals that Shea Brennan suffered a terrible loss. He sobs, stealing himself to enter the bedrooms of his deceased daughter and wife. Both women are covered in pustules, a sign that they succumbed to the smallpox virus.
Smallpox was a deadly disease capable of wiping out entire populations. Early stages of the disease presented with high fever and body aches. From there, an infected person would develop a rash that would eventually turn into raised pustules. Survivors were often left permanently scarred and sometimes blind. However, the CDC reports that 3 out of every 10 people with the disease died.
This was the fate of Shea's wife and daughter. A devastated Shea burns his house to the ground after his family succumbs to the disease. Shea then contemplates suicide but eventually decides against it.
Shea's knowledge of smallpox comes in handy when he spots the signs of it on an immigrant trying to travel with his party. Shea kicks the man and his wife out of the group.
It may seem cruel, but Shea is right that the infected man could end up killing everyone in his group. Shea's decision to burn his family home down may also have been to further prevent the spread of the disease. Clothing and bedding used by an infected person could potentially infect someone else.
Shea Brennan embarks on a dangerous journey
Shea is certainly a complex character. He can shoot a man without even blinking, but the beginning of 1883 shows a very human side to the character. Shea mourns the loss of his family and reacts angrily when a sex worker speaks of his late wife Helen. Although Shea is an extremely strict leader, 1883 shows that his hard rules are necessary for the people he is guiding. His group won't survive if they can't learn the harsh realities of the road they have ahead of them.
New episodes of 1883 release Sundays on Paramount+.