'1883': Isabel May Admits That a Failed Audition For Taylor Sheridan Is What Got Her Cast as Elsa Dutton
Isabel May actually failed an audition for another one of Taylor Sheridan's hit shows – but it all worked out when the mega-producer cast her in '1883.'
ARTICLE HIGHLIGHTS
Isabel May stars as Elsa Dutton on the Yellowstone prequel 1883.
She actually auditioned for another one of Taylor Sheridan's hit shows first.
May admits she failed the audition, but Sheridan knew he had to have her — in fact, he said the show wouldn't work without her.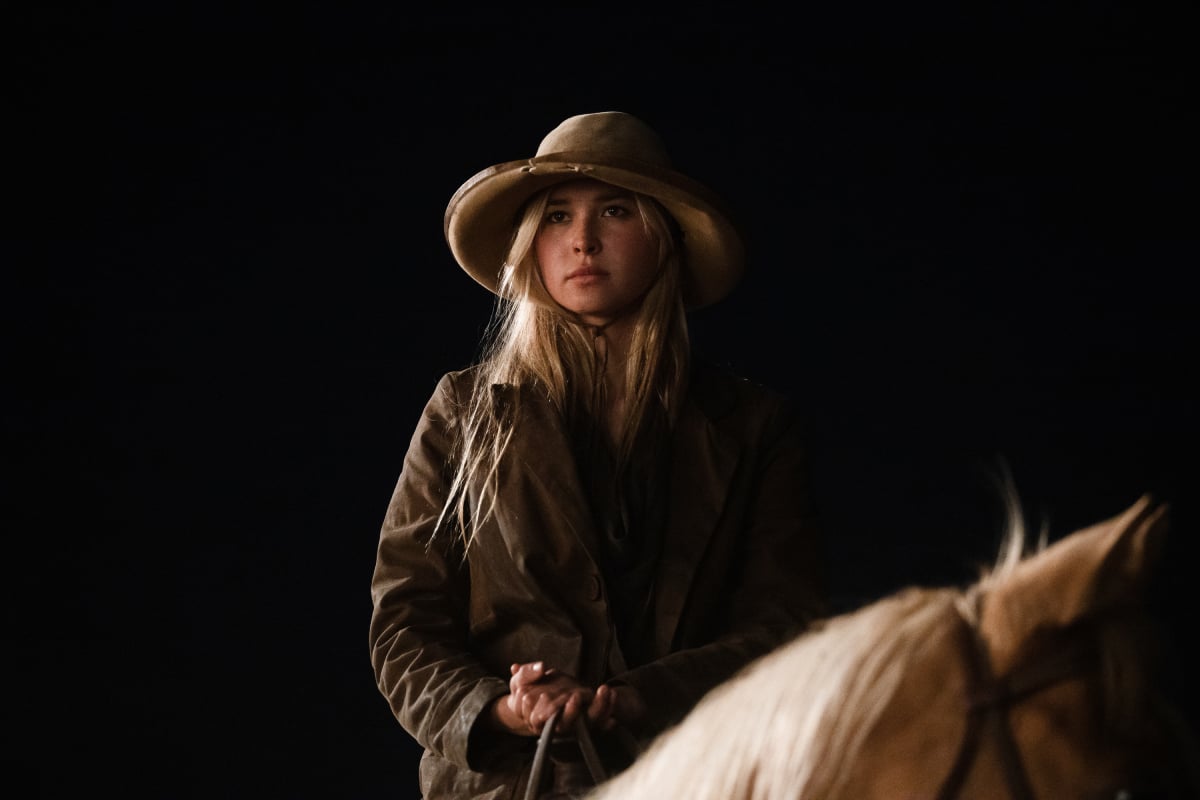 1883 has made a star out of Isabel May, who plays Elsa Dutton. In the Yellowstone prequel, her character is front and center as the audience's eyes and ears. And May admits she can't believe all of this is happening. According to the 21-year-old, it was a failed audition with series creator Taylor Sheridan that led to her breakout role.
Isabel May stars as Elsa Dutton on '1883'
May is part of a star-studded cast in 1883. She plays Elsa, the daughter of Tim McGraw's James and Faith Hill's Margaret. They are the ancestors of Kevin Costner's John Dutton, the patriarch of Yellowstone.
The prequel tells the story of how James and Margaret traveled west on the Oregon Trail and settled the Montana land that would become the family's beloved ranch. Guiding them on their journey is Shea Brennan, played by legendary western star and Oscar nominee, Sam Elliott.
Taylor Sheridan created '1883' as part of his deal with ViacomCBS
Thanks to the massive success of Yellowstone, Sheridan signed a $200 million deal with ViacomCBS to make five new series over the next three years. And they essentially gave him the keys to the kingdom.
As the company shifted their focus away from the linear Paramount Network on television and moved it towards streaming with Paramount+, Sheridan started building his "Sheridan-verse" for the streamer.
Mayor of Kingstown starring Jeremy Renner and 1883 both premiered in late 2021. Coming soon is the Yellowstone spinoff 6666, as well as mob drama Kansas City starring Sylvester Stallone. Also in development is Landman, a drama about the west Texas oil boom.
Isabel May's failed audition for 'Mayor of Kingstown' led to the role of Elsa on '1883'
During a recent interview with The Hollywood Reporter, May recalled her unusual path to landing the role of Elsa Dutton. She says the first step in the journey was a failed audition with Sheridan for a role in Mayor of Kingstown.
"I was the only person to audition for Elsa," May revealed. "Taylor was doing another project called Mayor of Kingstown, and in March 2021, something like that, he flew three girls out to Texas, including myself. So I auditioned for that, and I was terribly wrong for it."
Elsa Dutton 'came to life' during Isabel May's meeting with Taylor Sheridan
May says that she left the Mayor of Kingstown audition thinking that was it for her in the Sheridan-verse. But something happened during that meeting that prompted Sheridan to call her two weeks later.
"I don't know what happened or what it was about myself or our interaction that sparked something in him, but Elsa came to life after our meeting. I take zero credit for it," May explained.
"He called two weeks later and said, 'You're Elsa Dutton. I want you to be Elsa Dutton. Please be Elsa Dutton.' And I said, 'Well, of course, I'll be Elsa Dutton because you're Taylor Sheridan and it's my dream to work with you.'"
Taylor Sheridan cast Isabel May before he wrote the '1883' scripts
Sheridan told Wide Open Country that Paramount+ loved his pilot script for 1883 so much that they wanted it on the air quickly to help with the streamer's launch. That gave him about seven months to cast the series, hire the crew, write the scripts, and shoot the episodes. But none of that could happen if he didn't find his Elsa Dutton first.
"When I met Isabel, the whole story, all 10 episodes, went right through my head. I called Paramount and said, 'I'm going to sit down and start writing…but I need to hire the lead, the female lead, who's a complete unknown, right now, before I start writing. Because it won't work if we don't get her.'"
New episodes of 1883 drop Sunday on Paramount+.