'1883': Isabel May Reveals They Shot a Lot of the 'Yellowstone' Prequel In Taylor Sheridan's 'Backyard'
'1883' star Isabel May recently opened up about her experience of 'becoming a cowboy' and shooting a lot of the 'Yellowstone' prequel in creator Taylor Sheridan's 'backyard.'
ARTICLE HIGHLIGHTS
1883 star Isabel May is opening up about shooting the Yellowstone prequel ahead of the season 1 finale.
The Elsa Dutton star claims that they shot a lot of the series in creator Taylor Sheridan's "backyard."
She also opened up about attending Sheridan's infamous "cowboy camp."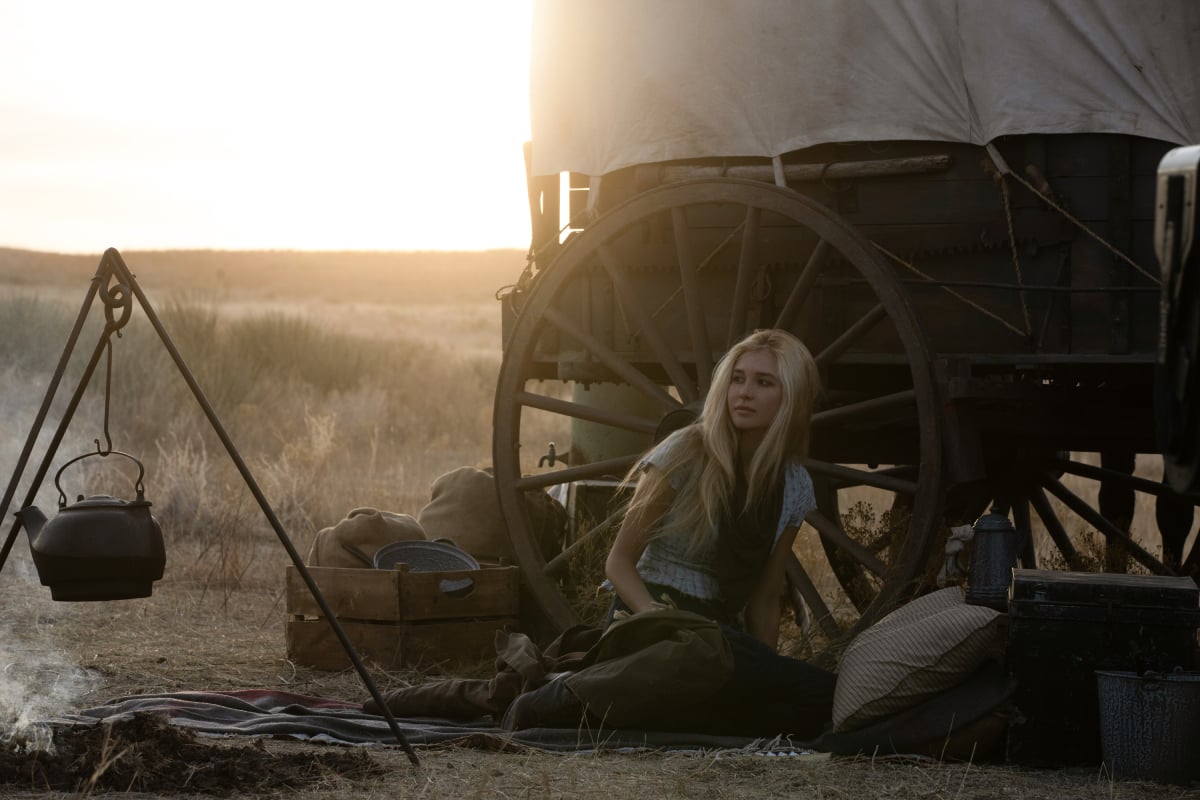 1883 star Isabel May is fresh off the set after wrapping filming for season 1 — and she's spilling some secrets. In a new interview, the 21-year-old — who plays Elsa Dutton on the Yellowstone prequel — detailed her experience of "becoming a cowboy" and immersing herself in the 19th century. She also revealed that they shot a lot of 1883 in creator Taylor Sheridan's "backyard."
The early episodes of '1883' season 1 were filmed in Texas
1883 tells the story of James and Margaret Dutton (Tim McGraw and Faith Hill) — the ancestors of Kevin Costner's John Dutton — and their family's journey from Texas to Montana on the Oregon Trail. Eventually, they will settle the land that becomes the Dutton Yellowstone Ranch.
The early episodes were filmed across Texas in the summer of 2021, beginning in Fort Worth. They also shot scenes at the famed Four Sixes Ranch, as well as in the towns of Granbury, Amarillo, and Guthrie.
Production was based in Weatherford, Texas — where Sheridan currently lives. The town is also home to Bosque Ranch Headquarters, which is a real-life ranch and media production facility. This was 1883's primary filming location.
Isabel May says they shot the 'Yellowstone' prequel in Taylor Sheridan's 'backyard'
In a new interview with The Hollywood Reporter, May described 1883 as Sheridan's "baby." She says people don't understand how much the show means to him. And, despite working on numerous projects simultaneously, Sheridan was on set almost every day.
"He was in constant communication. We were shooting at his house — not inside of his house, obviously — but in his backyard. He owns all of the land that we were shooting on in Texas, and then we moved to Montana and all around," May revealed.
The '1883' creator warned Isabel May about the challenge of being a cowboy
May shared that Sheridan "cares deeply" about 1883, and Elsa in particular. She says she got "very lucky" on that end, explaining that Sheridan's attention "is a precious thing because he's the busiest man I've ever met in my life."
The actor says that Sheridan warned her about the challenges of becoming a cowboy and being "put through the wringer" on set. But May trusted the process because she finds challenging work "really intriguing, interesting, and gratifying."
"So if I wasn't put through the wringer, I would've been disappointed to be honest," May said. "That's what this is all about. I still get to walk away from it, but it's fun to make yourself a little miserable."
Season 1 of the 'Yellowstone' prequel was produced at lightning speed
May says she auditioned for the Yellowstone creator in March 2021 for a role in Mayor of Kingstown, which she wasn't right for. But during their meeting, Sheridan realized that he had found his Elsa.
Paramount+ wanted the show on the air before the end of the year (it premiered in December 2021), so production went very quickly.
May says she had the summer to train for her role, and she would drive out to Agua Dulce in Northern California to ride with a woman named Deidre, the wife of 1883 stunt coordinator Jason Rodriguez.
The '1883' star went to Taylor Sheridan's Cowboy Camp
"I rode with her as much as I possibly could, and then Taylor brought me out to do his infamous Cowboy Camp, which consisted of riding with wranglers all day, basically being spoiled rotten and sweating like crazy," May explained.
The actor says she now has a newfound perspective on the past after being immersed in the 19th century for the past five months.
"Living in this world for the last few months has been so enlightening and truly eye-opening, and it's made me appreciate what I have," May said.
New episodes of 1883 drop Sundays on Paramount+.