'1883' Opening Scene Explained and What It Means for the Dutton Family
1883 is a story that distinguishes itself from its parent series. The Yellowstone prequel follows the Dutton family as they embark on the dangerous trek from Texas to Montana. Although it's easy to forget that 1883 is connected to Yellowstone, what happens to James, Margaret, Elsa, and John is intrinsically tied with the Duttons seen in the original series. The prequel begins with a pretty bleak look into Elsa's future. What does this scene mean for the Dutton family?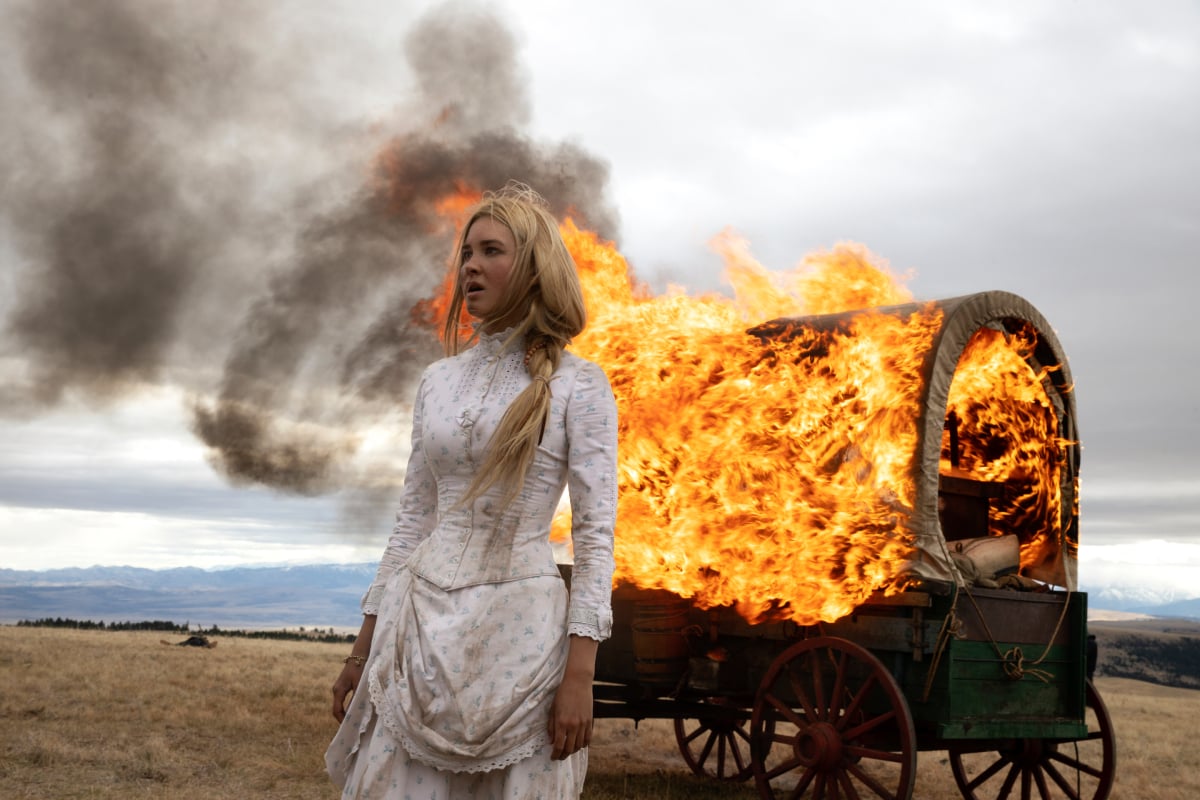 What happens in the opening scene in '1883'?
1883 begins with a flash-forward to a pretty bleak future. Elsa (Isabel May) narrates as she wakes up on the ground. With tears in her eyes, she crawls out from under a burning wagon and watches Native Americans kill several of the people around her. Elsa retrieves a gun from one of the dead men, but one of the attackers warns her not to use it.
He tells Elsa that he will sell her or kill her. Elsa screams, "You speak English. How can you do this!" to which the man replies, "You speak English and all your people do this." Elsa shoots and kills the man, but not before he fires an arrow through her stomach.
What does the opening scene mean for the Dutton family?
In Yellowstone Season 4, fans got a glimpse of the family from 1883 in a flashback. In the flashback, James Dutton (Tim McGraw) rounds up some cattle thieves. He returns home to his wife Margaret (Faith Hill) bleeding profusely from a bullet wound. James' sons John and Spencer appear in the flashback, but Elsa is nowhere to be seen.
With all this in mind, it's likely that Elsa died of the arrow wound on the way to Montana, though presumably the rest of her family made it there safe. However, it's also possible that Elsa is absent from the Yellowstone flashback because she married and began her own family.
A lot of questions remain about how the opening scene in 1883 transpired. For example, how did Elsa end up alone and shot with an arrow while her family went on to survive? So far in 1883, James Dutton is extremely protective of his family. He shoots a man who attacks Elsa in her bed without a second thought. James, John, and Margaret aren't present in the scene at the beginning of 1883, so where exactly did they go?
Sam Elliott comments on the opening seen in '1883'
Justin Kirkland of Esquire sat down with 1883 star Sam Elliott to discuss the prequel. Kirkland remarks on the opening scene and the exchange between Elsa and the Indigenous man when they both ask each other, "How could you do this?"
"I think that's Taylor's way of saying that we laid waste to the American Indians, however, you want to call it… the Native Americans," Elliott replied. "It's something we still haven't reckoned with. There's bad even in that, as far as I'm concerned."
1883 is available for streaming only on Paramount+.