'1883': Sam Elliott Has 1 Frustration Taylor Sheridan Never Fixed
The Yellowstone prequel 1883 casts Sam Elliott at his western best. The veteran of western movies and TV shows plays Shea, the man guiding the Dutton family to Montana in the year 1883. Elliott just has one complaint and 1883 creator Taylor Sheridan never fixed it.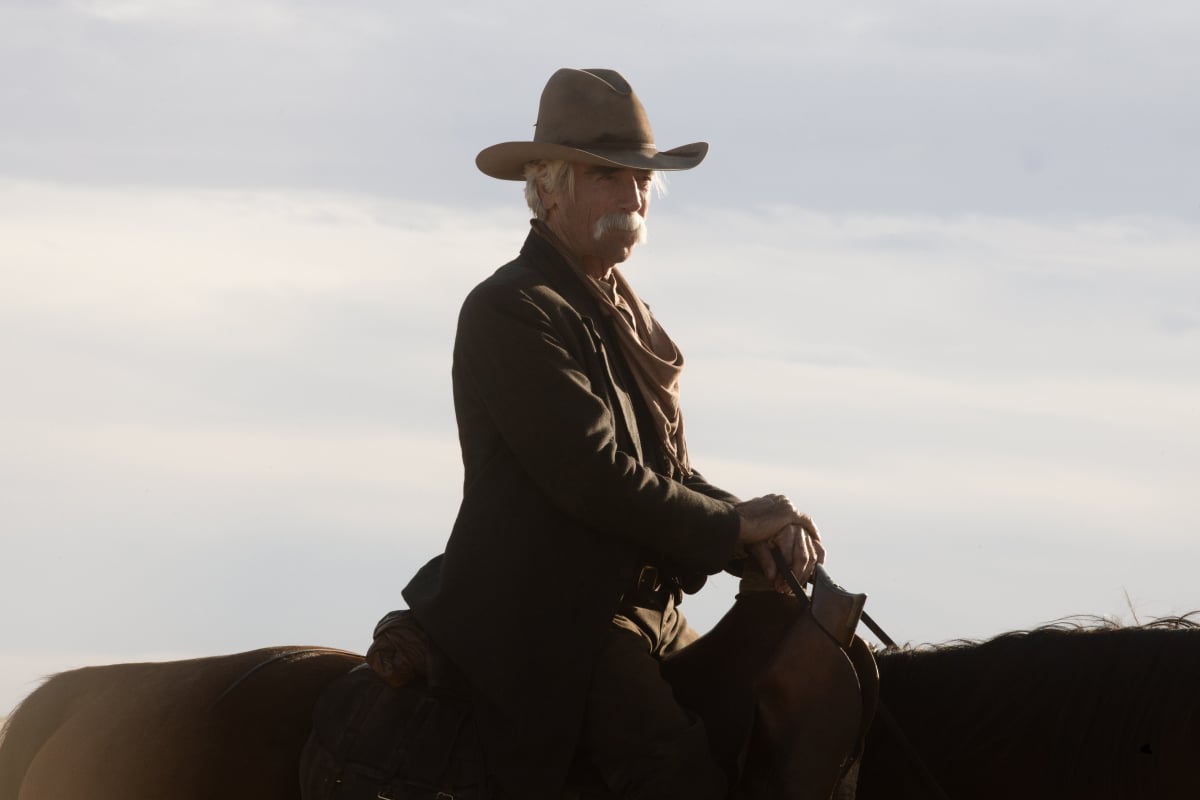 Elliott was on the WTF with Marc Maron podcast on Feb. 28. Discussing 1883 with Maron, Elliott revealed the one mistake that never got fixed.
'1883' gave Sam Elliott a hat that was too big
Elliott has worn cowboy hats in westerns like Tombstone, Rough Riders, The Shadow Riders, The Hi-Lo Country and more. The hat is a vital piece of the costume, as Elliott would go on to explain. So when 1883 messed up the hat, it was almost a dealbreaker. 
RELATED: '1883' Season 2: Everything We Know About the Return of the 'Yellowstone' Prequel
"We didn't get the f***ing hat until we got down there in Texas and it was a mistake because we got pushed into a box where we had to settle for a hat," Elliott said on WTF. "And it was a f***ing hat that didn't fit me. The f***in' hat was too loose on me. It was a hat that just didn't fit."
Taylor Sheridan promised Sam Elliott a better hat
Elliott called his producer about the hat. This was no diva call, and Sheridan agreed.
"I remember talking to Taylor on the phone, 'We'll try a million hats on if we have to. You'll have the right hat, don't worry about it,'" Elliott said. "Went down there and it didn't. It didn't happen."
The consummate professional, Elliott made the loose hat a part of Shea's character. If Shea seems surly, and he often does, it might be because of the hat. Sure, he's a haunted character who lost his wife and child at the beginning of the show, and now he's got a loose hat to deal with.
RELATED: How That '1883' Plot Twist Relates to Isabel May's Season 2 Teasers
"I made it work," Elliott said. "I just got into it and figured Shea's got a f***ed up hat, that's all."
Hat tricks in westerns before '1883'
Elliott shared with Maron tricks cowboy actors often used on loose hats.
"There's a leather piece inside," Elliott said. "If the hat's loose on you, you stick the matchbook in. I've never heard that before but I've stuck my lighter in the hat before."
The cowboy hat has been integral to every gunslinger from John Wayne to Clint Eastwood. Elliott even knew the man who put hats on Wayne. 
"I had a friend of mine that just recently, just a couple of weeks ago, passed away," Elliott said. "A guy named Luster Bayless, part of the costume company called United American Costume. Lester's take on the whole f***ing thing with westerns, he did John Wayne films forever, it all starts with the hat and it does."
RELATED: '1883' Star Isabel May on Her 'Painfully Real' Relationship with Tim McGraw and Faith Hill