'1883': Sam Elliott Taught LaMonica Garrett to Keep the 'Passion' In His Career Just By Being Sam Elliott
Sam Elliott is a legend in Hollywood, and his '1883' co-star LaMonica Garrett admits he learned to keep up the 'passion' for his career just by watching him work.
1883 featured a buffalo soldier turned Pinkerton agent named Thomas, played by series breakout star LaMonica Garrett. Thomas used his hard-earned skills to help Sam Elliott's Shea Brennan lead pioneers along the Oregon Trail, while protecting the settlers from the journey's many dangers.
Before the Yellowstone prequel, viewers may have known Garrett from his roles in Designated Survivor, Sons of Anarchy, and the Arrowverse during his 20-year career. But he had a lot to learn starring alongside the 77-year-old Elliott, a legend in the industry. After watching his co-star work, Garrett says he learned how important it was to keep the "passion" in his career.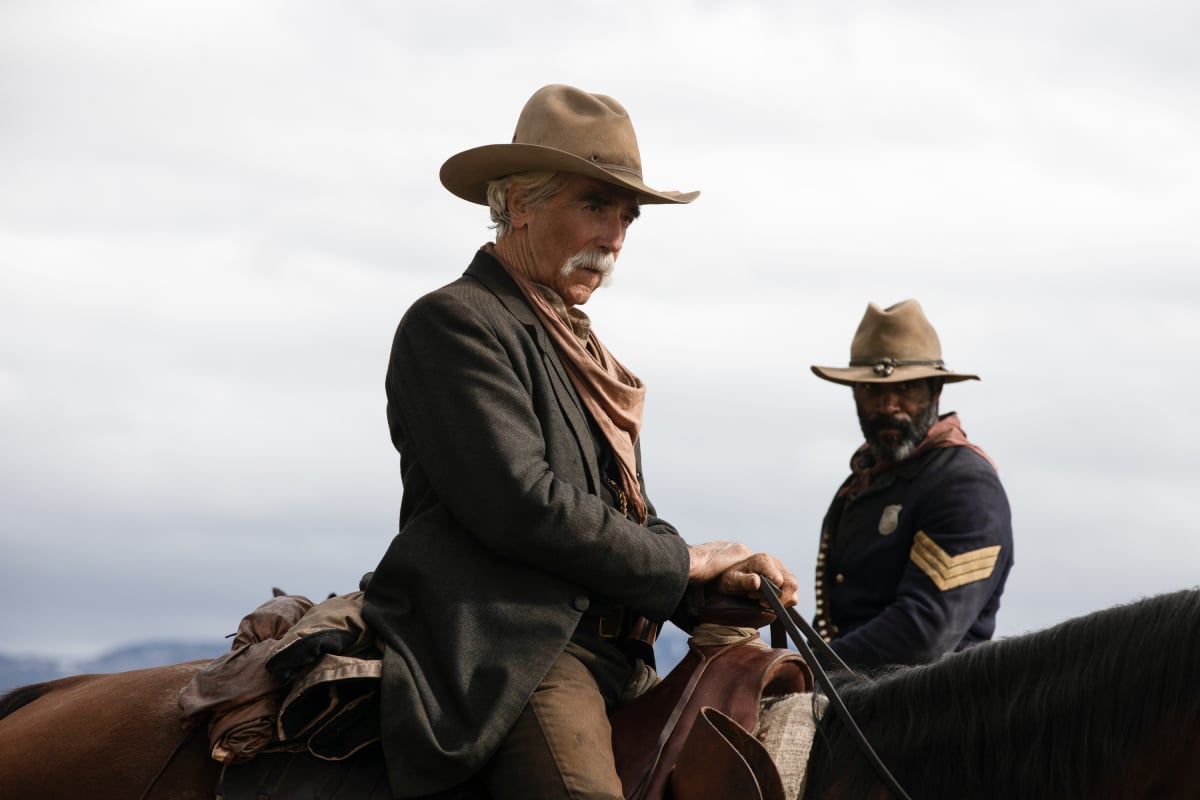 The '1883' star says it's 'incredible' to join the elite club of black cowboys on screen
With the role of Thomas on 1883, Garrett joined a small, elite community of black actors — including Glynn Turman and Reginal T. Dorsey — who have played cowboys on TV. Garrett told Decider that he never saw this happening for him, but added it was an honor to be in the same category as other great actors.
"It's incredible, and I didn't really see this happening for me. It just wasn't in my realm of possibility. I was just trying to bring Thomas to life and do justice to black cowboys of the past. There is a wonderful culture of contemporary black cowboys and that shouldn't go unnoticed either" Garrett said.
"People ask me where I get Thomas' sound from, his speech and his dialect. I took inspiration from Floyd Frank who passed in 2020. He was from Southeast Texas, and he was a legend down there in the Beaumont area. I'm just so honored to be in the same category as great actors like him who have played black cowboys, both past and present-day, on screen."
LaMonica Garrett learned to keep the 'passion' in his career by watching Sam Elliott
In addition to finding inspiration from black actors who played cowboys in the past, Garrett says he learned a lot just by watching Elliott. He says that when he first met the Tombstone star, he knew right away that "this is big."
"The moment you meet Sam and he gives you a hug and he looks at you, it's like, 'We're going to have a great time.' He gives you that wry kind of grin and all the nerves go away," Garrett told Looper.
"I think one of the main things I took away from Sam is, he's been in this business for so long and he's been doing it at a high level for so long and he still has passion and love for the art of filmmaking, the craft."
Sam Elliott showed his passion by being himself on the '1883' set
Garrett went on to explain that some people who've been in the industry for a while just "call it in" and expect a check, no matter what the project is. That's not how Elliott does things, though.  He led by example and showed his passion via his actions instead of words.
Elliott was the first actor on the set of the Yellowstone prequel every day, watching the crew set up cameras and talk about the shots for the day. When he was done filming, Elliott would come back to watch his co-stars shoot their scenes because "he was a fan of watching actors work and watching all points of it."
"He loved being with the crew on set. He loved talking films and everything to do with filmmaking," Garrett said. "…I haven't been doing this nearly as long as Sam or a lot of other people, but I want to keep that [spirit]. That's the reason why he's still making high-level art, and the reason why he's still looked at how he is looked at — he's never lost that icon mystique status of Sam Elliott."
1883 is now playing on Paramount+.