'1883' Season Finale: Will Elsa Dutton Really Die? Everything We Know About Isabel May's Future on the 'Yellowstone' Prequel
1883's season 1 penultimate episode ended with Isabel May's Elsa Dutton shot by an arrow. Of course, this was foreshadowed in the series' very first scene. But it was still quite the shock to viewers. Will Elsa really die at the end of season 1? Here's everything we know about May's future on the Yellowstone prequel.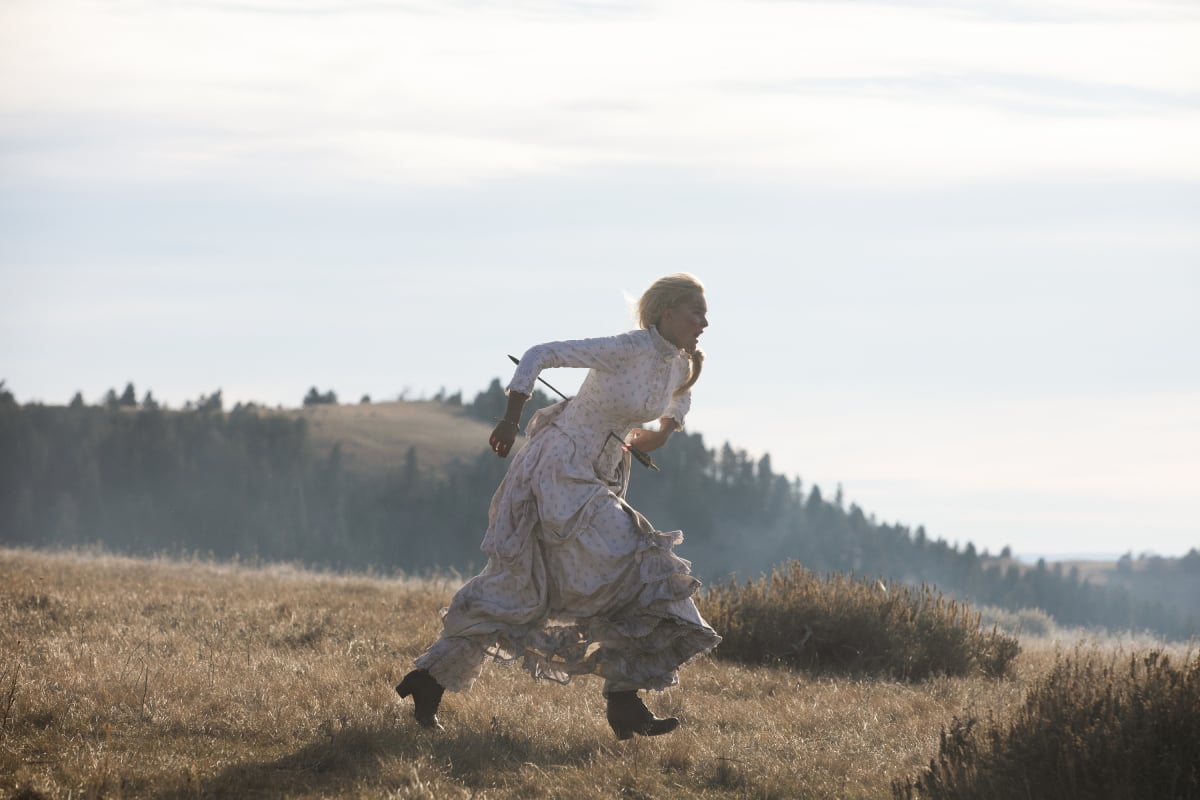 Elsa Dutton's parents are preparing for her death in the '1883's season finale
The ninth episode of season 1 ended with Elsa shot, but still alive. However, they made it clear that she's still in danger of losing her life. Her father James (Tim McGraw) has expectations that her death is coming soon. He even mentioned the possibility of settling down with the Dutton family at the site of Elsa's death.
This has many fans believing that the Duttons won't make it to Oregon because they think Elsa is going to die in the season 1 finale. Which will force the family to settle in Montana — the location of the beloved Dutton Ranch in Yellowstone.
Isabel May is the breakout star of the 'Yellowstone' prequel
There is a strong argument to be made that Elsa will not make it out of season 1 alive. After all, the other leads of 1883 — McGraw, Faith Hill, and Sam Elliott — were already famous before the show started.
May might be the series' breakout star. But creator Taylor Sheridan couldn't plan for that while filming season 1. All of the season 1 scripts were written and in production before the first episode aired.
However, considering May's character is the series' narrator, it's still very possible she will survive. At least, for a little while into season 2. We should also point out that there's no guarantee that Sheridan has long-term plans for 1883. It might end up being a limited run that ends with Elsa's death. Which could be a pivotal moment for the entire Dutton story. Especially heading into the new prequel 1932.
Will Elsa Dutton really die in the '1883' season finale?
Episode 9 ended with Elsa convinced that she was going to die after the arrow that struck her penetrated her liver. Considering the show's habit of killing off characters, her death would make sense. It would also be a strong explanation for why the Duttons end up in Montana instead of Oregon.
May told The Hollywood Reporter that she hasn't "poked and prodded" Sheridan about the future of 1883 and Elsa Dutton. But, she does know "a little beyond the first season." That answer should give fans hope that Elsa will make it to season 2.
Isabel May knew she would be narrating the story
When Sheridan offered May the part of Elsa, she said yes without reading any script. She says that she knew she would be narrating the story because it was the first thing Sheridan told her. But she says that didn't really sink in until she read the script for the season 1 finale.
"I was receiving scripts as he was writing them and once I got the first episode, I thought, 'Oh, my character really is narrating the story,'" May explained. "But it really took until the last episode for that to really sink into my head. Personally, I've always been the kind of person who doesn't trust something until it's solid, until I can hold it in my hands and trust that it's there."
Another twist could come in the '1883' season finale
While fans — as well as James and Margaret Dutton — might be expecting Elsa's death in the finale, there's a possibility that the Yellowstone prequel could take a hard left turn and shock everyone.
Fans will recall that in the middle of the season, Elsa lost her first love Ennis (Eric Nelsen) on the trail. When that happened, fans were heartbroken. But Ennis' death had to happen that way. The question is — why?
"He's [Sheridan] like, 'you'll see. Keep reading. It has to happen this way,'" Nelsen shared with Newseek. "So for Elsa's journey, it's a complete turning point in the story, and it sends her on a trajectory where she otherwise wouldn't be heading, and it is pivotal for the character."
Is it possible that Elsa could end up pregnant at the end of season 1 instead of on her deathbed? Why would her brief romance with Ennis and his death be so pivotal? With the Dutton story, anything is possible.
The 1883 season 1 finale airs Sunday, Feb. 27 on Paramount+.
RELATED: '1883' Season 2 Is a Go, Plus Taylor Sheridan Is Ready to Tell the Story of Even More Duttons in '1932'