'1883' Star Isabel May Says Fans Will Learn if Elsa Is Pregnant Soon
A popular '1883' theory says that Elsa Dutton is pregnant with Ennis' child. Actor Isabel May wouldn't give too much away, but she did tease that answers are coming soon.
1883 introduced Yellowstone fans to the 19th century Dutton family. James and Margaret travel West with their children Elsa and John in search of a better life. Along the way, Elsa fell in love with a handsome cowboy named Ennis. The pair were intimate in episode 5, but unfortunately, Ennis died soon after. This has led many fans to speculate that Elsa is now pregnant with Ennis' baby. While Elsa actor Isabel May isn't giving away too many details, she did hint that fans don't have much longer to wait before learning whether this theory is true.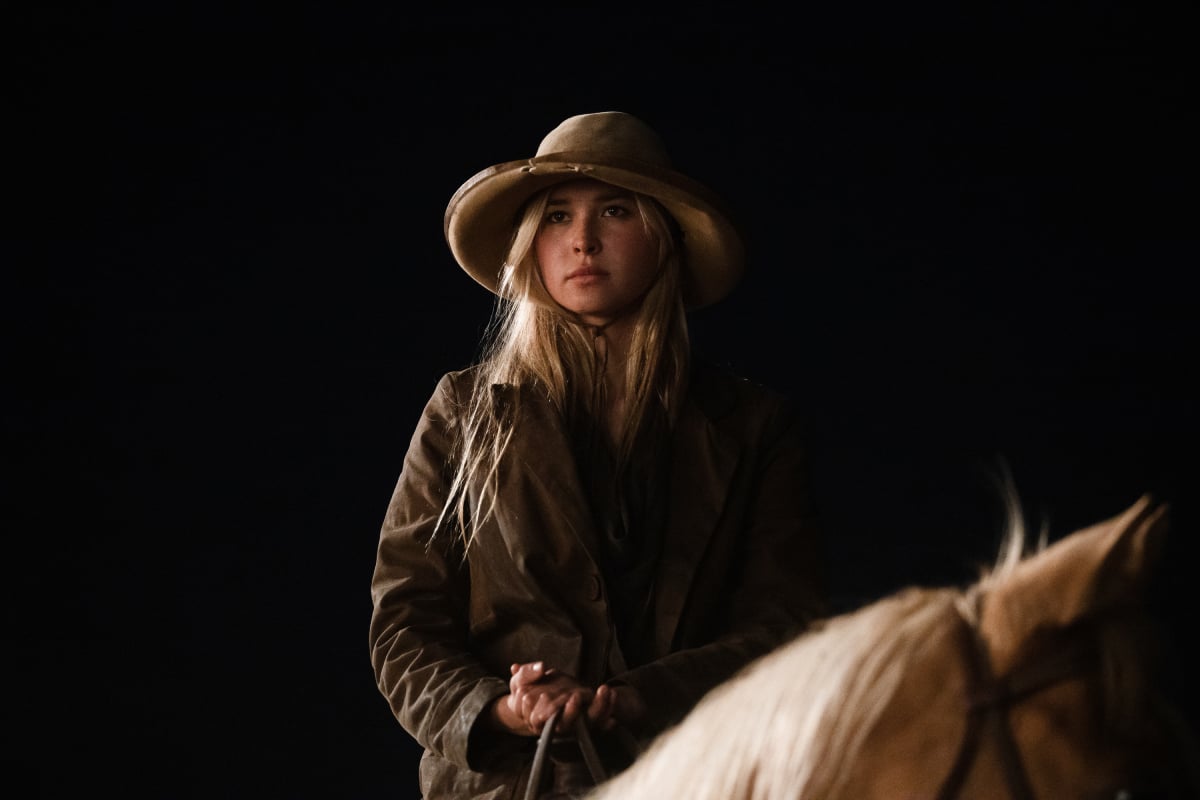 Is Elsa Dutton pregnant in '1883'?
As the Duttons begin their journey West, Elsa experiences her first love and her first heartbreak. She falls in love with a cowboy named Ennis and the pair are physically intimate for the first time. The whole camp quickly learns what happened and a lot of pregnancy talk follows.
Margaret warns Elsa of the consequences of sex and asks her if Ennis will stick around if she becomes pregnant. Ever brazen, Elsa immediately confronts Ennis and asks him if he would help her raise their baby. Ennis responds, "Hell yeah!" Unfortunately, Ennis is shot and killed in a conflict with bandits shortly after.
Isabel May teased answers to the pregnancy theory are coming soon
The hosts of the Dutton Rules podcast pointed out that all this talk of pregnancy does seem to foreshadow that Elsa is with child. Many other fans believe this theory as well. Isabel May plays Elsa in 1883. While she couldn't reveal too much about Elsa's future, she did hint that answers are coming soon in an interview with extratv.
"Well, I can't tell you much cause I'm not getting in trouble," May joked. "Yeah, that's a potential possibility. You know, we'll see. But I will say we'll find out pretty soon whether or not that's the case. That's definitely one thing that could happen."
"You really will find out right away next episode," May continued. The first five episodes of 1883 are currently streaming on Paramount+. Episode 6 will be released on Sunday, Jan. 30. It sounds like this episode will answer a lot of questions for fans who are wondering what Elsa's future holds.
Does Elsa's die in '1883'?
Some fans on Reddit have taken the Elsa pregnancy theory even further thanks to a scene in Yellowstone. A flashback shows the Dutton family in 1893, 10 years after the events of the prequel. John Dutton is a teenager and he now has a younger brother named Spencer.
However, some fans have proposed that Spencer is actually Elsa Dutton's son. The opening scene of 1883 shows a bleak future for Elsa. She is shot in the stomach with an arrow, an injury that very well may have killed her. Elsa is also absent from the Yellowstone flashbacks where Spencer appears.
It's possible that Elsa became pregnant with Ennis' child, gave birth, and then was killed not long after. After that, perhaps James and Margaret decide to raise Spencer as their son, potentially hiding the truth about his real parents because he was born out of wedlock.
New episodes of 1883 release Sundays on Paramount+.