'1883' Star LaMonica Garrett on Meeting Sam Elliott For the First Time — 'Oh, Wow, All Right, This is Big'
LaMonica Garrett admits that when he first met his '1883' co-star Sam Elliott he was left with a knot in his throat while thinking 'this is big.'
TL;DR:
LaMonica Garrett was honored to play Thomas on the Yellowstone prequel 1883.
Thomas was the right-hand man to Sam Elliott's Shea.
Garrett admits that meeting the living legend left him with a knot in his throat and thinking "wow, all right, this is big."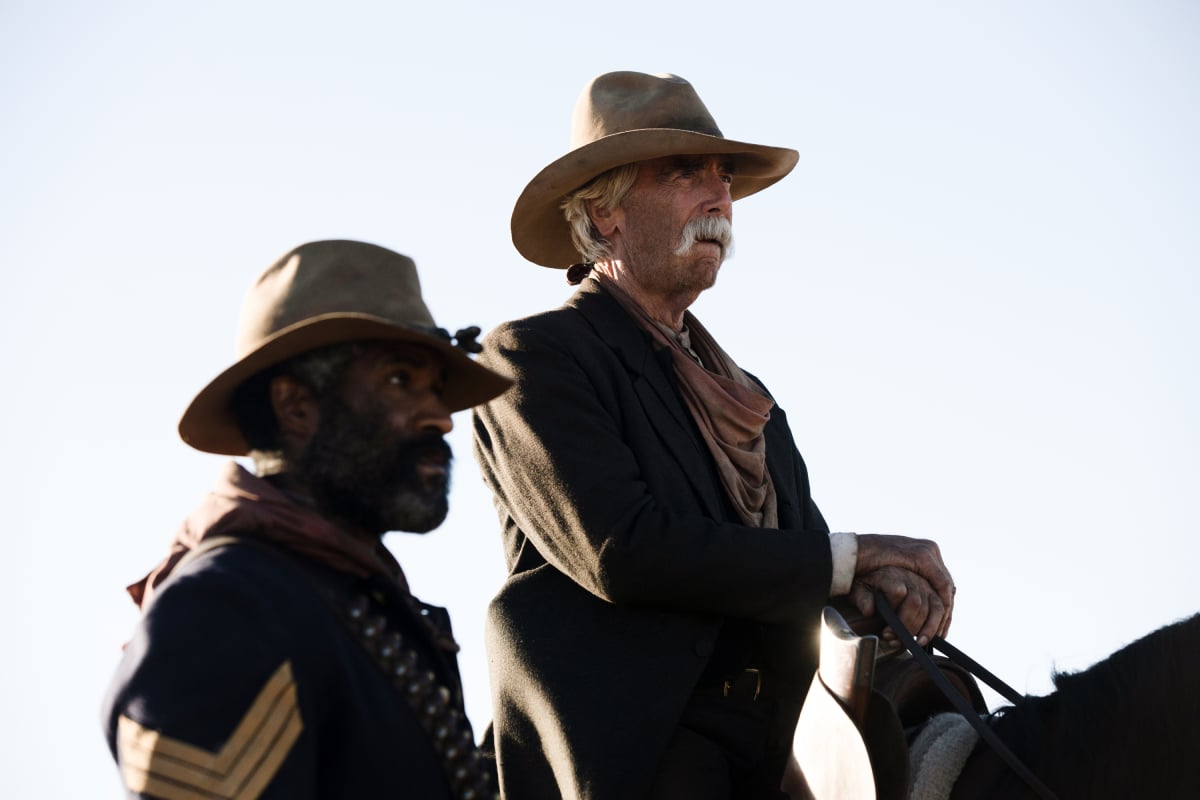 1883 star LaMonica Garrett says he felt honored to play Thomas, the right-hand man to Sam Elliott's Shea. With Elliott being a living legend — starring in the iconic Tombstone and snagging an Oscar nomination for A Star is Born — Garrett says that meeting his co-star for the first time was quite memorable. Garrett admitted he got a knot in his throat and thought "wow, all right, this is big."
LaMonica Garrett's Thomas made it out of '1883' season 1 alive
Thomas and Shea led a group of pioneers through the Wild West on the Oregon Trail during the ten episodes of 1883. But most of them didn't survive the trip. When the journey was over, Shea's life ended on his own terms — the way it had been foreshadowed since the pilot episode.
On the other hand, Thomas survived the journey and found love with Noemi (Gratiela Brancusi). If Thomas is not a part of the "additional episodes" of 1883 ordered by Paramount+, Garrett says that he thinks Thomas and Noemi are happy and watching the kids grow up.
"It's significant that it was Thomas telling Shea that one of these kids might have a kid and that kid grows up to be someone that changes the world. He ends up being the one that's in two of these kids' lives to see that happen," Garrett told Looper.
LaMonica Garrett recalls meeting Sam Elliott for the first time
Garrett says that he and Elliott became good friends while working on 1883. But he admits he was nervous when they first met.
"When you first meet Sam, you know you're going to work with Sam Elliott, and you get that knot in your throat, like, 'Oh, wow. All right, this is big.' The moment you meet Sam and he gives you a hug and he looks at you, it's like, 'We're going to have a great time.' He gives you that wry kind of grin, and all the nerves go away,'" Garrett shared.
After a grueling six-month shoot, the Arrowverse alum says that the last days of filming 1883 were "weird" because it was scattered around and they were shooting out of sequence. Plus, they didn't have a wrap party due to COVID.
"I was ready to get home, but it was bittersweet. You don't work that close with people for that long and not become family, and everyone genuinely loved each other on set. It was tough to say goodbye, but that's the business we're in," Garrett said.
The '1883' star says he never wants to 'get jaded'
One of the takeaways for Garrett from working with Elliott — who has been in Hollywood for 50+ years — is that he "still has passion and love for the art of filmmaking, the craft."
He revealed that Elliott was always the first one set, and he would be talking about shots as the cameras were being set up. When he was done filming his scenes, Elliott would come back and watch everyone else work. Witnessing this behavior taught Garrett that he wants to be like Elliott and never "get jaded."
"I haven't been doing this nearly as long as Sam or a lot of other people, but I want to keep that [spirit]," Garrett said. "That's the reason why he's still making high-level art, and the reason why he's still looked at how he is looked at — he's never lost that icon mystique status of Sam Elliott."
All ten episodes of the Yellowstone prequel 1883 are now streaming on Paramount+.