'1883': Tim McGraw Was So Enthralled by a Co-Star He Forgot His Lines — and Sam Elliott Dragged Him for It
ARTICLE HIGHLIGHTS:
Tim McGraw stars alongside wife Faith Hill and Sam Elliott in the Yellowstone prequel 1883.
The country music superstar admits it wasn't easy going "toe to toe" with the Western legend.
Elliott once "jabbed" McGraw for forgetting his lines.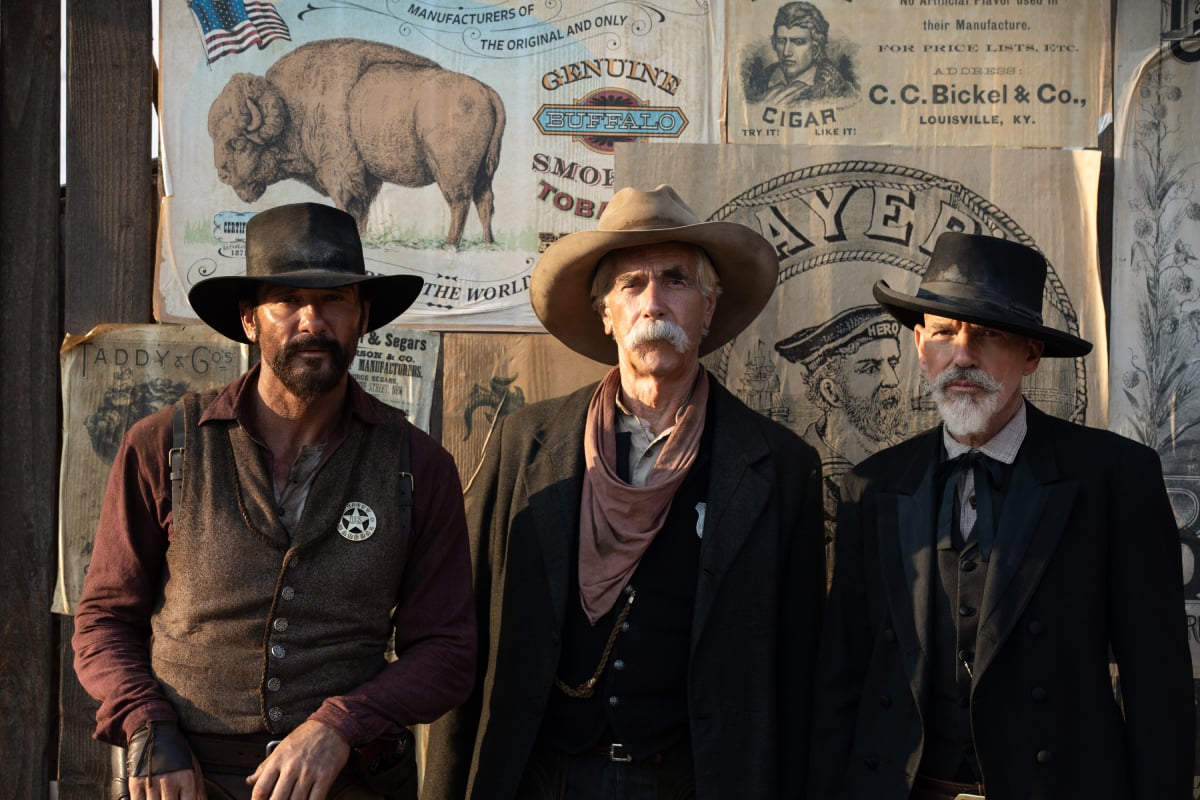 1883's Tim McGraw knew immediately after reading Taylor Sheridan's pilot script that he wanted to star in the Yellowstone prequel. When he found out that Sam Elliott was attached to the project, the country music superstar said he would have "crawled over hot coals" to play opposite the Hollywood legend.
McGraw also admits to being enthralled with Oscar winner Billy Bob Thornton's performance while guest-starring in the series — so much so that McGraw forgot his line in a scene, and Elliott let him have it.
Tim McGraw says it wasn't easy going 'toe to toe' with Sam Elliott in '1883'
In 1883, McGraw plays James Dutton, the great-great grandfather of Kevin Costner's John Dutton on Yellowstone. Starring alongside McGraw is his real-life wife Faith Hill as James' wife Margaret.
In season 1, James, Margaret, and their family decide to head west from Texas on the Oregon Trail in search of a new life. Eventually, they will end up in Montana and settle the land that becomes the Dutton Yellowstone Ranch.
Guiding them on the difficult journey is Elliott's Shea Brennan, a tough and rugged cowboy. McGraw and Elliott have quite a few scenes together. And the singer admits it wasn't easy "going toe to toe" with the legendary actor and cowboy.
The toughest part of playing James Dutton
McGraw told Outsider that before landing his role on 1883, he was a huge fan of Elliott. But acting alongside him in the brutal Western drama was a whole different animal. McGraw said that Elliott is one of the nicest people he's ever met. But at the same time, he's "such an intimidating figure."
"[James and Shea] sort of have this antagonistic relationship. But we realize this early on, there's also a really deep mutual respect that we have for each other," McGraw explained.
"The toughest thing sometimes is to stand up and have a confrontation with Sam Elliott's character. And to have to look him in the eye and defy him. It sort of makes your knees go weak a bit because all you want to do is go, 'Yes sir, yes sir. Whatever you say, yes sir.'"
The '1883' star admits Sam Elliott let him have it when he forgot a line
During a recent appearance on The Late Show with Stephen Colbert, McGraw shared a story from the set about one memorable interaction with Elliott on the set of 1883. He recalled a scene from episode two that featured Billy Bob Thornton.
He said he was so enthralled by the Oscar winner's performance that he walked past Elliott and forgot to deliver his line. This, of course, immediately caused the director to yell cut.
"I walk back to Sam and I say, 'Gosh Sam, I'm sorry. I forgot my line.' And Sam goes, 'I noticed,'" McGraw shared. "And then he goes, well at least you got the squint down."
Tim McGraw is no Clint Eastwood
After that exchange with Elliott, McGraw says he walked off and went back to his mark. But then he realized that his co-star had just "jabbed" him.
"So, a few minutes later I walked back over to him and said, 'You know, Sam, the squint worked pretty good for Clint Eastwood.' And he goes, 'Yeah, it did,'" McGraw recalled.
He immediately picked up on Elliott's subtle take of his performance, realizing the actor was telling him that he was no Clint Eastwood. "Touche," McGraw said.
Do '1883' stars Tim McGraw and Faith Hill role-play their characters at home?
During Hill's appearance on The Late Show the previous night, she told Colbert about her acting process for the series. Hill admitted that she and McGraw leave everything at the door, and they don't even rehearse their lines together.
However, Colbert joked that Hill did imply she and her husband brought their 19th-century costumes home for some couple role-playing sessions during sexy time.
 "I only brought my chaps home, a few times," McGraw deadpanned.
New episodes of 1883 arrive Sundays on Paramount+.