'1883': Tim McGraw Told Sam Elliott He Learned a Lot From Him on the 'Yellowstone' Prequel — the Western Legend Did Not Exactly Return the Compliment
TL;DR:
Before joining 1883, western legend Sam Elliott actually turned down Taylor Sheridan's hit Yellowstone.
Tim McGraw recently took to social media and told a story about telling Elliott just how much he learned while working with him.
Elliott did not exactly return the compliment.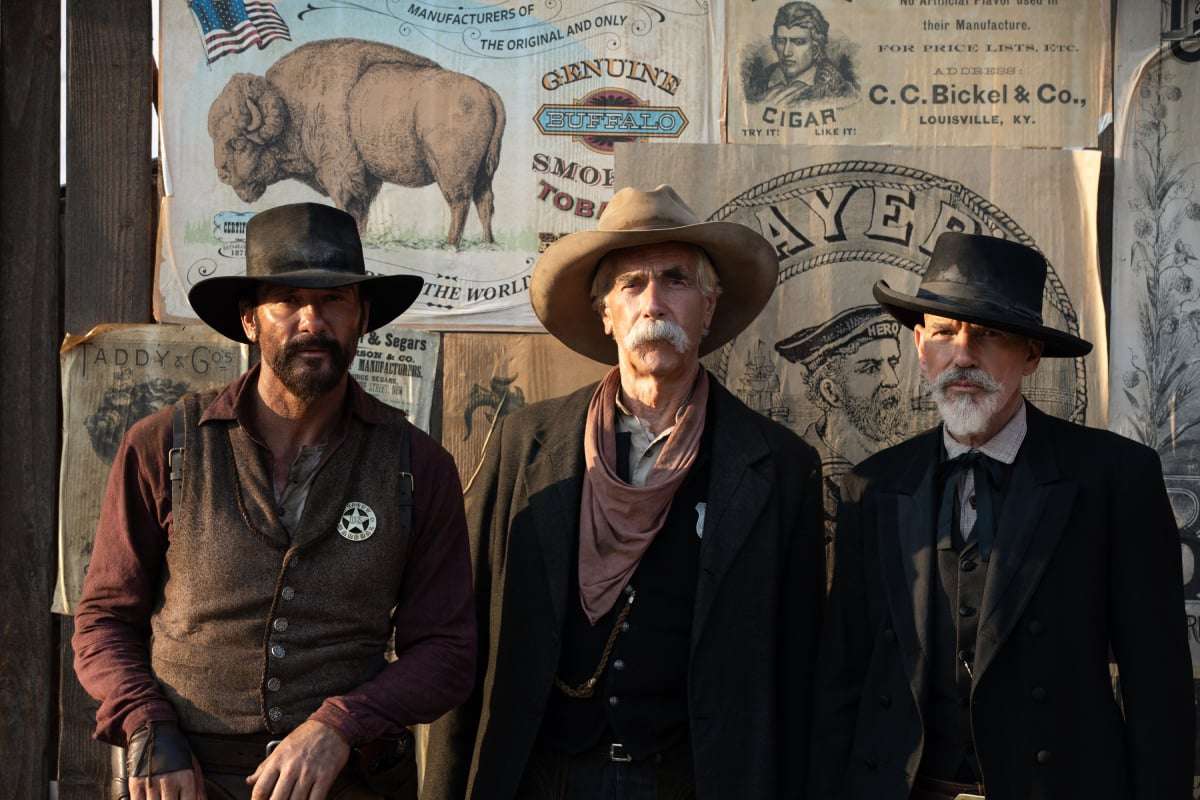 1883 was country music singer Tim McGraw's first opportunity to star on a TV series as the lead actor. But he wasn't the only big name in the cast. Joining McGraw was his wife, Faith Hill, and Oscar nominee Sam Elliott.
McGraw says that he learned a lot from working beside the veteran actor. But when he told his co-star just how much he'd learned from him during the filming of 1883, Elliott's response was the stuff of legends.
Sam Elliott turned down 'Yellowstone' before agreeing to '1883'
Elliott's lengthy film and TV resume features a number of westerns, which led many to believe that he would fit right in with the Duttons on Yellowstone. But when creator Taylor Sheridan offered Elliott a part on the Kevin Costner-led series, he turned it down. However, the role of 19th century Oregon Trail leader Shea Brennan in the prequel 1883 piqued his interest.
"I passed on [Yellowstone], but during that time that he made that offer to me, we started talking," Elliott said, per Taste of Country. "Good work for me has always been born on the page first, so it's always about the script."
RELATED: '1883': Tim McGraw Hit the Gym at 3 a.m. During Filming and It Wasn't Just to Work Out
During an appearance on the Official Yellowstone Podcast with Jefferson White, Elliott explained that he never crossed paths with Sheridan before the Yellowstone offer. But he had "certainly seen" Sheridan's work and the "stuff that he'd written."
"I've watched Sons of Anarchy and knew him as an actor. When I first discovered him as a writer was in Sicario and I thought, 'Wow how can one guy have so many talents going for him?'" Elliott shared.
Tim McGraw told Sam Elliott he learned a lot from him while filming the 'Yellowstone' prequel
When Elliott did agree to 1883, he joined a cast that included music superstars McGraw and Hill. Who were both a bit green in the world of acting. In a recent Instagram post, McGraw told his fans that he had "so much fun making this show." His favorite thing about it was getting to work with his wife. But a close second was getting to work alongside Elliott, "who is just a legend."
"Everything that you'd ever think that he was, he lived up to. He was just one of the nicest, sweetest guys in the world," McGraw said of Elliott.
RELATED: '1883': Tim McGraw Was So Enthralled by a Co-Star He Forgot His Lines — and Sam Elliott Dragged Him for It
"But one particular day, I told Sam, I said, 'you know, thanks for doing this and being a part of this. I just wanted to let you know that I've learned so much from watching you.' And he just looked at me and said, 'Oh yeah? Well, I haven't learned a f***ing thing from you.' So, thanks, Sam! Enjoyed it."
Tim McGraw's journey to '1883' was similar to his co-star
Elliott wasn't the only 1883 star who landed in the cast of the prequel after an offer to appear on Yellowstone. McGraw's turn as series lead James Dutton was the result of a conversation with Sheridan about making a cameo in the Paramount Network drama.
McGraw agreed to appear as James in the Yellowstone season 4 flashbacks before a larger plotline was fully developed for 1883. It wasn't until weeks later that Sheridan made him an offer to star in the fast-tracked prequel.
RELATED: '1883' Gives 'Yellowstone' Fans 'All the Reasons in the World' Why John Dutton Won't Sell an Inch of His Land Says Tim McGraw
McGraw and Hill will return as James and Margaret Dutton in "additional episodes" of 1883 that have been ordered by Paramount. However, Elliott won't return after his character was killed off in the season finale. The episodes are expected to drop during the Yellowstone season 5 break later this year.
1883 is now playing on Paramount+.