'1883': When Does the 'Yellowstone' Prequel Return With New Episodes?
Fans have a while to wait before a new episode of '1883' is available. When can fans watch episode 6 of the 'Yellowstone' prequel?
It's hard to believe that the first season of 1883 is already halfway over. Taylor Sheridan's Yellowstone prequel has enthralled fans with its story of the Dutton family's journey from Texas to Montana. The journey is far from over, but there won't be a new episode of 1883 on Sunday, Jan. 23. When can fans expect episode 6 to be available for streaming?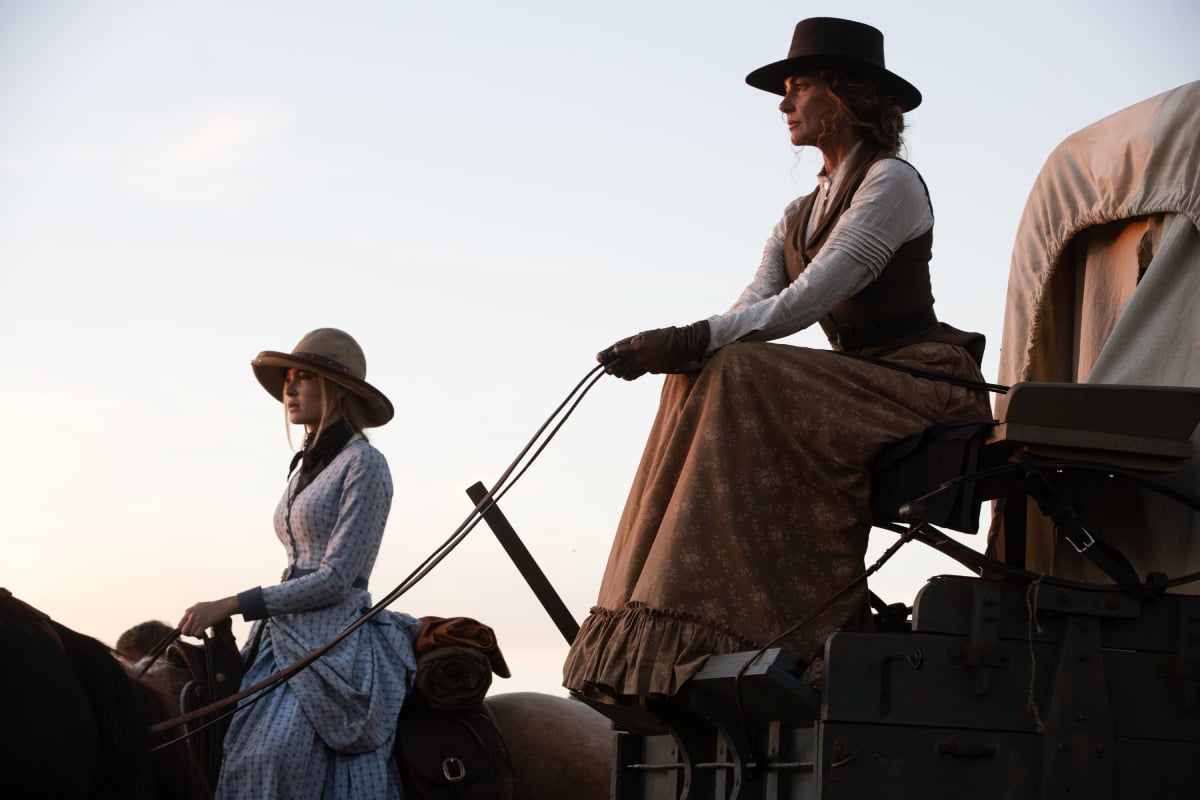 '1883' Episodes 1-5 recap
1883 began with the Duttons arriving in Texas from Tennessee. James Dutton prepares to lead his wife, daughter, sister, and niece on the dangerous journey. He meets Shea Brennan and Thomas, fellow Civil War veterans who are about to lead a group of immigrants in the same direction. In need of capable men, Shea asks James to travel with them and he agrees.
The numbers of the group quickly dwindle as the treacherous journey continues. Immigrants die from accidents, animal attacks, and most of all the brutal river crossing. James' niece Mary is also shot and killed in a conflict with a group of men, and her mother Claire commits suicide soon after. The first episode of 1883 reveals that Shea lost his family to smallpox. He struggles with the grief of their deaths, coupled with the deaths of the immigrants around him and PTSD from the Civil War.
James' daughter Elsa also experiences heartbreak. She falls in love with a cowboy named Ennis, assisting the group on their trek. Ennis and Elsa have sex and confess their feelings for each other. Unfortunately, Ennis is soon killed in a shootout with bandits. Something changes in a heartbroken Elsa, and she shoots and kills the man who took her lover away.
When does '1883' return with episode 6?
The first five episodes of 1883 are available for streaming on Paramount+. Usually, new episodes are released every Sunday, but that won't be the case tonight. Episode 6 will not be available on Paramount+ until Sunday, Jan 30, 2022. If all goes according to plan, new episodes will again air every following Sunday, with the finale slated for Feb. 27, reports Taste of Country.
This isn't the first time the Yellowstone prequel has experiences delays in releasing new episodes. According to Taste of Country, episode 4 also aired a week late so the show could broadcast a special behind-the-scenes episode titled "The Road West."
What will happen in episode 6?
The episode title and synopsis for episode 6 have not yet been released. However, it's clear from the brief promo for the next episode that Elsa's grief will be a central theme. An emotional Margaret tells James, "Wherever we're going it better be paradise because it's costing us a daughter."
In an interview with TV Guide, Ennis actor Eric Nelson teased how Elsa's grief would affect her going forward. "Yeah, I think it'll be pretty apparent right away in future episodes. The audience will see, so I don't want to give anything away on that, but as you can imagine, the emotions and struggle that she went through was real for her. And so I don't know if anyone in the world can just get over something like that quickly."
RELATED: '1883': Ennis Actor Eric Nelson on Working With Tim McGraw — 'He's Pretty Good About Putting That Fear of God in Somebody'