2 Easy Cocktail Recipes From TomTom That Are Perfect for Halloween Parties and 'Vanderpump Rules' Fans
Vanderpump Rules star Tom Sandoval is an expert bartender with Lisa Vanderpump as a personal reference. So, his YouTube channel is a great place to start when looking for the best cocktail recipes for hosting festivities or just relaxing with an adult beverage solo.
Sandoval shares videos to guide viewers through crafting a few drinks from the book he co-wrote with life and screen partner Ariana Madix — "Fancy AF Cocktails" — and some from the menu of the bar he co-owns with business and screen partner Tom Schwartz — TomTom.
To prepare for Halloween, we've grabbed two cocktail recipes that will make your party's drink list spook-tacular – The Alchemy Rose and The Blood Orange Margarita. Note that both drinks are alcoholic and they require a shaker, plenty of ice, and your favorite cocktail glass!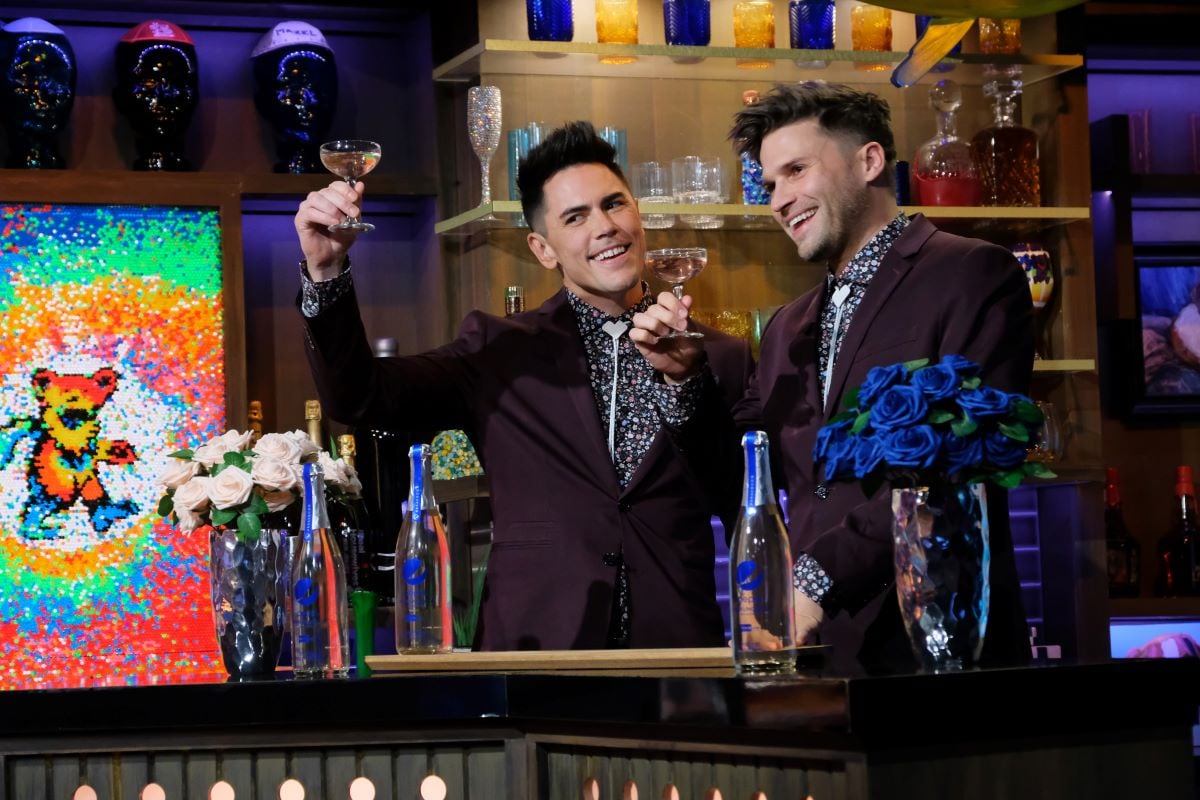 The Alchemy Rose was crafted with world-famous TomTom cocktail recipe magic  
The Alchemy Rose was created by TomTom for TomTom, and it's apparently one of the bar's most popular drinks. The two Toms of Vanderpump Rules — Sandoval and Schwartz — crafted this cocktail recipe themselves to serve at the bar, according to Sandoval.
With a name like "The Alchemy Rose" and a captivating visual effect, it has a magical allure that hints at spellcasting. So, this TomTom cocktail recipe is just right for the spookiest season!
The drink might be magic but crafting it is actually pretty simple. Here's what you'll need:
1 ½ oz. gin
½ oz. ginger liqueur
¾ oz. hibiscus syrup
¾ oz. lemon juice
½ oz. egg whites – or aquafaba for a vegan option   
First, mix the gin and ginger liqueur, then add the hibiscus syrup. Add lemon juice, then egg whites or a vegan option, and ice – which Sandoval suggests being generous with. Once the ingredients are all in, shake and pour into your favorite glass.
Sandoval suggests adding more egg whites or alternative for an added foam, and garnish with micro red rose petals for presentation. The cocktail makes for a "nice, light fluffy, refreshing" treat with a charming color.
A Sandoval pro tip that's perfect for Halloween entertaining is adding hibiscus will turn drinks bright red. It has a tart flavor that mixes well in cocktails – like cranberry and pomegranate.
The Blood Orange Margarita can make a bloody mess
As Sandoval notes, blood orange juice looks like blood, hence the name. So, making the Blood Orange Margarita could leave white clothes and tablecloths looking like they were pulled from a crime scene.
Dexter fans like Sandoval might remember the titular blood-spatter analyst by day, serial killer by night slices through a messy blood orange in the show's opening credits — just for emphasis on the bloodiness.
Here's what you'll need:
2 oz. blanco tequila
1 oz. fresh lime juice
1 oz. blood orange juice – using two blood oranges for fresh-squeezed
.5 oz agave nectar
Salt or other seasoning for the rim of the glass
If you're using fresh blood oranges, first cut them into wedges and squeeze the juice. Then, mix lime juice, agave nectar, blood orange juice, and tequila with ice – and give it all a good shake.
Next, spread salt or another preferred glass seasoning on a plate and then dip the rim of your glass in it. Finally, add more ice to the glass and strain the drink to pour.
The blood orange juice is like orange juice, but not as sweet. So, Sandoval says the drink has a "silky" and refreshing taste thanks to the complementing flavors of the ingredients.
He uses a blood orange wedge to decorate the side of the glass – and paired with the color of the drink, it has a great look for Halloween. Some other recipes recommend using sage as a garnish, but a nice fake eyeball would really top off the scary effect.  
So, use "The Alchemy Rose" to add a witchy vibe to the drink list or a "Blood Orange Margarita" for a hint of gore at any Halloween festivity. Or, make either TomTom cocktail recipe and enjoy it as a treat anytime.