'20/20,' 'Good Morning America' Anchor Amy Robach is Married to This Former 'Melrose Place' Star
Journalist Amy Robach is a steady presence on ABC's Good Morning America, and is also the co-anchor of the network's news magazine show, 20/20. Viewers know that Robach is the mom of two daughters, Ava and Annalise, and has three stepsons. What some may not realize is that her husband was a very popular prime time soap star back in the 90s.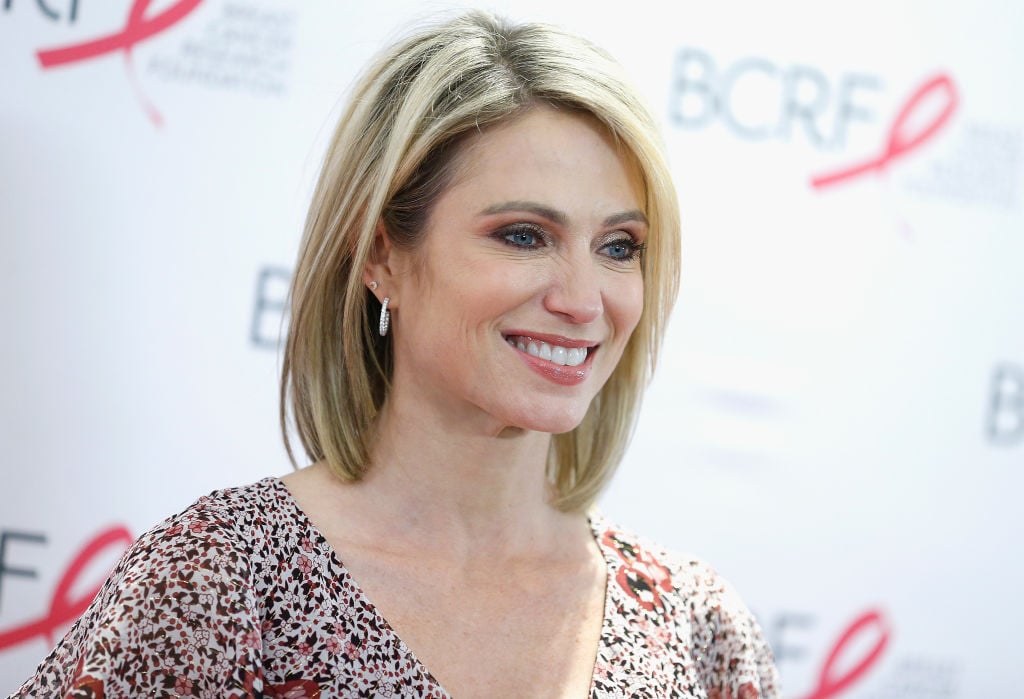 Her first marriage
Robach was married to Tim McIntosh from 1996 until she filed for divorce in 2008. The union produced their two daughters, Ava in 2002 and Annalise in 2006.
The two apparently are on very good terms, since McIntosh attended Robach's wedding in 2010 to a very well-known actor on the hit nighttime soap Melrose Place.
Remember Billy?
Who can forget Billy Campbell, the handsome 'boy-next-door' type on Fox Network's Melrose Place? The role was played by Andrew Shue, an up-and-coming actor who soon became a household name. "I was extremely fortunate," he told CNN in 2002. "As much as I was never the kind of person who watched a nighttime soap opera, those kinds of shows provide a great escape for people."
Shue was on the nightly soap from 1992 to 1999, also appearing in Francis Ford Coppola's The Rainmaker during that time as an abusive husband, a total departure from his clean-cut character on Melrose Place. Soon, he decided to head onto a very different career track.
According to CNN, Shue moved back to the East Coast in 1998 and launched his now-famous nonprofit Do Something, which encourages young people nationwide to improve their local and national communities, and offers funding to help their initiatives.
Shue's entrepreneurship didn't stop there. With his lifelong pal Michael Sanchez, he created a mom-friendly website that covered all things parenting for women called CafeMom. According to the website, "CafeMom meets the emotional and practical needs of every mom with an honest, gritty, funny, wise, practical and uplifting spirit that mirrors motherhood itself. Our stories satisfy a demand: to laugh, to connect, to commiserate, or to get smart advice you've never heard before. We lift up the voices of all moms, and make them feel confident, hopeful and understood. Like a good friend, we just make life better. This is motherhood. #NoFilter"
The former actor talked to CNN about his motivation for starting the website back in 2002. "Men are very clear about what they want to be doing," Shue said. "I think it makes it tougher on moms, who deep down want to be taking care of their kids, but also want to have a life for themselves and pitch in to the family financials."
Shue was married to floral designer Jennifer Hageney from 1994 to 2009, and the couple had sons Nate, Aidan, and Wyatt during that time.
In sickness and in health
Robach and Shue met at a book party in 2009, according to Heavy. They had both been separated for about a year from their former spouses when mutual friends set them up on a date.
Obviously, they hit it off. The two married in 2010 on February 6, which also happens to be Robach's 37th birthday. "It was the most beautiful night in every way," the couple told People. "Despite snow, high winds, flight and train delays, every guest made it to the night to share our in our new beginning." It was truly a family affair, with Shue's mom officiating the ceremony, and both ex-spouses in attendance. The two also wrote their own vows.
Shue and Robach have already withstood some trials since their wedding. Starting a blended family is always a challenge, then Robach was diagnosed with breast cancer in 2013, just three years into their marriage. "This was not something I would wish on anyone's marriage, but I think it was especially hard on a newer marriage. All of a sudden I felt like I needed him in a very needy way, and that's not my personality," Robach told People in 2015. "When I had my crisis I completely crumbled. It threw everything up in the air. It was rough for several months."
Shue added, ""We knew what we had when we found each other, and we knew that if we could just get back to what our connection was about and just be honest about the fears, then we could get through it."
Now cancer-free, Robach is just focusing on what matters most. "That is the gift of facing death," she told People. "that you say to yourself all I need is what I have right now."