20 Clever 'Arrested Development' Easter Eggs Hardcore Fans Probably Missed
If you're a fan of 'Arrested Development,' then you don't want to miss these Easter Eggs.
Arrested Development has been hailed as one of the most innovative and original TV series of all time. During the original run of the show, it scored multiple awards and received numerous positive reviews from both critics and fans alike.
Although the original series run was quite short, Netflix rebooted Arrested Development in 2011, which has led to renewed interest in the show and even more dysfunctional fun. In addition to the brilliant acting, Arrested Development has become notorious among fans for the clever "in" jokes, better known as Easter Eggs. 
What is 'Arrested Development' about?
When Arrested Development first aired in 2003, there was nothing else like it on television. With handheld camera work and voiceover narration, Arrested Development was an early inspiration for unconventional shows like The Office.
The show followed the exploits of a dysfunctional family known as the Bluths. The Bluths used to be quite wealthy, but due to a series of misfortunes, the family finds themselves near-destitute. 
Why was 'Arrested Development' canceled?
Although Arrested Development became very popular right off the bat with critics, the show suffered from low ratings. Even multiple awards, including six Primetime Emmy Awards and a Golden Globe Award, couldn't breathe enough life into the show to boost the numbers substantially, and in 2006, it was canceled. 
In 2011, Arrested Development found a new home on Netflix — and this time, it stuck around. In the years that it had been off the air, the show had gained a cult following, and viewers lined up to witness the trials and tribulations of the Bluths. In the past several years, Arrested Development has become more popular than ever, with the fifth season ending its run in the spring of 2019. 
'Arrested Development' Easter Eggs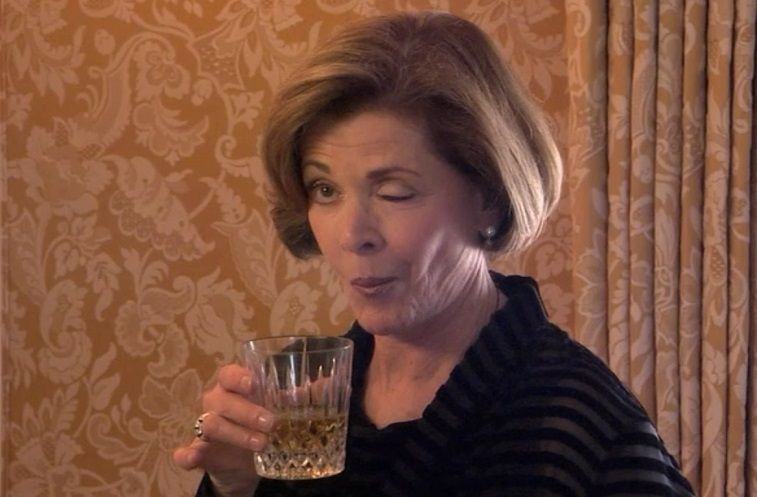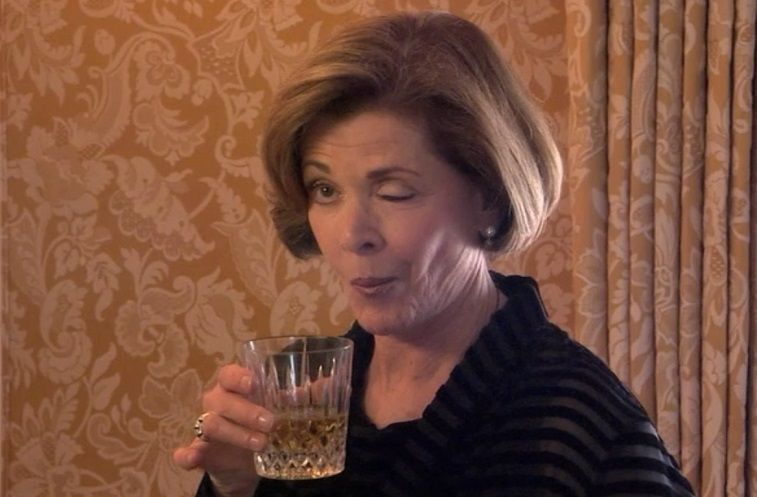 With all the newfound love for Arrested Development, fans have begun discovering creative ways that writers and showrunners have worked in Easter Eggs throughout the course of the series. Here are twenty of the show's most brilliant Easter Eggs, crowd-sourced from fans and viewers online:
1. In the very first episode, Gob transforms a $20 bill into a Monopoly board game for George Michael. After musing that he might have the game, the show later cuts to Michael looking through his attic, with a stack of Monopoly games next to him.
2. Arrested Development frequently parodied Friends in the first few seasons, and several episodes had titles taken directly from the format of Friends, including "The One Where Michael Leaves."
3. Gob, played by Will Arnett, is known for his magic tricks as well as his habit of riding around on a Segway. However, showrunners made sure that whenever Gob was seen riding on his Segway, he would interact with another character, always "seguing" the conversation in a rather obnoxious way – a clever play on words. 
4. In the second season, Gob hires a bounty hunter known as Ice to follow Michael around. Throughout the episode, there are several brief shots of Ice's classified ad in the phone book, including one that advertises "Put Your Problems on Ice."
5. Also in the second season, an image of a depressed-looking turtle can be seen on Uncle Oscar's package of marijuana, a clever foreshadowing of the death of Buster's turtle in the third season.
6. The Arrested Development cast frequently appeared in hidden cameo roles throughout the series run — most notably, in the second season, when cast members Will Arnett, Jason Bateman, and Tony Hale can all be seen dressed up in a Mexican silent film. 
7. Arrested Development also worked in a number of references to the Peanuts comics. In the fourth episode of the second season, there are several clever ones, including the use of the Peanuts theme music and the episode title itself – "Good Grief!"
8. Throughout the series run, an ongoing joke is secret surveillance companies use the word "Blendin" in their fake company title. Therefore, a number of companies seen in the show have names like "Blendin Electric Company" and "Blendin Catering."
9. Happy Days also had an influence on Arrested Development, and the show referenced the classic Ron Howard series a number of times, including one time in Season 2 when a character literally "jumped the shark."
10. Arrested Development also memorably referenced Golden Girls in season two, when Lucille Bluth checked into a rehab facility named Shady Pines. 
11. The show became notorious for adding clever bits for Spanish-speaking fans, including several credits listed exclusively in Spanish.
12. Another great Happy Days reference was in Season 3, when the Bluth family lawyer referenced an attorney named Barry Zuckerkorn, who was played by Henry Winkler — Fonzie from Happy Days. 
13. There were a lot of jokes that referenced the actor's careers directly — including a memorable reference in the third season when Michael tells George Sr., "that's a wonderful performance, Dad. You're a regular Brad Garrett." This is in direct reference to when Brad Garrett beat out Jeffrey Tambor for an Emmy Award.
14. Lupe's crazy wardrobe is a source of amusement for many viewers, and as many sharp-eyed fans have noticed, she is usually seen wearing a sweatshirt at holiday gatherings that is at least two holidays behind. 
15. A religious group known as "The Church of the Good Shepherd" makes regular appearances in Arrested Development. What's more, one staff member can always be seen wearing a black shirt, the honorary "black sheep" of the group.
16. In the season three finale, a newspaper headline features a clever reference to soaring DVD sales — a direct reference to how well Arrested Development had begun to do in the home video market. 
17. Arrested Development loves making jokes through banner placement, and there are several memorable moments throughout the series run, including a banner that can be seen in the fourth episode of the third season that read "Family Love Michael."
18. Eagle-eyed viewers can spot cast member Tony Hale in the fourth episode of the third season playing a British soldier in a fictional war movie.
19. Tony Hale also memorably danced to the song "Mr. Roboto" in the third season — just like he did in a 1999 Volkswagen commercial,
20. Prior to the introduction of Surely Fünke midway through the first season, the character can be spotted on a poster at Maeby's high school, plastered on a locker.