2021 Emmy Awards: Why is 'Cobra Kai' Nominated in the 'Outstanding Comedy Series' Category?
Fans of the Netflix hit Cobra Kai are eagerly awaiting for the premiere of season 4. Reviving the Karate Kid franchise with stars Ralph Macchio (Daniel LaRusso), William Zabka (Johnny Lawrence), and Martin Kove (John Kreese), the show offers a mix of drama, action, romance, and moments of humor. While many were thrilled at Cobra Kai's 2021 Emmy nomination, the series is surprisingly listed in the comedy genre.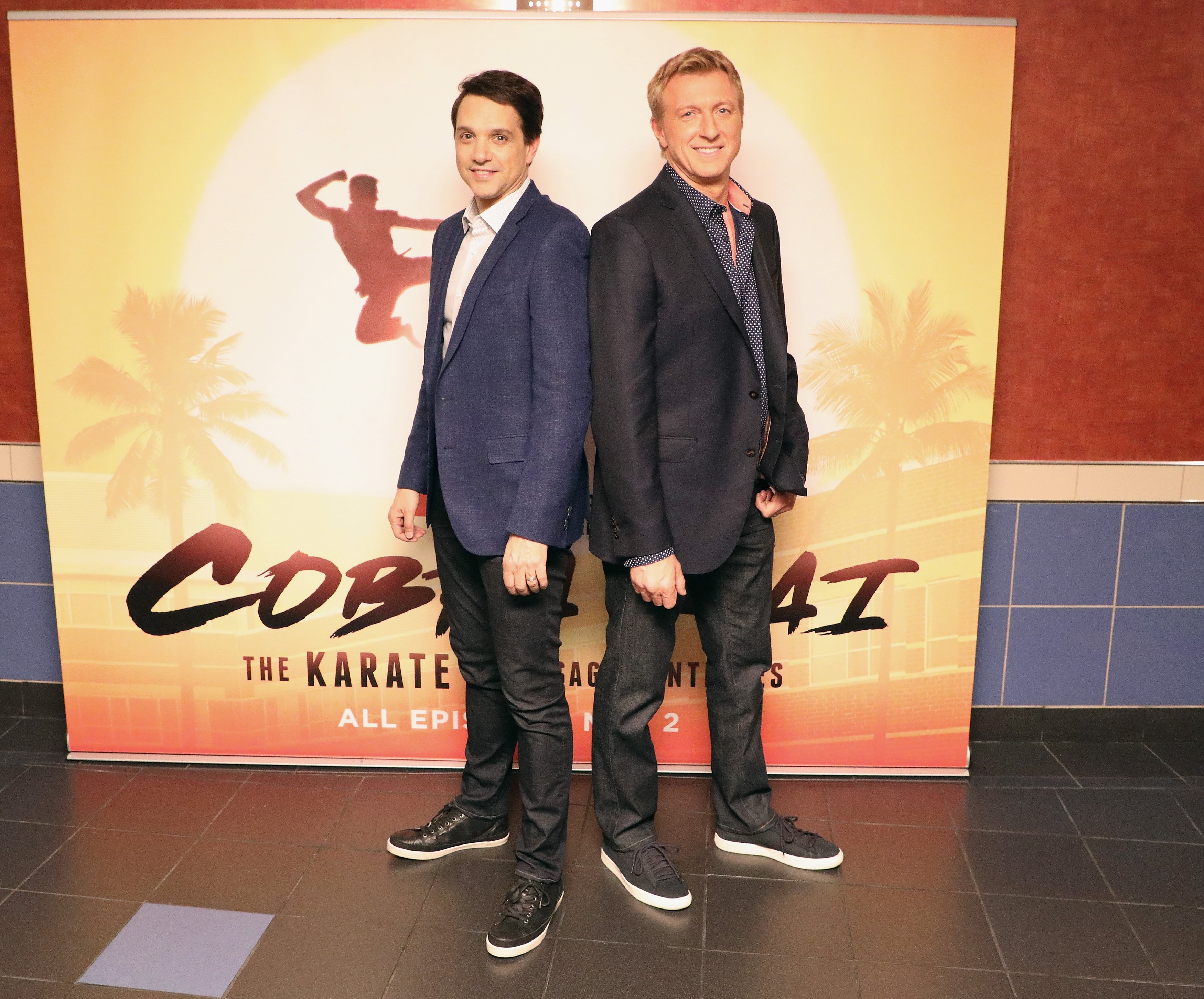 Running time may have determined 'Cobra Kai's' Emmy category
With Cobra Kai's storyline including a high school rivalry, teen romance, and some serious martial arts fighting, the drama category of the Emmy's would seem like a better fit. Co-creator Josh Heald understood why the series was challenging to place.
"Part of the reason it's in the comedy category is it skews closer to a half hour," Heald told Vanity Fair. "We have a little bit of an egalitarian view of what this show is because in any given episode we are an action show. We are a drama, we are a tearjerker, we are a teen soap opera, we are a straight-up comedy. So it really is hard to pin down the show, and I think that's part of the appeal to it. It gives you a lot of different types of feels, a lot of different flavors as you watch it."
Heald noted Cobra Kai's unique format as a bit difficult to pigeonhole.
"It's a little bit of an outlier in whatever category it's in," he said of Cobra Kai. "If you put it up against one-hour dramas it may feel slightly lighter than some of them. If you put it up against comedy it might feel slightly heavier than some of them. We end up kind of sticking out like the tall kid in the class picture no matter what category you put it in."
RELATED: 'Cobra Kai': Why William Zabka Described Himself as 'the Daniel LaRusso' When He Was Younger
'Cobra Kai' creators were 'stunned' at the Emmy nomination
Heald created Cobra Kai along with high school pals Jon Hurwitz and Hayden Schlossberg. With the show heading into its fourth season, the co-creators were still taken by surprised when they heard of the nomination.
"The three of us were getting together for a regular workday," Hurwitz recalled. "We had met at a coffee shop near the Sony lot. We were there having our coffee and were like, 'Should we get back to the lot? Maybe see just in case.' We were stunned."
Being recognized by their industry peers brought a sense of validation for the all they have put in to Cobra Kai.
"We've all been working really hard on this for a long time," Hurwitz remarked. "The critics love it. We've seen the fans love it. The Netflix move has taken it to a whole new level. The Emmy nomination felt like the culmination of all of it and kind of like an interesting exhale in a sense."
RELATED: Emmy 2021: Airdate, Time, and How to Watch and Stream
Producers are keeping quiet on Season 4 of 'Cobra Kai'
With the highly anticipated fourth season of Cobra Kai scheduled for release on Netflix in December 2021, the co-creators are still keeping details on the storyline under wraps.
"We can't say a lot about season four because we're extremely protective about where the show goes," Heald said. "The biggest thing I will say is the end of season three was a huge moment in the lives and the character arcs for Johnny and Daniel. They kind of looked each other in the eye with respect and charting a path forward with a common goal."
Heald added, "We look forward to everyone enjoying where that journey goes."
The 2021 Emmy Awards airs on CBS on Sunday, Sept. 19 at 8 p.m. ET.