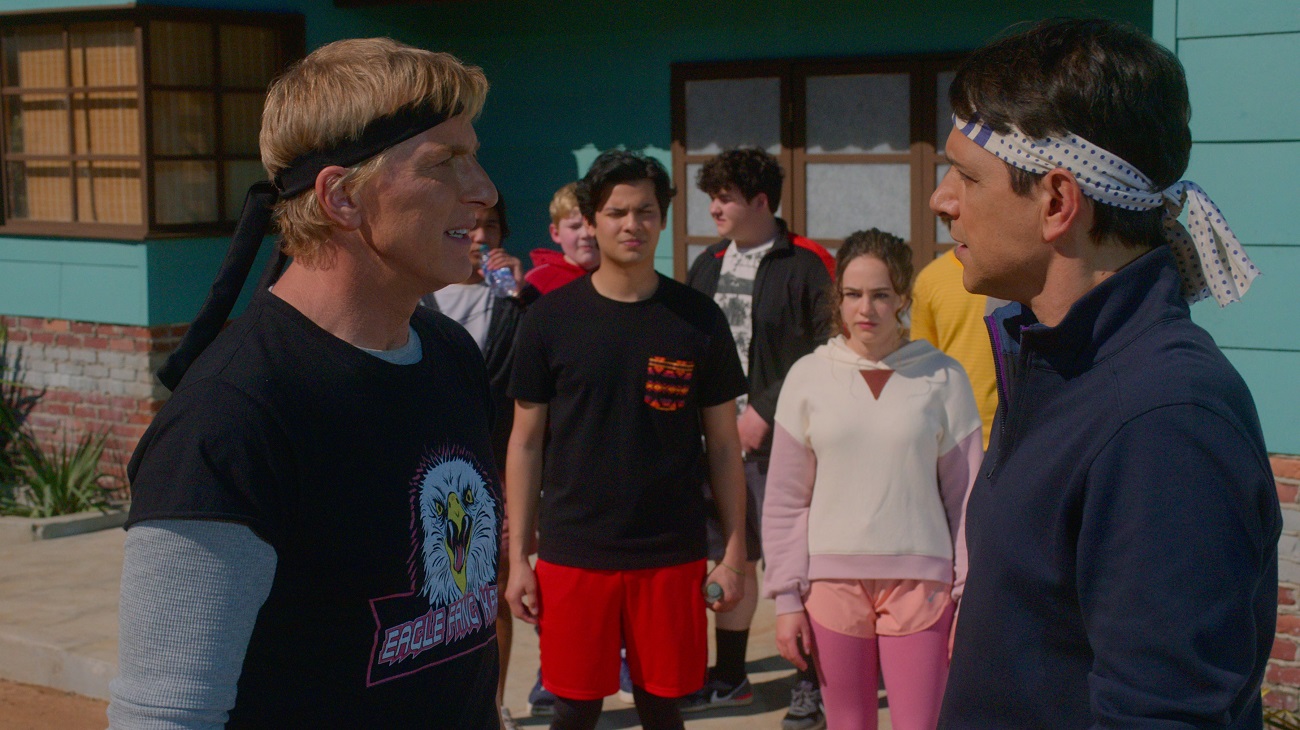 Cobra Kai
Cobra Kai is a martial-arts comedy/drama that quickly earned critical acclaim upon its May 2018 release on YouTube Red. Two years later, the hit TV show began streaming on Netflix, where it continues to thrill viewers and critics for its fight scenes and irreverence to its predecessor, the hit '80s film The Karate Kid.
The series begins more than 30 years after the 1984 All-Valley Karate Tournament finale in The Karate Kid. Now middle-aged, successful car dealership owner/family man Danny LaRusso (Ralph Macchio) and down-and-out handyman/deadbeat dad Johnny Lawrence (William Zabka) meet again. But teaching his teenaged neighbor Miguel (Xolo Maridueña) to defend himself against high school bullies motivates Johnny to reopen the infamous Cobra Kai dojo. There, he redeems himself and blurs the lines between good-guy/bad-guy tropes.
---
Main cast: William Zabka, Ralph Macchio, Xolo Maridueña, Mary Mouser, Tanner Buchanan, Jacob Bertrand, Martin Kove, Peyton List
Creators: Josh Heald, Jon Hurwitz, Hayden Schlossberg
TV genres: Action, comedy, drama
Original release: May 2, 2018
Seasons: 3 and counting
Streaming: Netflix, YouTube
Most famous episode: The Season 2 finale cliffhanger leaves a main protagonist gravely injured after an epic high school brawl.
Behind the scenes: The young cast members do most of their own fight scenes.
Fun fact: Danny LaRusso's home on Cobra Kai is now an Airbnb.
If you like Cobra Kai, you might also like: The Karate Kid film series, On My Block, Outer Banks, The Umbrella Academy
---
Featured Articles:
'Cobra Kai': The Show's Creators Also Started 2 Raunchy R-Rated Comedy Movie Series
---
'Cobra Kai' Star William Zabka Says Fighting Ralph Macchio 'Feels Like a Baseball Bat to My Arms'
---
'Cobra Kai' Star Martin Kove Didn't Even Recognize This 'Karate Kid Part III' Star Today
---
'Cobra Kai': Does William Zabka Drink Beer and Eat Bologna Like Johnny Lawrence?
---
Follow Cobra Kai on Instagram and Twitter.
Read more about Cobra Kai, including the cast, behind-the-scenes information, and new episodes: