2022 Grammy Awards: H.E.R. Proves She Could Have Been Prince's Protégé, Again
When Gabriella Wilson, a.k.a. H.E.R., an acronym for "Having Everything Revealed," was only 10 years old, she performed Alicia Keys' "If I Ain't Got You" on the Today Show. She'd already mastered multiple instruments and published a poetry book by then. Her friends called her the "little Alicia Keys." It was a pretty close nickname, but they should have thought of another prodigy, Prince.
Years after her unofficial debut, H.E.R. is now halfway to becoming an EGOT, and she's only 24 years old. She received an Oscar in 2021 for Best Original Song for "Fight for You" from the film Judas and the Black Messiah. At the 2022 Grammy Awards on April 3, she won her fifth Grammy (she's been nominated 21 times) and gave yet another impeccable performance.
So, once again, H.E.R. has reminded us that she would have been Prince's protégé. However, she's doing just fine on her own.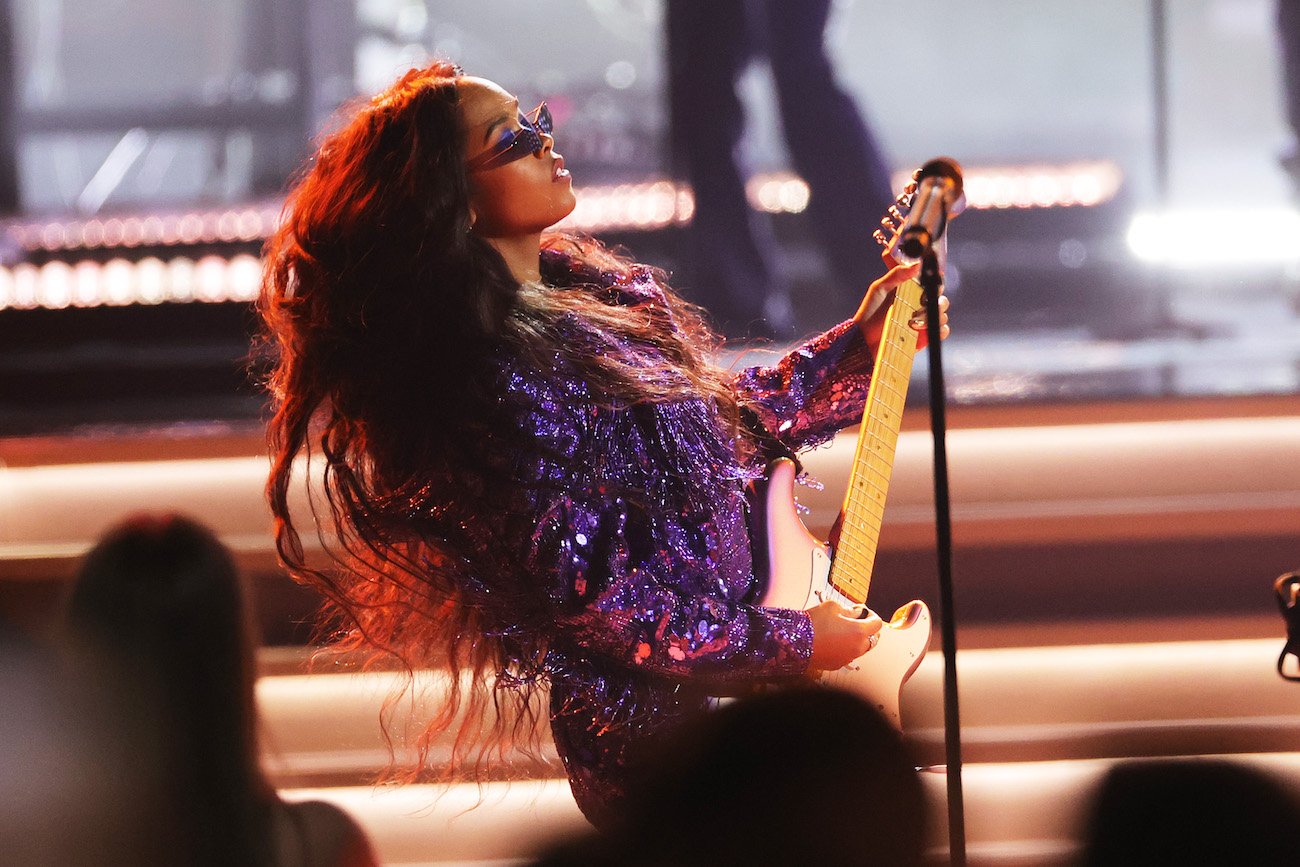 H.E.R. loves Prince
When H.E.R. was a child, her father would play a lot of artists, including Prince. She told WWD that Prince was her favorite artist "and contributed to the foundation of her musical identity."
When H.E.R. first realized she wanted to be a musician, she didn't waste time. Having Prince and Keys (who was a protégé of his) as her biggest influences, she learned how to play multiple instruments and sing. Next came a string of inspiring performances on TV and at venues like the Apollo Theater.
At 14, H.E.R. signed a record deal with Sony's RCA Records and released her debut single, "Something to Prove." In 2016, the year Prince died, she reemerged as H.E.R. with her debut EP, H.E.R. Vol. 1. After that, she became a star, but Prince was never far.
In 2020, she performed "Let's Go Crazy" and "The Beautiful Ones" at the Grammy's Salute to Prince.
"Prince-people say 'Oh! you're too young,' I'm like 'No,' because my father really had that music, his music playing in the house all the time, we watched his concert DVDs over and over," H.E.R. said at the event. "Prince-his musicianship and his uniqueness, you know, and his love for music, it was just so contagious and his mystique.
"You know I really model after that, and he's everything to me, he's probably one of my number one influences. And my guitar playing, you know. One time somebody asked Eric Clapton, 'Oh, what does it feel like to be the best guitar player?' and Eric Clapton said, 'I don't know, ask Prince.'
"You know, so he was respected by so many, and he touched so many lives, like he made music for everybody. And, so I really try to channel that when I make music."
H.E.R performed with some of Prince's friends at the 2022 Grammy Awards
H.E.R. has always had Prince close to her.
At the 2020 Emmy Awards, H.E.R. played Prince's "Nothing Compares 2 U" during the "In Memoriam" segment. When she attended the 2021 Oscars, she wore a beaded purple jumpsuit almost identical to the one Prince wore at the 1985 Oscars.
It wasn't a coincidence; she told her designer she wanted to pay homage to Prince. "H.E.R. expressed how Prince has been a lifetime inspiration for her and had built the foundation for her musical identity," designer Peter Dundas told InStyle.
H.E.R. also wore purple at the 2022 Grammy Awards. She performed with some of Prince's friends too. She started her performance with her "Damage" alongside Jimmy Jam and Terry Lewis, who performed with The Time, Prince's opening band in his early career.
After that, she traded her guitar for the drums and gave a face-melting solo. Then, Travis Barker jumped in her seat, and she picked up her guitar again, only to be joined by Lenny Kravitz for a performance of his classic "Are You Gonna Go My Way?"
Kravitz was good friends with Prince as well. They recorded together a couple of times and performed Kravitz's "American Woman" and "Fly Away" together during Prince's Rave Un2 the Year 2000 concert film.
Coincidentally, H.E.R. used to watch Prince in Rave Un2 the Year 2000.
In 2021, she told the New York Times that it was on "every single weekend in my house, and it inspired me a lot." Even more interesting, her favorite scene was Prince and Kravitz's performances.
"The moment with him and Lenny Kravitz performing — they did 'American Woman' and 'Fly Away' together — I was just so, like, 'Man, I want to be a rock star.'"
RELATED: What Is H.E.R.'s Net Worth?
Prince had many protégés
One of H.E.R.'s biggest wishes is to have met Prince. "I wish, I wish [I would have met Prince]. I did get to see him live, though," she said. If the pair had met, one thing surely would have happened. Prince would have taken H.E.R. under his dove wing.
Prince always had protégés, even in his early career. He loved collaborating with Sheila E., a drummer and singer. Together they made "A Love Bizarre" and "The Glamorous Life." She also accompanied him on the Purple Rain tour and starred in Prince's Sign O' the Times concert film.
Prince also mentored Vanity, Apollonia, who starred in Purple Rain, Sheena Easton, and The Bangles, who he gave "Manic Monday" to.
Later, Prince collaborated with Alicia Keys on her first album, and he mentored Judith Hill. "He challenges me to be my best," Hill told Billboard. "I like that challenge, because with him, it's do-or-die on that stage. I think that I've really been challenged to step it up, and I'm happy for that extra push."
Janelle Monae also worked with Prince, her "musical hero." Before Prince died in 2016, he was touring with an all-female rock group called 3rdeyegirl.
With H.E.R. being a multi-instrumentalist prodigy, Prince would have met his match. However, considering how well she's done for herself, we're not sure what else Prince could have given her and taught her. There's no doubt they would have collaborated, though, at the very least.
That's still a possibility too. Prince left a vault full of songs, either finished or not. Maybe his estate will allow H.E.R. to add something to one of them. Then, H.E.R.'s and our musical dreams will come true.
RELATED: Is H.E.R. Married?