2022 Grammy Awards: The Top 5 Behind-the-Scenes Moments
Showbiz Cheat Sheet was in the virtual media center at the 2022 Grammy Awards. Here are some of our favorite behind-the-scenes moments.
On April 3, the 64th Annual Grammy Awards were held at the MGM Grand Garden Arena in Las Vegas. The 2022 Grammy Awards featured big wins for multiple artists including Olivia Rodrigo and Jon Batiste. Meanwhile, Billie Eilish, BTS, and H.E.R. put on show-stopping performances. Showbiz Cheat Sheet was present in the virtual media center at the 2022 Grammy Awards, and we're recapping our favorite behind-the-scenes moments from the award show.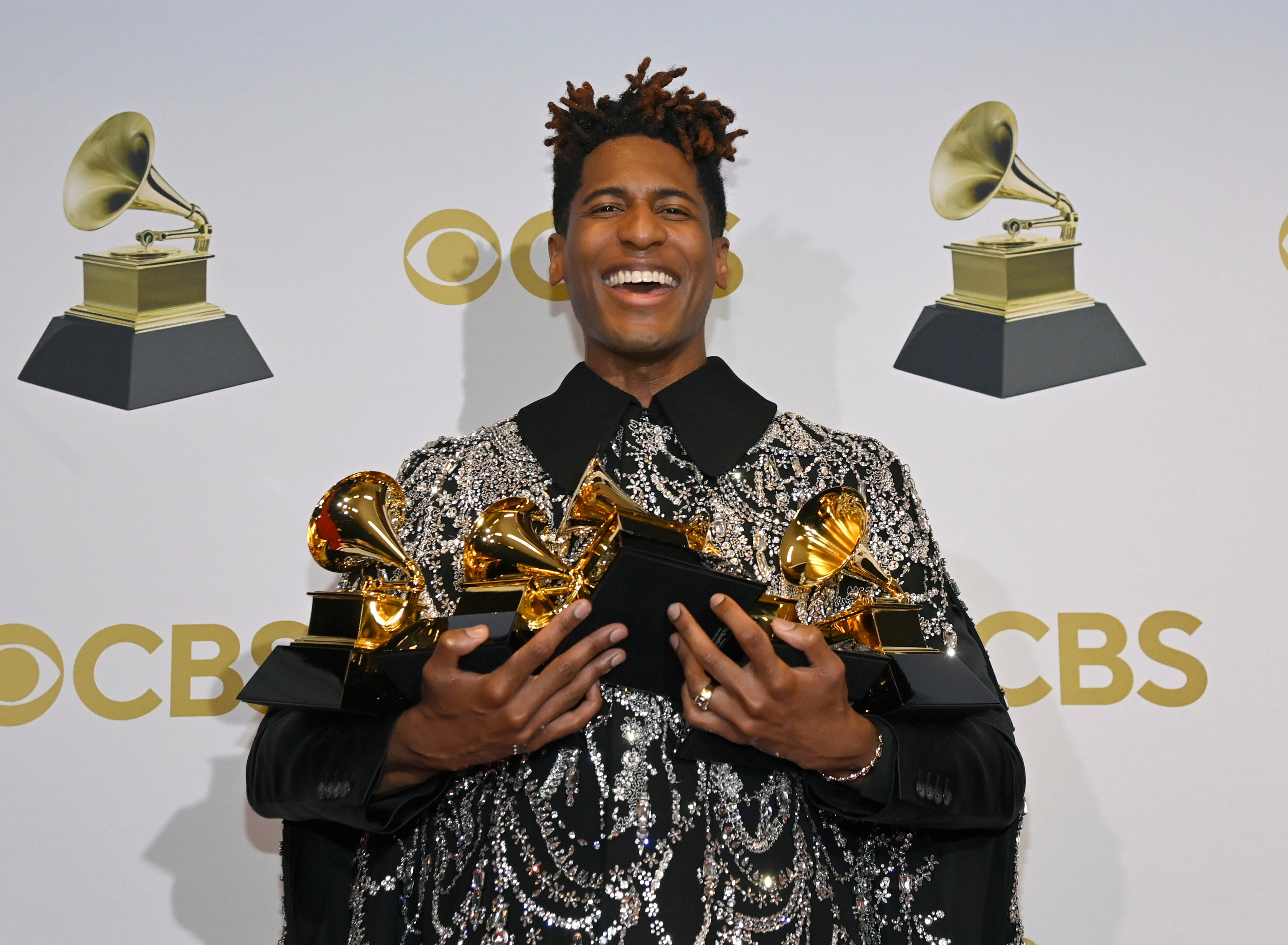 Chris Stapleton revealed he is a fan of Harry Styles
At the 2022 Grammy Awards, Chris Stapleton won Best Country Solo Performance, Best Country Song, and Best Country Album.
Following his performance of "Cold," Stapleton stopped by the media center to talk with reporters. When asked about who he might want to collaborate with one day, Stapleton mentioned Harry Styles.
"Oh, there are lots and lots of people, but you know, I do those things when they come up and when the time is right and they have all happened organically… But there's so many great artists and I like Harry Styles a lot. Harry Styles makes some really great music. He's a great singer, great songwriter," Stapleton said.
Jazmine Sullivan achieved her goal of winning a Grammy Award
After being nominated 15 times, Jazmine Sullivan won her first two Grammy Awards on April 3. After winning Best R&B Performance and Best R&B Album, Sullivan took time to speak with the press in the media center.
While talking to reporters, Sullivan shared that finally winning felt "surreal."
"I'm overwhelmed," Sullivan shared. "I've been wanting to win a Grammy since I was a kid. And after losing so many times, I feel like I kind of gave up. I was like, 'Maybe it's not for me and I could just make music and have my fans and do it.' So it's surreal to be able to actually hold these babies right now. And I'm really, I'm really happy."
Carrie Underwood teared up in the media room
At the 2022 Grammy Awards, Carrie Underwood won Best Roots Gospel Album for My Savior, her first win in the category and eighth Grammy win overall.
When asked about how she felt about the win in the media room, Underwood teared up.
"I'm probably immediately going to start crying, OK?" Underwood said. "I feel like it's more important, because I feel like this is one of the most important bodies of work I've ever been a part of, been able to do. This is what — one thing that I've wanted to do literally my whole career. I've wanted to make this album and I got to, and this just means the world to me."
Joking about her tears, she added, "Man, I didn't last any length of time, did I?"
SZA praised Doja Cat after winning Best Pop Duo/Group Performance at the 2022 Grammy Awards
Like Sullivan, SZA also won her first Grammy Award on April 3. At the 2022 Grammy Awards, SZA won Best Pop Duo/Group Performance for being featured on Doja Cat's song "Kiss Me More."
In the virtual media center, Showbiz asked SZA what she learned from Doja Cat while working on the song together.
"Um, she's a star," SZA told Showbiz. "And literally the first thing I asked when we got into it I was like, 'How do you write? What's your process?' And I love people who write, and it's something about the way that she just kind of freestyles genuine things from her brain. And when I write, I freestyle everything too."
Jon Batiste. That's it. Just Jon Batiste.
Out of his 11 nominations, Batiste won five awards at the 2022 Grammy Awards including Album of the Year. After his impassioned Album of the Year acceptance speech, Batiste brought his words of wisdom to the press room.
"I think that there's so much of our greatest natural resource that goes to waste because of people trying to be like somebody else. Our greatest natural resource is the human soul…," Batiste told reporters.
He continued, "That's one of the beautiful things about art and creativity is people being their self, and they put it on canvases and put it on albums and put it on T-shirts, and people see that, and they're like, 'That's dope. I want to be like that. I want to feel like that.' So I hope that it resonates in that frequency and it breeds more greatness."